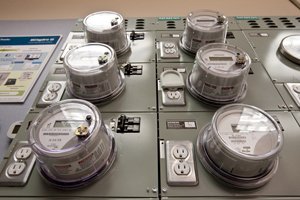 The British Columbia Utilities Commission has decided it lacks the legal authority to order BC Hydro to adopt measures to help low-income customers afford their electricity bills.
The B.C. Public Interest Advocacy Centre represented seven seniors and anti-poverty groups to give input to the utilities commission as part of the 2015 rate design application. It argued for various measures to make hydro bills more affordable.
"It's a really disappointing decision for the hundreds of thousands of low-income BC Hydro customers," said Erin Pritchard, a staff lawyer with the centre.
The measures proposed by the centre included an "essential services usage block" rate where low-income ratepayers would get a discount of four cents per kilowatt hour for the first 400 kilowatt hours of electricity they use each month.
Another proposal would have had charges including those for late payment, reconnection and security deposits waived for customers with low incomes.
The centre presented testimony to the utilities commission from individual ratepayers, some of whom said they faced a choice between paying their utility bills and being able to afford food, from advocates who said it is common throughout the province for people to struggle to afford their utility bills, and from an expert on utility pricing.
BC Hydro argued during the hearings that the utilities commission lacked the legal authority to order the changes, a position the commission panel's decision released Jan. 20 agreed with.
"The panel finds no evidence of legislative intent to provide the commission with jurisdiction to set low-income rates and there is no evidence the legislature intended the [Utilities Commission Act] to provide jurisdiction for low-income rates in the absence of an economic or cost of service justification," the decision read.
The utilities commission did, however, direct BC Hydro to within six months launch a pilot project that would provide a crisis intervention fund for low-income ratepayers who are facing disconnection and who owe the utility money or can't pay their bills.
Pritchard welcomed that part of the ruling, but said, "What we really need is ongoing bill reductions and access to special conditions of service for low-income people that recognizes that inability to pay is an ongoing and increasing issue."
Mora Scott, a spokesperson for BC Hydro, said in an email that the utility will follow the BCUC order and submit a proposal to the commission for a crisis intervention fund pilot program. "We already offer a number of programs to support our low-income customers and this is an interesting idea that could provide additional support for customers."
Other changes BC Hydro is implementing include establishing a low-income advisory group, "delaying disconnections for customers who have a medical reason for requiring power," and reducing the minimum reconnection charge to $30 from the previous $125, she said.
The utility also recently announced it will allow customers to spread payment of their winter electricity bills over six months, and Scott said there is a pilot project underway "to postpone non-payment disconnections for residential customers when the weather is coldest."
Pritchard said her group is reviewing the decision in detail and has 30 days to decide whether or not to seek leave to appeal it in the B.C. Court of Appeal.*
She said it is frustrating to see BC Hydro spending $9 billion for the Site C project to produce electricity the province doesn't need, when "they won't spend $30 million to help low-income customers keep heat and lights on in their homes."
The increasing number of disconnections in recent years shows many people are struggling to pay their BC Hydro bills, she said. "30,000 disconnections last year. That's very high."
The utilities commission decision shows hydro affordability is the responsibility of the province's politicians, said NDP energy critic Adrian Dix.
"They're saying to the government, 'Over to you,'" he said. "They're putting it back to the Liberals and the NDP, and you know where we stand."
NDP leader John Horgan in March reintroduced a private member's bill that would allow the utilities commission to require a utility to provide a "lifeline rate" to low-income households. The Liberal-controlled legislature failed to pass Horgan's bill.
Many people are struggling to pay their hydro bills, a sign of the increasing economic inequality in the province through 15 years of BC Liberal government, and the majority of Liberal MLAs have made it clear they don't care, Dix said.
"This government has as a matter of policy raised rates, costs, fees and taxes on low-income and middle-income people," said Dix.
He added, "There's an election in May."
*Story corrected Jan 21 at 4:30 p.m.