Tensions ratcheted up dramatically last week on Burnaby Mountain, with police arresting dozens of protesters at a work site of pipeline giant Kinder Morgan. Despite a court injunction ordering the protesters to make room for the company's workers, the pickets continued over the weekend.
But did you know that Burnaby residents have faced off against the company on Burnaby Mountain before? Or that, after a 2007 spill sprayed 200,000 litres of crude into a neighbourhood, the company appeared uncertain about its own pipeline location?
The Tyee has followed the activities of the Texas-based company since 2005. Our first report, by current Parliament Hill reporter Jeremy Nuttall, investigated why some south of the border dubbed Kinder Morgan "the poster child for pipeline problems" with a "poor safety record."
If approved by the federal National Energy Board, the firm wants to expand its existing Trans Mountain pipeline, nearly tripling its oil flow and increasing seven-fold oil tanker traffic through the Burrard Inlet.
Here is a sampling from The Tyee's coverage of Kinder Morgan and its pipeline plans over the last decade.
2014: Big bucks, controversial regulators, legal challenges
On Burnaby Mountain, Confronting the Gorilla Nov. 22, 2014: On Friday, author John Vaillant rose before dawn to join the Burnaby protesters against Kinder Morgan's proudly heavy "footprint," and shared his reflections on the day with Tyee readers.
Trans Mountain Pipeline: Big Bucks for US Investors, Peanuts for Us Nov. 17, 2014: Promoting Trans Mountain south of the border, Kinder Morgan boasted about the Canadian government's tax refunds -- two in the past five years. Economist and ex-ICBC head Robyn Allan asked: How could this be?
Burrard Inlet Binoculars Imagine Oil-Slicked Disaster Nov. 11, 2014: One group's 'guerilla art' installation injected some virtual reality into Lower Mainland municipal elections in which Kinder Morgan has been front-and-centre, reported David P. Ball.
Fed Up with 'Captured' Regulator, Exec Quits Kinder Morgan Review Nov. 4, 2014: Tyee contributing editor Andrew Nikiforuk interviewed a former senior energy executive who quit as intervener in the federal review of the Trans Mountain expansion.
Cross-border Indigenous Treaty Takes on Kinder Morgan Pipeline Sept. 23, 2014: Roughly 500 people crammed into Tsleil-Waututh Nation's community centre on the eve of what many dubbed a "historic event" -- the signing of an intertribal treaty by First Nations on both sides of the Canada-U.S. border against the expansion of Kinder Morgan's pipeline, reported David Ball.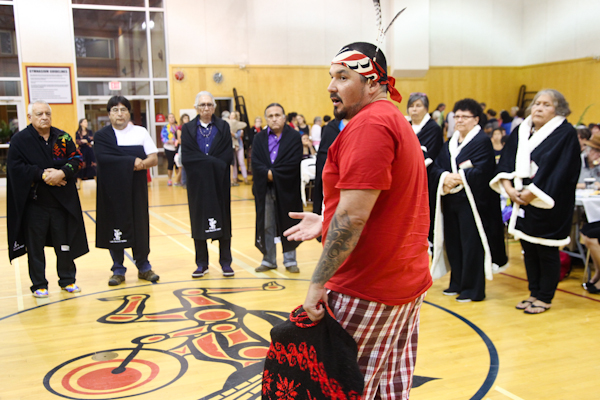 Pipelines Risk 'Social Peace': UN Envoy May 12, 2014: The United Nations special rapporteur on Indigenous rights warned that pipeline projects such as Trans Mountain and Northern Gateway could worsen fragile relations in the midst of "distressing" aboriginal conditions.
Legal Challenge Filed over Restricted Pipeline Hearings May 6, 2014: Citizens shut out of Kinder Morgan review process struck back at the nation's energy regulator with a legal motion challenging federal changes to the National Energy Board Act in 2012. The reforms restricted participants in board public hearings to those "directly affected" by a project.
Cities Demand Cross-Exam of Trans Mountain Pipeline Hearing April 25, 2014: The cities of Vancouver and Burnaby both asked the federal energy regulator to reverse its decision to exclude oral cross-examinations from the Trans Mountain bitumen pipeline hearings, reported Andrew Nikiforuk.
Who Gets in on NEB Pipeline Hearing? It's 'Kafkaesque' Says Planner April 7, 2014: Among the 468 people rejected from participating in the National Energy Board's Kinder Morgan pipeline hearings next year, one professional planner called the process "Kafkaesque," and questioned its legitimacy altogether. The move set the stage for today's protest tensions on Burnaby Mountain.
The Loophole Big Oil Uses to Pump More Crude Mar. 3, 2014: Economist and former CEO of ICBC Robyn Allan examined the Kinder Morgan expansion plan, and argued that companies like it often apply for capacity below a project's potential, then jack it up later, under less scrutiny.
Earthquakes Versus Pipelines Jan. 21, 2014: Former CTV journalist-turned-environmental advocate Kai Nagata asked: Are we ready for an oil spill in the Fraser River?
2013: Oil leak cleanup, premier's lobbyist aide
Clark Aide Joins Firm that Lobbies for Kinder Morgan Nov. 19, 2013: Gabe Garfinkel, a close aide to Premier Christy Clark, quit the government to become an executive with a company that lobbies for Kinder Morgan Canada.
Kinder Morgan reports oil leak near Merritt June 13, 2013: Tyee reporter Colleen Kimmett reported on a crude oil leak from Kinder Morgan's pipeline in B.C.'s interior. The National Energy Board's emergency response team was deployed to monitor and assess the company's response, investigation and cleanup.
US regulator fines Kinder Morgan for breaking 27 safety rules Mar. 15, 2013: The U.S. federal Department of Transportation fined Kinder Morgan, the continent's third largest energy company, nearly $1 million in civil fines for breaking 27 U.S. pipeline safety rules.
2012: Indigenous opposition, public consultations
Vancouver Oil Sands Tanker Spill Could Cause Evacuation Nightmare June 4, 2012: Stinking. Toxic. Explosive. The words could describe the cloud of fumes filling the airshed of the Lower Mainland if a tanker full of diluted bitumen spilled in Vancouver harbour, wrote Mitchell Anderson.
Spill from Hell: Diluted Bitumen March 5, 2012: With Kinder Morgan's pipeline expansion on the horizon, The Tyee's Mitchell Anderson examined what B.C. could learn from Enbridge's oilsands 'dilbit' dump into the Kalamazoo River.
2011: Kinder Morgan's grand plans
Kinder Morgan's Grand Plan to Pipe Oilsands Crude June 2, 2011: Long before Kinder Morgan became front page news, Mitchell Anderson wrote about the company's quiet application to the National Energy Board to significantly expand oil tanker traffic through the waters of Burrard Inlet, making Vancouver the major conduit of oilsands bitumen to China.
2010: Increased tankers, city fears
City has no power if oil spill happens here: mayor July 6, 2010: Amid a heightened "sense of anxiety" after the Gulf of Mexico oil disaster, journalist Bob Mackin reported on how Vancouver Mayor Gregor Robertson chaired a special meeting to consider implications of a hypothetical oil tanker spill in the Burrard Inlet. The city's limited jurisdiction would be again up for debate during the 2014 municipal elections four years later.
Big Jump in Oil Tankers in Vancouver's Port June 3, 2010: With controversy over Enbridge's proposed pipeline heating up, Tyee writer Mitchell Anderson examined how Kinder Morgan already quietly doubled its existing pipeline's oil flow through its Westridge terminal in north Burnaby.
2007: Burnaby pipeline accident
Kinder Morgan's Ancient Maps Aug. 3, 2007: A rupture of Kinder Morgan's Trans Mountain pipeline sprayed 200,000 litres of crude oil into a Burnaby residential neighbourhood after being struck by a contractor's backhoe. The spill set the stage for local mistrust in the firm, according to reporter Tom Barrett.
2006: Kinder Morgan sparks Burnaby Mountain ire
As Pipelines Expand, So Do Fears of Clearcuts, Spills Nov. 23, 2006: Tensions on Burnaby Mountain are nothing new. When Kinder Morgan began felling a thousand trees along its right-of-way on Burnaby Mountain in fall 2006, it touched off a residents' protest it clearly didn't see coming. Angry that they hadn't been warned about clearcutting behind their homes, locals banded together and told the loggers and backhoes to stop cutting.
2005: Safety under scrutiny
US Government Slams Kinder Morgan's Safety Procedures Sept. 13, 2005: Nine years before becoming The Tyee's first Parliament Hill reporter in Ottawa, Jeremy Nuttall investigated Kinder Morgan's "marred environmental record" south of the border. At the time, the company hoped to take over B.C. firm Terasen. The Tyee revealed Kinder Morgan had been hit with a corrective action order from the U.S. Department of Transportation's Pipeline and Hazardous Materials Safety Administration.
Kinder Morgan Marked by Spills Aug. 23, 2005: More than nine years ago, The Tyee published its first-ever article on Kinder Morgan. At that time, the company intended on taking over the B.C. gas utility Terasen, and was a little-known name in the province. But The Tyee's Jeremy Nuttall revealed that south of the border, some see the pipeline giant as "the poster child for pipeline problems" with a "poor safety record."