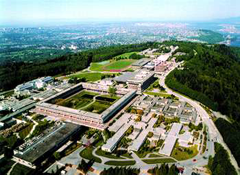 Kinder Morgan didn't know the exact location of one of its pipelines last year when it clearcut a right-of-way in Burnaby, says a woman who lives near the right-of-way.
Christy Cunningham, who lives in the Forest Grove area of Burnaby, says she discovered earlier this year that Kinder Morgan couldn't vouch for the accuracy of its maps of the area.
Last week, a Kinder Morgan pipeline in a neighbourhood near Burrard Inlet was broken by a contractor using a backhoe to dig sewer lines. More than 200,000 litres of crude oil sprayed homes in the neighbourhood and some leaked into the inlet.
One of the key issues raised by the accident has been the accuracy of maps used by Kinder Morgan to locate its pipelines.
'We were shocked'
Cunningham said that when she heard about the accident, she thought back to her neighbourhood's own dealings with Kinder Morgan.
"We were shocked, actually, that they didn't know precisely where the pipeline was on our property," Cunningham said.
Cunningham's experience with Kinder Morgan began last fall, when the company began clear-cutting a 20-metre wide path along a pipeline right-of-way that runs through Forest Grove, down the hill from Simon Fraser University. The company eventually cut about 100 trees, she said.
The residents staged protests, complaining that the natural beauty of their neighbourhood was being destroyed.
Eventually, Kinder Morgan agreed to hire an environmental consulting firm to develop a plan to restore some of the right-of-way's natural state.
The consultants asked Cunningham, who was a member of the residents' committee, to ask Kinder Morgan for computerized maps giving the precise location of the pipeline. The information was necessary so the consultants could decide where to place trees.
A rough idea
Cunningham said she spoke to a senior Kinder Morgan official and was told that no digital information existed for the pipeline.
After a number of further conversations, the official gave Cunningham "some old surveys, like about 50 years old, from our area," she said.
"He said he couldn't guarantee the accuracy of these, but for what it was worth, there they were."
Finally, early this year, Kinder Morgan volunteered to hire a contractor who would survey the pipeline route and create an accurate digital map, she said. The survey has since taken place and the company now has a precise digital record of the pipeline's location.
Cunningham said she and her neighbours were surprised that Kinder Morgan did not have more accurate information at first.
"The reason they gave for clear cutting the right-of-way was it was necessary for safety," she said. "They cut down all the trees. And we were thinking if safety was such a big concern, wouldn't they know exactly where their pipeline was?
'Incredible pressure'
Lexa Hobenshield, senior community relations advisor for Kinder Morgan, was unable to offer a detailed response immediately, but did say that a government investigation "will bring out what the process is and it'll answer a lot of those questions."
Burnaby-Douglas MP Bill Siksay, who was involved in the Forest Grove discussions, said that at the time, Kinder Morgan seemed "fuzzy" about the precise location of its pipeline.
"None of us really thought about it too much, but it seemed that Kinder Morgan didn't really know where the pipeline was in the right-of-way area," Siksay said.
He added that the neighbourhood at first had to put "incredible pressure" on Kinder Morgan to respond to their concerns.
During the talks with the company, "what became very clear to all of us was that Kinder Morgan really didn't have any kind of public relations or community relations capacity," said Siksay. When the company was known as Trans Mountain Pipeline, he said, "it was really known for corporate citizenship."
Trans Mountain was "incredibly involved in the community" he said, and had an excellent relationship with the residents who lived near its pipelines.
When the company was taken over by Terasen Inc., and then Kinder Morgan, "that really dropped off," Siksay said.
Open house
Under pressure from the Forest Grove residents, Kinder Morgan did improve its community relations efforts and held a number of meetings with people in the neighbourhood.
The company had an open house at its Burnaby tank farm earlier this year, Siksay said. "It was like they were finally putting some effort into the public relations and were trying to be more of a corporate citizen."
Siksay said that Kinder Morgan's response to last week's spill was "very positive."
"They really seem to have responded quickly and positively," he said, with company officials using their personal credit cards to pay for things like rental cars for the affected residents.
Burnaby gusher
The pipeline's location and the procedures used before digging the sewer line have been clouded in confusion since the accident.
Cusano Contracting, the company that broke the pipeline, has refused to make any comment to the media since the accident.
Burnaby Mayor Derek Corrigan said at first that Cusano Contracting had been told the spot where it was digging was nine metres away from the pipeline.
Burnaby's chief engineer, Lambert Chu, then suggested that the pipeline and the dig site were intended to be less than three metres apart.
On Thursday of this week, The Vancouver Sun quoted Chu as saying that Corrigan was mistaken. It is still unclear, however, how far apart the dig site and the pipeline were supposed to be.
"For me, there's a huge question around do they really know where the pipeline is," Siksay said. "And that is something we have to get to the bottom of."
Poster chide
U.S.-based Kinder Morgan, which was given approval to take over Terasen in 2005, has been the subject of considerable controversy south of the border.
In August of 2005, a Bellingham, Wash.-based pipeline watchdog told The Tyee that Kinder Morgan was "the poster child for pipeline problems."
Carl Weimer, executive director of the Pipeline Safety Trust said that Kinder Morgan had a poor safety record after acquiring a huge network of pipelines in a short time.
The Pipeline Safety Trust was created after three people were killed in an explosion after an Olympic Pipe Line Co. pipeline burst in 1999. The Safety Trust is funded by an endowment ordered by a U.S. court as part of the settlement of that case.
Weimer said this week that the company's record appears to have improved recently. The number of spills seems to have declined, although there have been "a couple" incidents in recent years.
'Weaknesses' found
Shortly after Weimer's "poster child" comments, the U.S. government ordered Kinder Morgan to "comprehensively address integrity threats along the entire 3,900-mile Pacific Operations unit."
The U.S. Department of Transportation's Pipeline and Hazardous Materials Safety Administration stated at that time that "since January 1, 2003, KMEP [Kinder Morgan Energy Partners] has experienced at least 44 accidents with some 14 resulting in the release of more than five barrels of refined petroleum products, some in or near environmentally sensitive areas or major transportation corridors."
A U.S. official told The Tyee at the time that, although no clear-cut violations were found, the department "did see weaknesses in use of their tools to interpret the data that they receive when they conduct integrity management inspections."
Agreement made
In April, 2006, the department announced that it had reached an agreement on action that Kinder Morgan would take to address the 2005 complaints.
Under the agreement, Kinder Morgan agreed to carry out US $90 million worth of safety improvements.
The department stated that it "will require Kinder Morgan to review all accidents occurring on its Pacific Operations system since March 31, 2001 and identify and repair any existing or potential safety threats.
"The agreement also requires the company to improve its methods for inspecting the interior of pipelines, including the use of improved technology to better locate damage caused by outside forces.
"In addition, Kinder Morgan will be required to evaluate its effectiveness in controlling pipeline corrosion, and to submit for PHMSA approval its procedures for preventing damage through 'one-call' centers that determine if a pipeline is located where excavation is taking place."
The department incorporated into the agreement what it described as "an innovative penalty structure that will subject Kinder Morgan to fines ranging from $1,000 to $10,000 per day if it fails to comply with the agreement."
Related Tyee stories: