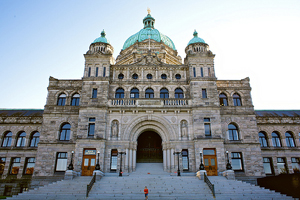 A close aide to Premier Christy Clark has quit government to become an executive with a company that lobbies for Kinder Morgan Canada.
FleishmanHillard announced the hiring of Gabe Garfinkel as associate vice-president on Nov. 18. Garfinkel was Clark's executive assistant since September 2011 and worked for four months as senior campaign coordinator for the BC Liberal Party. In June, Clark promoted Garfinkel to director of community and stakeholder relations to "work with ministers' offices on their stakeholder relations strategy" and with Government Communications and Public Engagement on third-language (or ethnic) communications, according to his job description.
FleishmanHillard describes itself as a full-service, communications and public affairs firm. Besides Kinder Morgan -- which wants to twin its Edmonton-to-Burnaby oil pipeline -- the company is registered provincially to lobby for Chevron Canada, pulp miller Mercer International, B.C. Pharmacy Association, drug giant Hoffman La Roche and Covanta Energy, which is in the running to build Metro Vancouver's new garbage incinerator.
The firm's lobbying registration for Kinder Morgan promotes the company's pipelines and terminals, including the Trans Mountain Pipeline, Westridge marine terminal and Vancouver Wharves. Its goal is to raise awareness of Kinder Morgan's "B.C. operations and their benefit with key government officials." While federal regulatory approval is required to expand Trans Mountain, B.C. endorsement would be beneficial.
A news release from FleishmanHillard Vancouver general manager Mark Reder said Garfinkel's "experience in strategic communications and understanding of B.C. public affairs will be an asset to our clients as we continue to grow to serve their needs."
Reder told The Tyee by email that Garfinkel will advise several clients on "communications, public affairs strategies and government relations. Where and when his duties relate to advocacy on behalf of a client with the provincial government, he will be registering those activities with the Office of the Registrar of Lobbyists."
Lobbyist monitor recommends 'cooling off' period
Nothing prevents Garfinkel from registering to lobby Clark or anyone else in the BC Liberal government. B.C. government post employment guidelines for public servants apply only to deputy ministers, associate deputy ministers and assistant deputy ministers, who are barred for one year from lobbying the agency or branch of government in which they worked.
Lobbyist Registrar Elizabeth Denham's January 2013 report suggested ex-public office holders serve a two-year cooling-off period. In reaction to negative feedback from lobbyists, Denham proposed a one-year lobbying ban when she recommended law changes in a Nov. 5 report to the legislature.
"If a personal relationship between a lobbyist and a public official is durable, it is probably true that a cooling-off period will not affect the lobbyist's access to the public office holder, no matter how long the cooling-off period," Denham wrote. "Nevertheless, a cooling-off period could give 'hot' policy issues a chance to move along to the point where the current knowledge of a former public office holder would no longer be of advantage."
Garfinkel is the latest BC Liberal insider to find a job with a lobbying firm. Party pollster Dimitri Pantazopoulos resigned as intergovernmental relations assistant deputy minister the week after the election and registered to lobby for garbage-hauler BFI in July. Pantazopoulous is a partner in Maple Leaf Strategies, whose office is three floors below the Premier's Vancouver Office at 999 Canada Place. Pantazopoulos has added Adobe Systems Canada, Australian petro company Woodside Energy and Alberta-based retailer Liquor Stores LP to his client roster.
Former Clark parliamentary secretary John Les became a lobbyist for Cache Creek landfill operator Belkorp and the Seabird Island Indian Band. Don Fast was one of three deputy ministers fired without cause by Clark in June. In September, Fast became a partner with Progressive Group, the lobbying firm owned by longtime Liberal lobbyist and strategist Patrick Kinsella.