A quiet application to the National Energy Board (NEB) may soon vastly expand oil tanker traffic through the waters of Burrard Inlet, making Vancouver the major conduit of oils sands crude and bitumen to China.
Trans Mountain Pipeline, a subsidiary of Kinder Morgan that operates the 300,000 barrel per day (bpd) pipeline from Alberta to B.C. and Washington State has applied to the NEB to enter into long-term buying contracts called "firm service."
They are also requesting to divert more Alberta crude and bitumen capacity to the Westbridge tanker terminal in Burrard Inlet and away from existing land-based refineries in B.C. and Washington. If approved, this would immediately expand crude capacity through Vancouver from 52,000 bpd to 79,000 bpd -- an increase of more than 50 per cent.
Documents filed by Kinder Morgan also state that revenues from this new funding model would be used to further expand the pipeline capacity to the Burnaby tanker terminal to 450,000 bpd -- a six-fold increase.
Power point reveals aims
A power point presentation for investors by Ian Anderson, president of Kinder Morgan Canada Group, provides a wealth of information that has not been widely shared with the general public or local governments:
• Kinder Morgan plans to dredge Second Narrows channel to allow larger Suezmax tankers that can carry 1 million barrels of crude -- four times as much as spilled from the Exxon Valdez.
• These larger vessels will save shippers $1.50 per barrel.
• Tanker transits through Vancouver will increase to 288 per year in 2016, up from 71 in 2010 and 22 in 2005.*
• Port Metro Vancouver is "supportive of expansion."
• "Trans Mountain can be expanded in stages to access growing demand offshore in China."
All of this is happening with remarkably little scrutiny or even awareness in the Lower Mainland. Of the 18 legal interveners in Kinder Morgan's application, 17 are oil companies and one is from the Alberta government.
The B.C. government specifically declined to be involved in the decision that would greatly scale up tanker traffic off our coast, through our largest city. No environmental or public interest groups applied to be involved in the NEB application.
'Rearguard' pipeline to Kitimat
While there has been enormous interest and opposition to the proposed Enbridge Northern Gateway pipeline, this project is likely years away and must overcome pending legal challenges from several First Nations along the route.
In fact, these obstacles are being trumpeted by Kinder Morgan to their investors. They point out that expanding their existing pipeline to Vancouver is cheaper by $1.5 billion than the proposed Enbridge pipeline, and avoids mounting opposition to constructing a new right of way.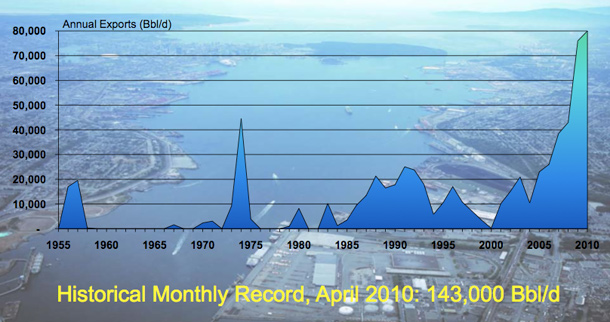 The eventual tanker capacity through Vancouver will be more than 80 per cent what is proposed by Enbridge. The waters beneath the Second Narrows bridge in Vancouver's harbour, because of their relative shallowness and strong tidal currents, flowing through a narrow passage that includes the obstacle of the bridge, pose special navigational challenge according to safety experts.
Kinder Morgan is also assuring investors that they could also construct a "rearguard" pipeline to Kitimat from their existing southern route.
Remarkably, the strongest opposition to the Kinder Morgan application seems to be from another oil company. Tesoro Canada filed a 50-page information request to Trans Mountain Pipeline as part of the NEB process.
Tesoro appears to be hostile to the Kinder Morgan plan because it would divert more pipeline capacity away from land-based refineries to offshore buyers. According to their website, Tesoro "operates seven refineries in the western United States with a combined capacity of approximately 665,000 barrels per day."
The deadline for Kinder Morgan to reply to Tesoro information request is June 3. Stay tuned for updates on this developing story of how Vancouver, the "greenest city in the world," may quietly become the main tanker route for oil sands crude bound for China.
*Story updated at 1:50 p.m. on Thursday, June 2.