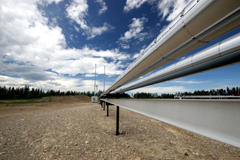 When pipeline heavyweight Kinder Morgan began felling a thousand trees along its right-of-way on Burnaby Mountain last September, it touched off a protest it clearly didn't see coming.
Early in the morning last Sept. 18, a handful of local residents, angry they hadn't been told about the clearcut being made behind their homes, banded together and told the loggers and backhoes to stop cutting.
The work stopped, and the residents demanded a meeting with Kinder Morgan and called the media. CBC and CTV showed up and got some footage and sound bites, and then the matter seemed to quietly fall by the wayside.
Since then, the National Energy Board has approved the first phase of an expansion project that seems to guarantee clashes with North America's largest petroleum transporters will become much more common in the future.
In some cases those firms will be needing rights of way granted by First Nations and other B.C. communities wary of forest clearcuts, pipeline blowouts and other heightened risks.
'Coffee and a cookie'
Paul Blundin, one of the protesters and a spokesman for the angry Burnaby homeowners, said people were upset because the 60-foot wide swath radically ordered by Kinder Morgan dramatically altered the neighbourhood, which is mostly strata-owned townhouses tucked into the forested slopes below Simon Fraser University.
"It's [called] the 'Forest Grove neighbourhood' [for a reason]," said Bill Siksay, the NDP MP for Burnaby-Douglas, from his cell phone in Ottawa. "When the forest comes down, there are people who are rightly concerned about that."
Neither Siksay nor Blundin challenged Kinder Morgan's right to maintain access to its pipeline. The right-of-way was established in the 1950s and the National Energy Board (NEB) requires companies to keep the lines clear so they can quickly respond in the event of a spill.
But they were appalled at the mega-company's poor attempt at consultation, and also because NEB's rationale for taking back so many trees is to enable helicopters to patrol for problems by air. The integrity of a recently restored salmon-bearing stream, which saw returns of chum and coho this fall, was also a cause for concern.
Blundin said Kinder Morgan sent out some vague e-mails -- to the wrong people, he adds -- warning that some "thinning" was to be done, but just days prior to the when the first trees hit the ground.
According to him, the public meeting with Kinder Morgan the protest had given rise to was in danger of being hijacked by the company's PR machines.
"If you can imagine a gym set up with all these various booths, like a trade-show kind of concept," recalled Blundin of the event. He criticized Kinder Morgan for trying to adopt a smug open-house approach rather than openly dealing with residents' concerns. No chairs were set out, said Blundin, and Forest Grove Elementary gym, where the meeting was held, was booked reluctantly by company officials, and only after considerable pressure.
"What they wanted was [for] people to walk in and kind of mingle with the staff, be schmoozed, give them a cup of coffee and a cookie and then kind of wander out."
Residents didn't bite, however, and more than 200 concerned people showed up.
They brought in chairs from adjoining classrooms and began setting them up in the gym, demanding answers for what Kinder Morgan had done, and what it was going to do in the future.
Twinning Trans-Mountain
Part of that answer came in a Halloween day announcement that the first phase of Kinder Morgan's Trans Mountain pipeline expansion project earned the approval of the National Energy Board.
The Trans Mountain line, formerly operated by Terasen, starts in Edmonton and sends 260,000 barrels a day of light and heavy crude, gasoline, distillates and jet fuel coursing through Blundin's backyard and on to holding tanks and refineries in Burnaby and Washington state.
With the NEB approval, Kinder Morgan will add 40,000 barrels per day to that amount by 'looping' or twinning the existing line at specific points in eastern B.C.
Looping builds pressure by adding new pumping stations and by increasing the diameter of certain sections of the pipe further back along the line. The project will essentially push more oil through the same pipe, and is slated to be finished by 2008.
That, however, is only the first phase.
"The ultimate goal of course is to twin the entire system," said Director of External Relations Philippe Reicher from Kinder Morgan Canada's head office in Calgary.
That has Forest Grove residents concerned that the 60-foot wide clearing behind their property will double in width as another length of pipe is laid beside the existing one in what Kinder Morgan calls the TMX-2 phase, a feat which would add another 100,000 barrels per day on top of the 300,000 delivered after the completion of the first stage.
Reicher, however clarified that, if approved, TMX-2 will twin only one loop in Alberta and another north of Kamloops, not in Burnaby.
Expand with demand
"We are not even close to being in a situation where we can talk about twinning the actual pipeline through the Lower Mainland," he said, although a new storage tank is in the works.
Nevertheless, Reicher noted that pipelines are client-driven ventures, and he wouldn't rule out the possibility that existing rights-of-way in the Lower Mainland will see twinning projects of their own in the future.
"It's hard to figure out exactly the scope of the project until you have a clear commercial backing," he explained. "Ultimately, we build exactly to what the customers want. We're not going to over-build, and obviously we're not going to under-build."
His statements echoed the company website, which says the flexible, multi-stage project "provides Kinder Morgan Canada's customers the opportunity to align future oil production scenarios with future market demand."
Reicher said the clearing at Burnaby Mountain has nothing to do with twinning lines and sending more volume; rather, he explained, it is routine maintenance of their 1150-kilometre pipeline, which the company bought from Terasen in 2005 for $7 billion.
His company was and is obligated under the NEB to remove what he called "beautiful trees" on Burnaby Mountain, "which in the first place shouldn't have been allowed to grow," he added.
First Nations piping up
Further up along the Trans Mountain pipeline, Keith Matthew has questions about the cultural and environmental impacts of increasing the flow of crude.
Matthew is chief of the Simpcw First Nation in Barriere, the same community that was ravaged by a forest fire in 2003. The Trans Mountain line bisects his people's traditional territory, and residents are concerned about twinning the line.
"There are over 50 stream crossings just in one part of the project alone," he said in an interview by phone. "The potential impacts to the environment are huge."
Matthew signalled the oil spill in Pine River, B.C. as one reason the Simpcw band is concerned. In a single night back in August of 2000, over one million litres of light crude dumped into the Pine River when a Pembina Pipelines conduit ruptured, killing birds, fish and animals and polluting the water supply downstream in the town of Chetwynd. The mayor of that community said his town would never be able to draw water directly from the river again.
Matthew said his people want to know how the building of a new line will affect First Nations rights to fish and hunt, and how it will impact their sacred sites when new rights-of-way are cut through the forest.
He also criticized Kinder Morgan for skirting around environmental assessments. Part of the new right-of-way being punched through runs just north of Clearwater, he said. But because Kinder Morgan is keeping the cut just under 75 kilometres long, the company won't have to undergo a review under the Canadian Environmental Assessment process, which kicks in once the cut is over the 75-kilometre mark.
Matthew said requests for a full panel review on the issue and a delay so his band could conduct further studies were turned down by Kinder Morgan and the NEB.
Oil at their door
Karen Campbell, a lawyer with the Pembina Institute, just returned from Northern B.C., where she spoke at a series of workshops aimed at educating communities which, like their counterparts on Burnaby Mountain, will likely soon have hundreds of thousands of barrels of oil streaming past their doorsteps.
Kinder Morgan, Enbridge, Pacific Northern Gas and Pembina Pipelines (no relation to Campbell's institute) are currently drafting proposals for a new 1150-kilometre system that would direct approximately 400,000 barrels of Albertan oil per day to a new deep-sea port in Kitimat, and 150,000 barrels of a material called condensate in the other direction.
Pipeline companies, according to Campbell, paint "an excessively rosy picture" when they stop in rural communities to win approval for new developments, and what they are reluctant to discuss goes further than issues about rights of way. Ruptures like the Pine River disaster, for instance, happen more often than companies care to talk about.
"Just a couple of weeks ago there was a blow-out on a pipeline near Slave Lake" she noted, adding that over 1200 barrels escaped before repair crews got it under control.
Although failure rates are improving as better standards and technology come into play, it stands to reason that as thousands of miles of new lines are built across B.C., the risk of rupture will climb.
Hundreds of failures per year?
"You can still expect in Alberta, based on the number of pipelines, that there's going to be over 850 pipeline failures per year," said Campbell.
Reicher, however, argued that pipelines have fewer accidents compared with transport by truck or rail. "[Pipelines are] the safest mode of transportation for energy products by far," he said.
If the twinning project that will send higher volumes of oil through a pipeline of the same diameter buried on Burnaby Mountain sounds like risky business, Reicher said residents have nothing to fear. The National Energy Board holds companies up to "stringent specs," he said, and the lines are strength-tested before oil products are allowed through.
He also pointed to the fact that there have been no problems since Kinder Morgan took over the Trans Mountain pipeline, a takeover that came into effect last year.
"If you look at the way we've operated that specific facility, our record is outstanding in terms of our ability to manage it safely and protect the environment," he said.
A previous story in The Tyee, however, found that Kinder Morgan's track record in the U.S. is another story, and regulators there have punished the firm.
Greasing the wheels
Given that both the Bowser and Nechako basins in B.C.'s interior have undergone significant exploration in recent years -- and both found flush with untapped oil and gas deposits -- Campbell expects that it won't just be Alberta crude flowing through the northern pipelines in the likely event one or more get built.
"Once that infrastructure is in place, it then dramatically increases the likelihood that industry is going to want to go in [the Nechako and Bowser basins]," she said.
Campbell is critical about past practices of oil and gas development in B.C., pointing to the dismal record in its dealings with Treaty 8 First Nations in the petroleum-rich northeast corner of B.C.
"It's taken them 50 years of fighting and negotiating with companies [to get benefits from the oil and gas]," said Campbell, who added that the environmental legacy of the industry in that area has been abysmal.
"When they go on the land, they can't drink the water," Campbell related, referring to the natives who hunt and fish in an area where wildlife are contaminated with hydrocarbons and other toxic chemicals left behind at well sites.
Campbell also questions who the petroleum is destined for: "We're not looking at a product for Canadian use and consumption, we're looking pretty much at a product exclusively for export."
Then there's the greenhouse gas issue. The tar sands are a relatively dirty source of energy, since it takes relatively clean natural gas to ferret thick and dirty bitumen out of the ground.
"The largest source of greenhouse gas emissions growth in Canada is the oils sands," Campbell pointed out.
'Wake up call'
For the moment, residents on Burnaby Mountain just want to know how Kinder Morgan will handle the clearing of their right of way in the future, and the potential health effects a proposed storage tank will have on the surrounding area.
A recent letter from Kinder Morgan addressed to MP Bill Siksay's office allayed some of the concerns of his constituents, but Siksay said the experience was "a wake-up call."
"Trans Mountain pipeline used to have a really excellent reputation in Burnaby for the way it dealt with community issues and its participation in the community," he said. Communications with the affected residents "fell by the wayside" when Kinder Morgan Canada took control from Terasen and moved its head office from Vancouver to Calgary.
"[That] made a real difference in the kind of attention that was paid to the local community."
For now, Kinder Morgan has promised to do better consultation before firing up chainsaws and heavy machinery on Burnaby Mountain in the future, and the residents say they've learned they'll have to pay close attention to the proceedings as the company seeks to pass the TMX-2 project.
Siksay also wrote a letter to the National Energy Board intending to find out how companies like Kinder Morgan can cut a minimum of trees and still be up to par with regulations.
"If we're living near a pipeline or if a pipeline is coming through our neighbourhood in a proposal, then I think we need to be really clear about what that involves and what the implications of that are," said Siksay.
"[This process] will maybe be helpful for other communities that are experiencing this."
Meanwhile, back in Calgary, Reicher mused about how Canadian crude will reach hungry markets in China and the U.S. The Alberta tar sands will be coming on-line in the next decade, with an estimated 1.7 to 2.5 trillion barrels of crude that so far have nowhere to go.
"[Alberta crude] can go west, it can go east, it can go south," he explained.
"The west is becoming an increasingly appealing market."
Related Tyee stories: