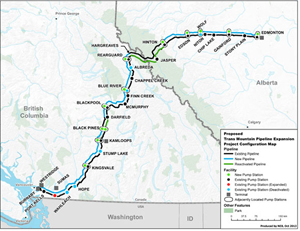 The cities of Vancouver and Burnaby have asked the federal energy regulator to reverse its decision to exclude oral cross-examinations from the Trans Mountain bitumen pipeline hearings.
A refusal to amend the hearing process would mean that Kinder Morgan's proposed expansion project would be the first National Energy Board hearing on an oil pipeline triggering an environmental assessment which does not include the cross-examination of witnesses, wrote Frances Connell, director of Vancouver's legal services, in a brief.
The multi-billion-dollar project would increase the transportation of heavy oil diluted with condensate from Alberta by 540,000 barrels per day and ramp up super tanker traffic in the port of Vancouver by nearly 800 ships a year. It would also partly utilize a 61-year-old pipeline; industry expects pipelines to last only 50 years. 
Given that the project raises issues about environmental, health and safety impacts for Vancouver and other Lower Mainland residents, "it is critical that the intervenors be given full and meaningful participation," argued the city.  
All of the letters from intervenors, with the exception of one from Kinder Morgan, support a notice of motion by economist Robyn Allan to reinstate oral cross-examinations as part of the hearing process.
The flurry of support for Allan's motion, half-a-dozen to date, "reflects how important oral cross examination is for a fair hearing and what the consequences will be if its excluded," Allan said.
"Cross-examination in an administrative proceeding is of particular importance when the facts are complex, credibility is an issue, or there is conflict in the evidence," added the brief from the City of Vancouver.
In a similar letter, the city of Burnaby noted "that in order for the hearing to be consistent with procedural fairness and natural justice, the evidence must be tested by cross-examination."
Kinder Morgan, the third-largest energy company in the U.S. and the Trans Mountain proponent, has argued against oral cross-examination. It warns that such a duty might delay the legislated 15-month-long hearing process.
Company lawyers argue that the National Energy Board, which has full powers as a court of record, has the authority to do what it wants.
Process 'designed to limit' citizen influence: Weaver
Andrew Weaver, Green MLA for Oak Bay Gordon-Head, has also formally asked for oral cross-examination.  
"I understood it was my right, were I to be accepted as an intervenor, to orally cross-examine witnesses, to inquire into areas of concern for members of my community, and to adjudicate the scientific evidence that was put before the panel," wrote Weaver in a letter supporting Allan's motion to restore oral cross-examination.
"Failing to include oral cross-examination will be interpreted as a clear sign that this process is designed to limit the influence that citizens can have on its outcome."
Many supporters of the Allan motion accused the board of a double standard, and asked why it allowed participants in an earlier application (the Trans Mountain Expansion Toll Application), who primarily came from the oil industry, to orally cross-examine witnesses if it had no plans to allow oral cross-exams in a major public hearing of national significance.
"There is a great risk here that people will ultimately determine that this hearing process itself cannot be supported, and that any decision reached by the panel was done so contrary to established democratic practice. This will negatively affect the prospects of the Trans Mountain project and will preclude the proponent from developing the required social license to proceed," warned Weaver.
In other oil pipeline hearings requiring environmental assessments, the regulator has consistently ruled that: "Persons granted intervenor status will have the opportunity to fully participate in the proceeding by filing evidence, asking written and oral questions of parties and providing argument. Intervenors who file written evidence are subject to cross-examination by other parties and examination by the Board."