Only metres offshore, black plumes of smoke billow in the heart of Vancouver's English Bay from two purple-tinged oil slicks, set ablaze and barely contained within rings of buoys next to a grounded oil tanker.
Peering at the sinking ship through a set of Seawall-mounted binoculars, two young women tourists gasp audibly as they rotate the viewfinder towards shore to see a dead and bloated orca washed onto the popular West End beach, now covered in grease blobs and dead fish.
Of course, there's no beached whale, flaming bitumen spill or oil tanker sunk in the Burrard Inlet. In reality, on the wind-chilled beach a young boy draws in the sand, and two kayakers paddle through the dark blue waters.
The binoculars are "guerrilla art" commissioned by the Dogwood Initiative, an environmental group, and Rethink Marketing, the PR firm behind Molson's Canadian passport-activated free beer fridges at the Sochi Olympics.
Installed today only, overlooking English Bay at the southwest end of Bidwell Street, the binoculars imitate the mounted scopes often found at tourist attractions and scenic lookouts. Rethink's version uses computer graphics to create a panoramic, virtual reality version of what environmental campaigners fear could happen if an oil tanker permitted through the inlet runs aground.
"A picture is worth a thousand words," said Dogwood Initiative's energy and democracy director Kai Nagata in an interview beside the binocular contraption. "And a 3-D virtual reality tour is worth a few more than that."
(Nagata, a former CTV journalist, contributed articles and opinion columns to The Tyee from 2011 until June this year).
Most people have a tough time imagining disaster scenarios, Nagata said. "We wanted to bring it home, and give people a little flavour of what this could look like here in our city."
The binoculars are an attempt to provoke voters in Saturday's province-wide municipal elections, in which opposition to Kinder Morgan's proposed pipeline expansion has been brandished by incumbents in both Burnaby, home to Kinder Morgan's proposed terminal, and Vancouver, which is adjacent to the tankers' route.
The proposed $5.4-billion TransMountain pipeline expansion from Alberta's oilsands through the Lower Mainland would nearly triple the existing pipeline's flow of diluted bitumen from 300,000 to 890,000 barrels every day.* It would also boost the number of oil tankers in the area from 60 up to 408 annually.
*Kinder Morgan Canada refused several Tyee interview requests Monday, but in a teleconference with reporters Wednesday, president Ian Anderson said the firm accepts the fact that increasing tanker traffic and pipeline flow will "come with risks," but said that it's the proponents' job "to ensure those risks are as low as possible and can be managed properly."
Anderson addressed municipal concerns about accident cleanup costs, citing a 2007 spill when Kinder Morgan oil gushed into a Burnaby neighbourhood after a city worker ruptured the existing pipeline. Cities would not have to pay for an accident, he pledged, unless caused by a "third party." He did not elaborate on what constitutes a third party.
"We would cover and provide for all cleanup costs necessary in the event of an incident," he vowed. Anderson admitted "not everybody supports this project," saying protests are welcome as long as they don't interfere with his employees' work.
"I have faced supporters, I have faced protesters, I have met many people who do not want this project to proceed," he said. "I believe and know that we've made our project better as a result."*
Piping hot
Pipelines are a hot issue in several municipal election campaigns across the province, not only in Vancouver.
Although the elections are top of mind for Nagata, he said the aim of the installation is "to show people what's at stake" in the longer term as well.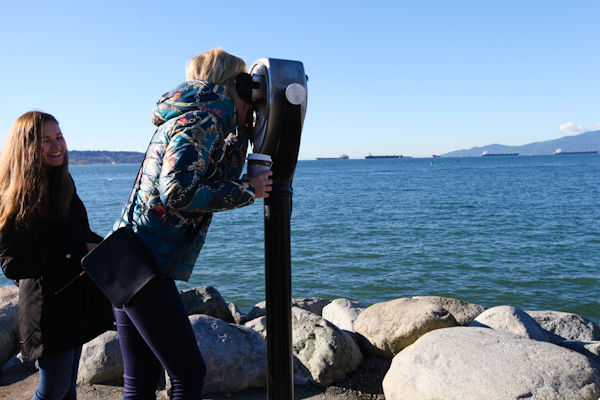 "As voters, people feel like these projects are inevitable and they have no control over them," he said. "We don't believe that's the case at all."
Dogwood Initiative states that it is "non-partisan" and consequently does not endorse particular candidates or parties. However, an election website launched by the organization ranks political hopefuls based on an environmental survey it sent to candidates.
Burnaby Mayor Derek Corrigan has spoken out repeatedly against the Kinder Morgan expansion, and that city's fight against TransMountain's surveyors and preparatory work is currently before the courts.
No major candidates in Vancouver and Burnaby openly support the pipeline expansion. Corrigan's chief rival Daren Hancott told Burnaby Now, "We have people in our group that support it and we have people in our group that don't support it."
Vancouver's city council has voted to oppose the pipeline-twinning proposal, and successfully applied to be an intervenor at the National Energy Board which is reviewing the project.
But for Non-Partisan Association councillor Elizabeth Ball, Vision Vancouver is "wasting a lot of time" coming out against the proposal before the board has made its decision on whether the project can even proceed. "All the numbers are extrapolated beyond reality. The worst thing you can do is to create hysteria," she said.
Pipelines are regulated by the federal government, not municipalities which don't have legal jurisdiction over pipeline or marine traffic approval processes.
"Realistically, the only thing that a city can do about something close to it is to write a letter, or make a visit and say, 'This is how we feel,'" she said. "It's very disingenuous to tell people you can do something about this beyond those things."
Vision Vancouver councillor Geoff Meggs disagrees, arguing that his administration's "greenest city" ambitions would be "nullified" if Kinder Morgan gets a green light.
"We're trying to take important steps at the municipal level within our jurisdiction," Meggs said. "[The NPA] is turning a blind eye to an issue that's not only facing our city, but the planet. We just simply can't keep our fingers crossed and hope Victoria and Ottawa get it right."
The Coalition of Progressive Electors shares Vision Vancouver's opposition to Kinder Morgan's pipeline and tanker traffic expansion. But the party is calling for the city to go even further -- to hold a referendum to see if residents would support an outright ban on oil tankers in the Burrard Inlet, including the five tankers already plying its waters every month.
"If you are opposing tankers, then demonstrate your opposition," said Lisa Barrett, who is running for a council seat with COPE, when asked about Vision's stance. "I'd like to see something a little more vigorous -- I'd like to talk about the risk of those 40 tankers already going though our waters."
When Green Party councillor Adriane Carr brought a similar referendum motion before council this year, Vision Vancouver councillors voted against it.
"I personally didn't see a need for a referendum," Meggs explained when asked about that vote. "The views of the public are very clear."
*Story updated Nov. 12 at 1:30 p.m. to include comments from Kinder Morgan's Nov. 12 telephone conference.
*Story corrected Nov. 25, should read "barrels every day."