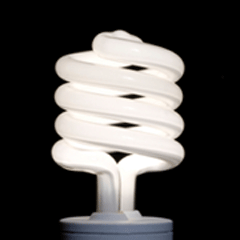 [Editor's note: Rather than look back over the year that was, the Tyee is offering its readers a dozen New Ideas for the New Year. We'll publish a new one every weekday from now through Jan. 1. They're textbook cases of thinking outside the box, all of them from people trying to make B.C. a better place to live. Later in January we'll be asking you to suggest your own new ideas for 2008, and publish a selection.]
David Vogt is looking at the billboard-sized TV screen outside Vancouver's Canada Place and thinking about a place where Wizard of Oz technologies meet citizen journalism.
The eight-metre-high screen -- its official name is Canada's Storyboard -- shows touristy views of the country and information about what's happening at Canada Place.
Vogt sees another use for such screens. What would happen, he wonders, if we used giant TV screens to give a voice to people whose stories don't normally get heard?
After all, says Vogt, big screens like the one at Canada Place will soon be all over.
"As we continue to move through this decade, we're going to see hundreds of displays like that coming online. Every SkyTrain station will have its own large public display -- there's three or four already that do."
They're sure to be used as high-tech billboards to push advertising, he says. But maybe they can be turned into something more: what Vogt calls "community portals."
"If we can rescue the commons from a pure billboard kind of approach," he says, "we've created a new kind of channel for communities to understand who they are and for people to navigate through them."
Mobile Muse
Vogt is the executive director of Mobile Muse, a non-profit that seeks to bring together governments, businesses, academics and community groups to develop innovative ideas for mobile media.
His resume is intriguing, to say the least:
"At different times I've been a cancer researcher, astronomer, observatory director, science museum director, and dot.com CEO. Beyond Muse, I currently champion a set of very exciting applied R&D projects in learning technologies at the University of British Columbia while leading a couple of start-up companies and contributing to a few public and private boards.
Last year, Mobile Muse invited proposals for projects that would involve mobile media and the community. Six were chosen for funding and will be developed in the coming year.
One of the six is the Fearless City project, which Vogt says will try to find an answer to the question: "What happens if we allow the Vancouver Downtown Eastside to find a way of voicing what it's about, rather than the external people coming in and telling their story?"
The idea is to allow people from the Downtown Eastside to use mobile media -- video equipment, cell phone cameras -- to tell stories about their neighbourhoods. The stories would be shown on giant screens like the one at Canada Place.
'Collective citizen journalism'
It hasn't been decided yet exactly who will be telling these stories, but Vogt says it will be people who "live there, they work there, they care about that and they want to tell a story. They are storytellers. So I think a lot of them will be artists, but it will probably move beyond that."
Vogt said Mobile Muse hopes to bring about "a real sense of what a community is all about. And that's what we're hoping that Fearless City can create: a unique, collective, real voice about what the Downtown Eastside is about and what its potentials are."
He describes it as "collective citizen journalism."
Big screens have been used to create a sense of community in the past, mostly at sporting events such as the soccer World Cup and the Turin Winter Olympics. They will also be part of the 2010 Olympics.
Such sites have consisted of a big TV screen showing games in a public square -- what Vogt calls "very much a television paradigm."
"You turn on the TV, and you control the TV and people watch. But they feel like they're together, like a family feels like they're together watching a TV in a living room."
Mobile Muse hopes to take Vancouver's giant screens out of the TV paradigm and into an interactive "Internet paradigm," Vogt says.
"We want to put these Wizard of Oz tools into the hands of the people who own these sites so they aren't required just to show television coming from somewhere else."
Related Tyee stories: