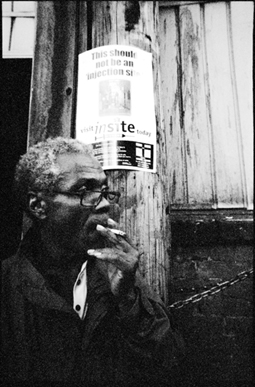 Think fast: What's the first image that leaps to mind when you think about Vancouver's Downtown Eastside?
An addict shooting up? A prostitute eyeballing your car? The crowd of walking wounded who shuffle about the corner of Hastings and Main? And why wouldn't you? Those are the clichés peddled unrelentingly by much of the media.
Or did you envision a young man hugging a child? Two friends sharing coffee in a park? Or a First Nations woman playfully modeling a fur hat, as if she were a '50s movie star? After all, these sorts of day-to-day scenes are every bit as common in the eastside, a neighborhood where thousands live, work and play. In fact, these just are three of the award-winning images featured in the "2004 Downtown Eastside Portrait Calendar," which has sold briskly since the beginning of the year.
In addition to portraying the Downtown Eastside in a more realistic light, the calendar's sixteen black-and-white images were made by people who actually live in the neighborhood. Rather than hire more media mercenaries to invade the neighborhood with $10,000 Nikons, Pivot bought 110 cheap plastic cameras and handed them out to low-income residents last October.
New exhibit offers more images
The Eastsiders were asked to document their own lives, in whatever ways they saw fit, for three full days, and then return the disposable cameras to Pivot for processing. More than two thousand photos were printed. And a six-person jury was assembled to choose sixteen for use in the calendar.
Now a broader selection from those images is going on display at the Roundhouse Community Centre in Vancouver's Yaletown neighborhood.
I served on the calendar selection jury, along with Duane Prentice, Nick Procaylo, Louise Francis-Smith, Jeannette Gallant, George Kallas and Albert Normandin. We were each deeply impressed with the thoughtfulness and attention to detail that each of the volunteer photographers brought to her or his work. The photos spread out on the table before us were rife with life, laughter, and the struggle of daily life. We debated for hours before painfully making our final selections.
Designer Brad Hornick crafted the final images into a chic wall calendar, printed in rich duotones by Metropolitan Fine Printers. Local businesses sponsored the production costs - and none of us took a penny for our efforts - so that every dollar of the proceeds from sales of these calendars will flow to initiatives by Pivot Legal Society and other groups working to advance the interests and improve the lives of marginalized persons.
Aiming for break-even
Pivot has yet to make money on the project, and needs to sell a few hundred more calendars, at ten dollars each, to get into the black.
Copies of the 2004 Downtown Eastside Portrait Calendar are still available at dedicated local retailers, including:
Banyen Books at 3608 West 4th
Peoples Co-op Bookstore at 1319 Commercial Dr.
Oscar's Books at 1533 West Broadway
Washington Grocery at 179 East Hastings
most Chapters and Book Warehouse stores
You can also order calendars online. For more information, visit pivotlegal.org/calendar
The opening of "Portraits From a Community" is April 6 from 6pm to 8pm at The Roundhouse, corner of Davie St. and Pacific Blvd. The exhibition runs until April 29; Hours: Monday-Friday: 9am-9pm; Weekends; 9am-5pm.

Monte Paulsen is book editor of Shared Vision magazine in Vancouver.