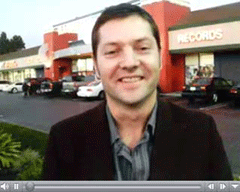 Can ordinary citizens actually function as journalists? Or, as many in the mainstream media would have it, is journalism some sort of priesthood of professionals who venture, Moses-like, to mountaintops and then return to deliver the news as divinely revealed truth to the rest of us earthbound mortals?
In the wake of such recent citizen-mediated news events as the Asian tsunami, Hurricane Katrina, the London train bombings, U.S. Senator George Allen's political suicide, the Virginia Tech massacre, et al, the real question is why anyone would still wonder about the possibility, much less the efficacy, of so-called "citizen journalism."
Last month I travelled to Seoul, Korea, to take part in an international gathering of "citizen reporters" sponsored by an intriguing, cutting edge media firm called OhmyNews.com. OhmyNews is one of the most successful projects in the world in the burgeoning field of citizen journalism -- wherein "amateur" reporters participate in the creation and dissemination of news and information. The brainchild of Oh Yeon-ho, a professionally-trained Korean journalist, OhmyNews was launched in February 2000 and has grown rapidly since. Today it boasts nearly 60,000 "citizen reporters" worldwide, who work closely with dozens of professional staff members, creating content for websites in Korean, Japanese and English. Its corporate motto is: "Every Citizen is a Reporter."
Having already revolutionized the media environment in the Republic of Korea, Oh Yeon-ho is equally passionate about spreading the concepts and practices of citizen journalism worldwide. The OhmyNews "pro-am" concept of combining citizen reporters with trained professional journalists and editors is rapidly becoming a model for other efforts around the world, and its annual forums on the topic are a key way of networking among the field's leading theorists and practitioners.
'Host of pressing issues'
Featured speakers this year included Dan Gillmor of the Center for Citizen Media, Michael Tippit of NowPublic.com, McJoan of Daily Kos, and dozens of other presenters and panellists representing literally every continent, from Australia and Europe to Africa, Asia and the Americas. This year's focus was "cross-cultural exchanges" and how they can contribute to the vision of the global village envisioned decades ago by Marshall McLuhan.
Oh Yeon-ho set the stage with his welcoming message, which accurately noted, "The question looming large is increasingly less about 'digital opportunity' and more about how we can best manage the abundance of content, Web platforms and user participation" now pouring forth. Oh also laid out "a host of pressing issues" including the need to balance user-created content with editorial accountability, as well as to identify business models to sustain citizen journalism during an age of ever-more rapid commercial and technical transitions and unclear revenue models.
Dan Gillmor -- author of "We the Media" and long one of the movement's leading theorists -- noted in his keynote speech that, despite the many successes of citizen media thus far, "It is still early in the development and we still have far to go." Like Oh, Gillmor believes that sustainable business models and issues of trust and accountability are highest on the agenda. He also urged all attending to "keep experimenting." With the cost of doing so at an historic low, "There are very few institutional barriers to trying," Gillmor concluded. And even in failure, he added, "We still learn. In fact, we usually learn more from failure than success!"
Panels on citizen journalism in Eastern Europe, South Africa and Australia, South Asia, and North America followed. Four new sites have appeared in the "emerging hotspots" of Russia, Ukraine, Poland, and Estonia and start-ups loom in South Africa and Australia as well.
Breakthrough Canadian deal
Meanwhile, Canada was well-represented by Michael Tippit of NowPublic.com, whose breakthrough deal to supply the Associated Press with citizen reports obtained through "crowdsourcing" is a potential landmark in the struggle to gain both legitimacy and sustainability for citizen media efforts, and Joan ("McJoan" to Daily Kossacks) McCarter of the incredibly popular Daily Kos blog, read daily by about half a million people, spoke smartly on issues of transparency, credibility and accountability.
Of particular note was the announcement at the conference of the formation of a new South Asian Citizen Reporters Network. "Citizen journalism across borders is a vital question for Pakistan and India," said one of SACRN's founders, Pakistan's Muhammad Aslam Khan. Fellow Punjabi Munish Naga of India echoed Aslam Khan's analysis, saying, "It was because of citizen journalism that Aslam and I became close. And then the idea to form a network of South Asian citizen reporters emerged in our minds. Since then, SACRN has been growing day by day!"
We were also treated to a first-hand account of how Han Na-young, an OhmyNews citizen reporter living in Harrisonburg, Virginia, reported on the Virginia Tech massacre, working in close collaboration with the head of the OhmyNews international department for sixteen hours to bring written and photographic reports of the event to readers all over the world. The first day's final session was devoted to an account of the recent expansion of OhmyNews into Japan with backing investment from SoftBank, a leading Japanese telecommunications and media corporation.
The conference's closing sessions were devoted to a close examination of the related issues of ensuring editorial accountability and the search for a sustainable business model. First Oh Yeon-ho set forth what he called the "ten preconditions of valuable user-created content," centering around issues of credibility, responsibility, influence and sustainability.
The big 'ifs'
Next he asked and answered the question "Why Citizen Journalism?" (Answers: to change traditional journalism; to find and create a new type of journalism; and "to change the world.") Finally Oh posed a larger, more philosophical question -- one never asked in any corporate media suite: "Will more participation and better information make us happier and more fulfilled?"
The answer, Oh Yeon-ho posits, could be yes -- provided that "participation is responsible, trustworthy, influential, solution-seeking, and sustainable."
So can citizen journalism really change the world? Many skeptics still doubt it can even change the news industry, and still question, despite much evidence, whether ordinary citizens can really function as journalists. But why not? After all, I've been a professional journalist for decades -- yet I never took a course in it, received a license for it, or even got anointed on high. So here's my advice: if you don't like the news, report some of your own!
Here's a video version of this story from Rory O'Connor's blog:
Related Tyee stories: