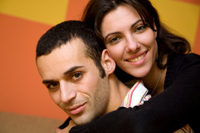 The Dark Heart of Italy
Tobias Jones
Faber & Faber (2003)
Tourism has drawbacks -- many vexing, some mundane, and behind them all the fear of something more horrible, a fear triggered at the airport perhaps by the sight of an Air France tailfin, something last seen in a news photo, adrift in the south Atlantic.
So a frequent traveler might dream of a more permanent presence in a favourite, far-off heaven -- the fabled Tuscan villa perhaps, or a Parisian pied a terre. Brief visits can seem frustrating. One longs for a real connection.
It's almost a relief then to hear about the flip side of these dreams, of the traps and disillusionment that await any romantic bold enough to make the dream come true. On my current Italian jaunt I am finding it strangely comforting to read Tobias Jones' 2003 book, The Dark Heart of Italy. With that title I don't flash it around at Roman cafes, and yet many Italians I speak with know just what Jones is on about.
Jones is an Englishman who fell in love, moved to Parma and fell in love again, this time with his new home. But he was determined to write about something other than art and beautiful ruins. He wanted to know why so many Italians consider it a curse to live here.
While paying ample tribute to the everyday joys of Italian life, Jones describes the hell of Italian bureaucracy, the maddening political corruption, sycophantic and saccharine media, the daily subterfuge and low-level corruption necessary to accomplish almost anything, and a partisan legal system that is like a stagnant pool.
Italy's closed systems
The Italians I've discussed this with tend not to disagree. On a train from Rome to Genoa I sat beside Michele, a young political science student (and male, Beatles' songs notwithstanding). Originally from Perugia, he attends a good public university in Pisa. Yet he knows that at expensive private universities in cities like Rome and Milan, students gain something that might be more important than a good education: high-level contacts, without which good job placements are very unlikely.
"There are many closed systems in Italy," he says. "Doctors, pharmacists, even taxi drivers -- the syndicates have been in place for so many years, you can't break them now."
Meanwhile in politics, President Silvio Berlusconi's mystifying clown show plays on and on for an apparently bemused public. Lately he has been doing some explaining about his relationship with an 18-year-old hottie, a relationship that caused his second wife to file for divorce. But while that enjoyable tale grabs headlines, little is said about the outrageous law passed earlier this year by which Berlusconi vaulted over an ongoing criminal investigation by declaring himself above prosecution. It wouldn't have been his first conviction anyway. In the '80s he was convicted of paying a huge bribe to establish the three-channel TV empire which now helps cement his political base.
No matter -- Berlusconi is like a political Pink Panther, thwarting the law and escaping with the loot to the laughter and cheers of the crowd. "Ordinary people see him as a man who came up from nothing," Michele says. "They support him because they hope to follow his example."
Such is the popular estrangement from systems of Italian law and politics that anyone seen to outwit them becomes a public champion. Rules are for chumps. Michele mentions the British expense account scandal that has decimated the careers of both government and opposition MPs. "Here," he says, "that's just considered normal stuff."
Andra and Valentino
But when you are nourishing the fragile dream of an Italian paradise, this kind of kvetching is absolutely no fun. No one will ever turn The Dark Heart of Italy into a sun-drenched Tuscan musical or a frothy Roman romp. So then, a bit of the dream. It's real, and I've seen it. All it takes is friends, and food, and fun, and enough money to put a down payment on Real Madrid.
I've mentioned my friend Andra before -- she works at a café in Rome. Her boyfriend's name is Valentino, and last week he graciously lent his home to a friend for a 40th birthday party. They invited me along. I arrived early, expecting -- I don't know, a cozy two-bedroom apartment and some lovely homemade antipasto, perhaps. Soon I was sweeping up my bottom teeth, which scattered when my jaw hit the floor. Valentino, it turns out, lives in a palazzo. To be exact, it's a second-floor apartment. It features, as far as I could tell, about 20 rooms, most with vaulted and coffered ceilings, painted with cherubs and the like. Framed paintings covered the walls, and while not all were certified masterpieces they clearly weren't purchased by weight, either.
White-jacketed servers swanned about with trays of delectables, including arancini, the deep-fried risotto balls typically filled with ham and cheese. Several of the main salons -- including the billiard room -- sported tables laden with food. There were snowy-white circles of mozzarella, to be eaten as-is, slightly chewy, revealing a delicate flavour that cried defiance to the typecasting of Domino's. Nearby prosciutto was being carved, and beside that an entire roast pig waiting its turn to be sliced up for porchetta sandwiches. Plus a lot more if you had room, and a full bar with a very busy pair of bartenders, and a DJ all the way from the Italian-Austrian border region, which I am sure is prime DJ territory.
Friends in well-dressed places
Although technically the host of the event, Valentino was not actually footing the bill. This was happy news -- Andra guesstimated the damages at around 15,000 Euros for catering alone. The crowd looked suitably spiff, with many a gown apparently having made the trip from the windows along Via Condotti.
Soon Valentino and Andra's friend Valeria came over to chat. Two weeks earlier she had hosted another party, not quite as swank, but rather more relaxed. "This isn't really Valentino's party," Valeria pointed out, looking around at a crowd dressed as if for an awards show. By now a little group I had met at that earlier party were gathered in the billiard room, munching and lounging. After having been rather overawed by the surroundings (and abashed by my suitcase wardrobe) it was a pleasant realization to find myself in the midst of friendly company. With my jaw safely refastened, it felt like a real party.
In Dark Heart of Italy, Jones suggests that Italians, faced with hostile bureaucrats, suspect judges, and distant, corrupt politicians, tend to rely that much more closely on family and friends. My own Italian fantasy might well include a lovely apartment in the heart of the Eternal City -- I wouldn't say no. But the real change from feeling like a tourist to feeling connected is relationships. In far-off places, friends make the difference.