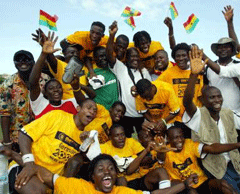 [Editor's note: Vancouver's Laurie Mercer, whose past lives include concert promoter and band manager and who now sells vintage music and other ephemera on the internet, held four queens in a game of Texas hold 'em at a Vancouver casino in May and won a lot of money, including the Bad Beat Jackpot. With his winnings, he is travelling throughout Europe with his friend Gijs to watch soccer in bars where the home team is playing. He's posting stories about his trip on Gone Footie! This is an excerpt from the site.]
We wanted to watch a game in a small town in Italy, and selected Lavagna as our destination, as it was past the tourist trap of Portefino, and we hoped it would be cheaper there. The train ride provided us with a stunning panorama, with great old buildings set wildly against the mountains on our left, the sea on our right. I could not take any pictures, though, as the windows on the Italian train were too dirt-spattered.
When we arrived in Lavagna, we searched for a hotel with wi-fi; fat chance. Oh well, another day without internet. The Hotel Bristol seemed nice enough; the rate was a little higher than we were used to -- 100 Euros for a twin -- but we were in a resort, tired, and the game between Italy and the United States was tonight, so we took it. Our concierge advised us that the best place to see the game was in the piazza, off to the east, so, with half an hour before game-time, we walked to the square.
It was a small piazza even by small-town Italy standards. Each side had several restaurants, and they all had large awnings reaching out into the square, covering many chairs and tables, each facing a television. We picked a restaurant, and tried to sit beneath the awnings, but were waved away -- the area was reserved. We took a table with good sightlines outside the perimeter of the reserved area, and ordered our dinner.
Soon, the entire plaza filled with locals, several with Italian flags draped over their shoulders, many wearing Italian colours. I tried not to talk too much -- not normal behaviour for me -- as I did not want to be identified, particularly as an American. Costa Rican, Australian, sure; but given the reign of George Bush II, I wanted no connection to the U.S. of A, thank you very much.
In the middle of the game a boy came by selling beautiful red roses, and Gijs, impulsively, bought one. The boy was about 10 years old or so, but carried himself with all the world-weariness of a mini Tony Soprano; when he had to get change for Gijs's 10-euro note he walked into the bar demanding immediate attention. The rose, while beautiful, seemed oddly scentless.
The game was exciting and violent: three red cards, controversy everywhere. Other than the goal, the biggest cheer came when Totti was replaced by Gattuso -- obviously a local hero. The fans cheered his every move once he entered the game. But the tension was thick, the air heavy, especially when Zaccardo scored on his own goaltender.
Gijs and I ate the average food and guzzled several bottles of delicious Italian merlot. Gijs was thrilled to introduce me to a liquor called limoncello. Three of them, he assured me, and we would not be able to walk. Gijs is only learning of my capacities in such regard, however, because after three, I was ready for more but he was done.
After the game, Gijs, incapacitated by the limoncello, walked home. Carrying the rose that did not smell like a rose, I walked down the main boulevard in Lavagna towards the central square, and was hit on by the local prostitutes almost every step of the way. They were all slim, beautiful, young and black, each giving me only enough of their attention to gauge my potential as a customer before returning their focus to the steady stream of gaping men driving along the boulevard.
'Do you know my Canadian relatives?'
I came to another piazza; this time under the outdoor tent were a lot of twenty-somethings, flirting and drinking. I went into the bar, sat down and ordered a beer; an MTV-type show was projected onto the wall with the sound turned down, creating an ersatz Urban/R&B ambiance that, minus the music, was actually comfortable. When my beer came, I asked the waiter if he spoke a little English. He said yes, a leeetle. I said I would like to talk to someone about the football game we had just seen, that I was a writer from Canada and I would like to know how someone local felt about the match.
I wasn't sure if he understood me -- he just nodded and walked away -- but a few minutes later a trim young man with close-cropped, oiled hair, a tank-top, and an enormous cross at his neck, came and sat down beside me. "You are from Canada?" he asked. Upon hearing my affirmative he introduced himself as Paolo, and said that he had an uncle in Toronto, a cousin in Hamilton, last name Ferragami. Perhaps...? I shook my head and told him I was from Vancouver, as far away from Toronto and Hamilton as Lavagna is from Moscow; and we both marvelled for a moment at the vastness of Canada.
Paolo was not at all pleased with the game, venting most of his displeasure on coach Marcello Lippi. "This is a joke," he said. "When we have the extra man for so long, we should win the game. This is..." he said a word in Italian that I did not understand, but the combination of his hand gestures and grimacing face left no doubt that it was not good.
We were joined by a young blonde girl, a little tipsy, who draped herself on Paolo's shoulder. Paolo introduced her as Maria, and she asked him in Italian who I was. Paolo talked for three or four minutes non-stop, constantly looking at me and gesturing at me. As I hadn't really told him much about me or my trip, I had no idea what he was saying. Finally, she looked at me and said, "Is good." I could only smile, as I had no idea what to say.
We chatted a bit more, but obviously Maria coveted Paolo's attention more than I did. After buying them both a beer, I left the bar. About 10 steps away I realized I was still carrying the rose, and could have given it to Maria.
A home for the rose
I decided to go the opposite direction for a bit, to check out the scenery. I was more than a little tipsy, but this small town felt safe, and I wandered for a while admiring trees and trellises, scooters and sculptures, plants and passers-by. Walking down one side street I heard the soft unmistakeable sounds of a woman crying, and soon saw her -- a young woman, maybe 25 or so, with tightly cropped black hair, wearing a lovely dark green dress, sitting on some steps.
My path led right past her; if ever there was an opportunity to give away a rose, this was it. She saw me, looked down; as I came parallel to her I stupidly said "Hola" -- wrong language, Spanish was two days ago -- she glanced at me, and I handed her the rose. "La dolce vita," I said, "Life is good." She looked at me quizzically for a second, then accepted the rose, and smiled a little, "Grazia." I walked on, a little more bounce in my lurch.
I walked around the town for about half an hour more, and then decided to go back to the hotel and sleep. When I came to the strip where all the black hookers had been, there was one noticeable change -- lots of hookers, very few cars.
I chatted a little with several as I tottered home; sorry, not interested in buying a girl, just friendly. There are not enough superlatives in our language to properly describe the joys of lovemaking, but copulation without passion is most-often mechanical, meaningless, and not in the budget.
My life has been a complicated and interesting one; when I left home as a teenage runaway from a small B.C. town in the '60s, my head was filled with the melodramas of Jacks London and Kerouac, noirs of Hammett and Jim Thompson, the romantic elan of Leslie Charteris and Ian Fleming. The reality of street life was, in my head, something completely compelling; a few years feverishly studying in the school of hard knocks disabused me of my naivety. Still, it has given me the ability to easily relate and interact with all kinds of people; in my life I have made the acquaintance of a wide variety of prostitutes, drug dealers, thieves, prisoners, wannabee reformers, nuns, counsellors, charlatans, pimps, con men, policemen, hustlers, even (shudder) a few murderers. I feel comfortable enough with myself that I don't feel threatened or act church-y at the fringes of society and, as a result, I can usually engage in relaxed conversation wherever I go.
In Ghana, soccer matters
Which brings me to Rosemary. Taller than most of the girls working the avenue, at about 5' 8", she seemed to be about 20 years old, and unlike many of her sisters on the street, was not overly pimped out. She asked me if I was looking for a girl and I said "No, thanks." She continued the conversation, asking me where I was from. I told her, Canada, and she mock-shivered, ooh, a cold place. I laughed, and asked her where she was from. She hesitated, a bit dramatically I thought, a full two or three beats, as it were. "Ghana," she said.
Ghana is a small country in Africa, which had won their first-ever World Cup match only a few hours ago. It seemed oddly fortuitous that I had met someone from that remote place in the middle of the night, in a small Italian coastal town. A small cafe was still open about 20 yards from where we were standing; I asked if I could buy her a coffee and talk to her a bit about Ghana; I would pay her 10 euros for 20 minutes of her time. She didn't hesitate all. I don't know whether she was thinking she could upsell me, or simply that the prospects of finding a paying customer were pretty slim -- the lack of traffic on the avenue had provoked several of her cohorts to cruise by us, trying to make flirty eye-contact with me even as we chatted.
I didn't catch the name of the drink she ordered, it seemed to be some kind of syrup mixed with sparkling water; I had another beer. Rosemary told me that there were two other girls from Ghana working the strip here; when they started working that night they had jointly decided to tell customers they were from Senegal, because otherwise Italian men would waste time talking about football. I laughed, understanding now her professional hesitation at telling me where she was from.
I asked Rosemary if she had watched the game. Of course she had. One of the players, Emmanuel Pappoe, was a relative of sorts. She explained the connection, but it seemed more tribal than any kind of blood relation, although that may simply be my western ethno-bias at work. Her family that day had hosted a party to watch the game; about 20 had crammed into their apartment, and two of her brothers, she laughed, passed out by the end of the match.
'Bigger eyes' on a small country
"Ghana is a small country," she said, "and we have had many troubles. Most people are my age, because the generation in front of us have been killed by the fighting and the diseases." I asked her how old she was, and again she looked at me warily, then "Diciotto." Eighteen. My poker radar told me she was bluffing. I thought maybe 16 or 17. Yikes.
I asked her if her family approved of what she was working at, and she said yes, she and her sister (double yikes) were providing a lot of the family income.
"Everytime I get 50 Euros," she said, obviously referring to her street price, "it is more than my father could make in two settimane [weeks] in Accra. I am very safe, I only use the condom, and I do not use the drugs.'
I returned the conversation to football. "What will it be like in Accra tonight?" She laughed. "Oh very, very much fun. There will be fires and dancing, everyone will be happy with everyone, even the illegals." Hmm. "Fires?" I asked. She put her hands together, then raised them, spreading them out, and said "Boom!" Ah, fireworks.
"Ghana needs so many things," she said, "we have so many troubles. If football helps the world see us with bigger eyes, then this is for us maxim good."
We finished our drinks, and I walked Rosemary back to her corner. "Goodnight," I said, and "buono fortuna." "Ciaou," she responded, "you are a nice man, I hope your trip is gooding." I thanked her and, inwardly smiling, went back to the hotel to sleep.
Laurie Mercer writes about looking for Germans in Holland in Amsterdamned and finding Brazilians in Milan in Brazil Wins!
Related links and Tyee stories: