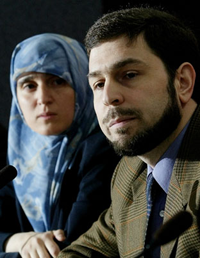 Hope & Despair: My Struggle to Free My Husband, Maher Arar
Monia Mazigh (translated by Patricia Claxton and Fred A. Reed)
McClelland & Stewart (2008)
[Editor's note: Maher Arar will speak at the CCPA-BC fundraising gala on Thursday, February 12 in Vancouver.]
Beethoven's opera Fidelio tells the story of Florestan, an innocent man who is jailed for political reasons. Leonore, his wife, sets out to find and free him. Ultimately, her love and courage prevail over the arbitrary power of the state.
Monia Mazigh is Canada's Leonore. In this book, she chronicles her struggle for justice, human rights and the man she loves.
Maher Arar was detained at New York's JFK Airport on September 26, 2002, while returning to Canada from a family vacation in Tunisia. After twelve days of questioning, he was deported to Jordan and then Syria -- his place of birth and, because Syria does not recognize renunciations of citizenship, one of his two countries of nationality.
Mazigh, a very capable individual who holds a PhD in finance from McGill, immediately contacted Canadian consular officials. Expecting assistance, she instead encountered a string of delays and excuses.
Mazigh then turned to politicians, some of whom -- including New Democrat Alexa McDonough and Liberal Marlene Catterall -- did their best to help. She even received a letter from then-prime minister Jean Chrétien promising that everything possible would be done. However, in post-9-11 Ottawa, the RCMP and Canadian Security Intelligence Service wielded almost as much influence as the PM. And they were keen to support the CIA's "extraordinary rendition" program.
Too busy to discuss a jailed Canadian
As Gar Pardy, the director of consular affairs at the Department of Foreign Affairs, explained in an April 2003 e-mail to Mazigh that probably cost him his job: "A major part of the problem here is that not everyone within the Canadian government is in agreement with what we are doing to support Maher's cause. The Syrians are well aware of this situation and without any doubt this influences their willingness to cooperate."
The next month, when Deputy Minister of Foreign Affairs Gaëtan Lavertu travelled to Damascus, he "didn't have time" to raise the matter of Arar's detention with the Syrian government. Or so Mazigh was told by Pardy's assistant.
Last resort: the news media
Disillusioned with the Canadian government, Mazigh turned to the media. Going public was, she explains, the only recourse she had left: "[F]or me, the media was my only hope of ever seeing Maher again. I had been robbed of my husband, and he had been robbed of his rights. I was not even allowed to talk to him or find out where he was. My response was simple: I chose to speak to the world, to be open and to denounce the way we were being treated."
Thousands of Canadians responded to her pleas, sending letters and e-mails to the Canadian government, making phone calls and turning Arar into a cause célèbre. Reluctantly, the Canadian government began to apply pressure on Syria and, on October 5, 2003, Arar was released.
He returned to Canada with deep psychological scars, having spent nearly a year in a dark, dank cell that was just two metres long, one metre wide and slightly more than two metres high. He had been tortured repeatedly, including by being beaten on the palms and wrists with an electrical cable.
Perhaps to preserve some last remnants of privacy, Mazigh's book only hints at the challenges she faced in rehabilitating her husband and family life.
Curse of lingering suspicions
Then, there was the issue of Arar's reputation. Many Canadians continued to regard him with suspicion, knowing that he had been detained and deported because of suspected links to terrorists. The suspicions only grew when, shortly after Arar's return to Canada, unnamed sources within the Canadian government alleged that he had travelled to Afghanistan many times.
Mazigh responded to the falsehoods with a new advocacy effort, this time aimed at pressuring the Canadian government into establishing a public inquiry. For three months, the government resisted, before announcing in January 2004 that an inquiry would take place. Two and a half years later, Justice Dennis O'Connor, the inquiry commissioner, concluded that the decision to remove Arar to Syria was "very likely" based on inaccurate and misleading information from the RCMP. He also refuted any doubts about Arar's innocence: "I am able to say categorically that there is no evidence to indicate that Mr. Arar has committed any offence or that his activities constituted a threat to the security of Canada."
Mazigh's book contains some powerful commentary on how severely Canada's view of human and citizenship rights were challenged after 9-11, and how poorly some politicians, bureaucrats and journalists behaved. There is the occasional flash of anger, especially against Diane Ablonczy, a Conservative MP from Calgary whose comments about Arar in the House of Commons would have been libellous if uttered elsewhere. Most of the time, Mazigh's insights are presented with a dry wit, like when she compares journalism to high fashion: "It only takes one to dare to do something different to make all the others start doing the same thing."
Fighting to balance rights, security
Mazigh's campaign to free her husband provided an early focal point for efforts to defend human rights in post-9-11 Canada. The RCMP and CSIS had overstepped the mark, and not just with Arar. We now know that three other Canadians were taken to the same Syria prison and tortured, and that they, like Arar, were asked questions provided by Canadian officials.
Thanks to Mazigh, the balance between security and human rights in Canada is now nearer to where it should be. Yet much work remains to be done. RCMP Commissioner Giuliano Zaccardelli lost his job as a result of his role in the Arar affair. But nobody has been charged with any crime, even though complicity in torture is punishable under the Criminal Code of Canada and the Rome Statute of the International Criminal Court.
Nor has the Canadian government improved its defence of Canadian citizens overseas. Last year, Prime Minister Stephen Harper decided that clemency will no longer automatically be sought for any Canadian sentenced to death abroad. Meanwhile, Omar Khadr, Canada's child soldier, remains in Guantanamo Bay -- the only Western national who has not been repatriated from a legal black hole that President Barack Obama is now moving to shut down.
Perhaps worst of all, patently false rumours about Arar continue to circulate.
Fortunately, Monia Mazigh has not given up the fight. Joined now by her husband, she is still campaigning hard for human rights.
It's a story worthy of Beethoven's only opera. And it makes for a fine book.
Related Tyee stories:

Arar Report: What's Missing?
Dozens of 'omissions' conceal what kind and how much info was denied the public.
Aiding Torture
Our top politicians may have violated international law. Why is that not an election issue?