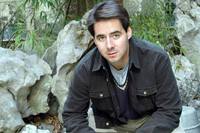 Oracle Bones: A Journey Between China's Past and Present
Peter Hessler
HarperCollins (2006)
Ever since China began opening up in the late 1970s, a new kind of China travel book has emerged: the account by a western English teacher. These people haven't been mere tourists trying to remember which was Suzhou and which was Hangzhou. The teachers have planted themselves in particular cities, worked for Chinese employers, and come to know their students.
Having taught in China back in 1983, I've followed the genre with interest. My wife and I taught in Guangzhou, which was then like Dickens's London, only hotter. As I've read the teachers' books over the past 20 years, it's been fascinating to see what's changed and what hasn't.
The teachers have tended to focus on their own experiences as they struggle with culture, climate and politics. Sometimes they learn a little about their students' families, or about their Chinese colleagues' experiences in the Cultural Revolution. They learn much more about their own western colleagues, "foreign experts" who are also ignorant of the China they're working in.
Those were very much my own responses. But an American named Peter Hessler single-handedly changed the genre to focus more on how China's people are coping with their rapidly changing society.
Hessler's 2001 book River Town was an account of his two years in a small city on the Yangtze in the 1990s. He made a point of learning Chinese, so he could get to know both his students and their community far better than most expatriate teachers ever do. Their books tend to dwell on the authors' own culture shock, and especially on China's failure to be a tidy, modern nation.
Hessler was far too intelligent for such a reaction. Whatever he learned about China, he earned by mastering the language, listening to students and people in the street, and taking the country for what it is -- not what westerners think it ought to be.
Little time for dissidents
Five years later, Hessler has published Oracle Bones: A Journey Between China's Past and Present, in which he deals with his experiences as a foreign correspondent in China from 1999 to 2003. It's yet another advance in the genre.
As a journalist, he was half-hearted -- he didn't want to develop a Rolodex of contacts or clipping files, or to interview the dissident of the week. He preferred to correspond with his former students as they launched their careers, or to hang out in seedy Beijing restaurants with transplanted Uighurs -- Turkic-speaking Muslim Chinese from the far west.
Having landed a job as the Beijing correspondent for The New Yorker, Hessler spent his time writing three or four articles a year, plus odds and ends for other magazines and papers. To a great extent he simply followed his own interests, from crooked English-language schools to the challenges of archaeology in a country with no ruins.
It would have been easy to drag these stories into a single folder on his hard drive and cobble together a book. But Hessler has instead created a brilliantly unified story based on the "oracle bones" of the ancient Shang dynasty, bones carrying the first written Chinese characters. The discovery and interpretation of Shang writing occurred even as the country collapsed under warlordism, invasion and the growing communist revolution.
Lost over centuries, lost in a generation
So some of Hessler's chapters deal with young marrieds trying to save up enough to buy an apartment, and the troubles of a Uighur émigré in post-9-11 Washington, D.C. But he weaves them into a narrative of his search for the fate of Chen Mingjia, a scholarly expert on the Shang who killed himself in 1966 during the Cultural Revolution.
Hessler's quest takes him all over China and the U.S. as he interviews scholars now in their 80s and 90s (even one still-active centenarian). Their own careers reflect the turmoil of China since the 1920s, and Hessler becomes a kind of archaeologist of their lives. He finds scraps of information as valuable to the old scholars as the oracle bones themselves.
Rather than being just a scrapbook of clippings, then, Oracle Bones gives us the mysterious history of China from two perspectives: the Shang of 4,000 years ago, the endless revolution of today. This gives us a rare insight into the price China has paid for its longevity and modern prosperity.
As little as we know about the Shang, we know almost as little about the tragedies of the 1930s and 40s, and the catastrophes of the 1960s. The survivors of the Cultural Revolution, like combat veterans, prefer not to talk about what they experienced. Hessler's ex-students scarcely understand what their parents and grandparents went through. Even Hessler, for all his knowledge, can only glimpse the lost generation of Chen Mingjia and his contemporaries.
What they lost is as lost as the world of the Shang and the Zhou. Hessler can at least help us understand that what China has lost, we have lost as well.
Related links and Tyee stories: