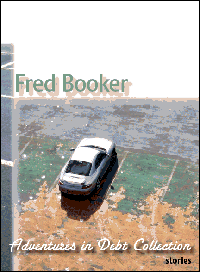 Adventures in Debt Collection
Fred Booker
Commodore Books (2006)
One of the most exciting concepts to emerge in the fields of black and African Studies during the past 15 years is sociologist Paul Gilroy's Black Atlantic. The framework not only anchors the shared experiences of the black diaspora in transatlantic culture, travel, labour (especially slavery) and other experiences, it also draws attention to the question, "Is there a Black Pacific?"
Post-slavery black pioneers to the West were drawn by the same social and economic factors as other, white settlers. (The gold rush, for instance.)
In the rest of North America, blacks served as the bedrock of racial hierarchies. They were the targets of racial hatred par excellence, and the standard by which other minorities were judged. We knew the Irish were hated because they were 'smoke n*ggers.' Blacks in the West, on the other hand, were uncommon, and they found themselves thrown into a Pacific apartheid in which indigenous peoples, South Asians and especially East Asians already provided a detested, underpaid pole for racial antagonism.
In the American context, these once-subtle differences were gradually erased; by the time of the urban rebellions of the 1960s, politics in Watts didn't look so different from politics in Newark or Detroit. But in Canada, the position of blacks in the West was both more of the same (racism, ghettoization) and something uniquely Western Canada's own.
Old stories get new voices
For several years, Vancouver poet Wayde Compton (49th Parallel Psalm, Performance Bond) has been the most visible guardian and documenter of this historical legacy. Those who've followed his career have been waiting for the debut publication from Commodore Books, the "first and only black literary press in Western Canada." Compton started the press with black/Prairie-literature expert Karina Vernon (with whom Compton had a conversation in The Tyee in February 2005) as well as SFU English teacher and writer David Chariandy.
After much anticipation, Commodore (named for the ship that brought B.C.'s first black community up from San Francisco) has released author Fred Booker's Adventures in Debt Collection, an engaging and cosmopolitan collection of (very) short stories.
The first is "Matoxy Sixapeekwan," the nickname conferred upon Albertan black cowboy John Ware by the Sarcee Indians. It means "bad white black man." If the prospect of a mean, pioneering cowboy viewed simultaneously as white and black by the Natives weren't enough to capture the ambiguity of the black space in Western Canada's racial geography, Booker arrives at Ware's story through the remembrances of his descendant, Bob, a business-suited collections agent who mercenarily outwits Vancouver's too-poor and indebted, but nevertheless faces a glass ceiling at work (like the rest of his non-white and female colleagues).
According to his biography, Booker spent some years working at "General Motors Acceptance Corporation of Canada, where he was responsible for repossessing cars and trucks on seriously delinquent accounts." It's no wonder that these stories have the ring of truth to them. They read like good fiction augmented by the myriad anecdotes accrued during working life, rather than something cobbled together by a middle-class young writer sheltered from work right through to an MFA, trying to imagine what repossession might be like.
Auspicious debut
Occasionally, Booker wants to tell us more about his characters and their development than can be accommodated by the miniature-sized canvasses that he's chosen. In the collection's least successful story, for instance, two co-workers antagonize each other, compete for a promotion, learn to cooperate, admit their mutual attraction and agree not to pursue it, in a mere eight pages.
But for the most part, Booker offers us short glimpses into multiculturalism that reflect the even shorter glimpses we get into each other's cultures in real life. What's more, he extends this cosmopolitanism past the borders of Vancouver and into a generalized western mosaic, giving the lie to the idea held both in the city (by snobs) as well as in rural areas (by racists) that diversity can or should only be found in big towns.
Several characters appear in different stories, and are introduced and re-introduced in slightly different ways, giving us a multiple-angle view of Booker's cast, whether Métis, Japanese or European; male or female; young, middle-aged or elderly. The stories speak subtly to the power of collective action. They meditate on the place of the individual in the multiple social contexts -- ethnicity, gender, field of employment, personal and collective histories) -- of contemporary life in Western Canada. They are also fun and memorable.
This is an auspicious debut for an eminently welcome literary project.
Fred Booker's Adventures in Debt Collection will be launched with a reading and book-signing on Nov. 9 at 8 p.m. at The Brickhouse, 730 Main Street.