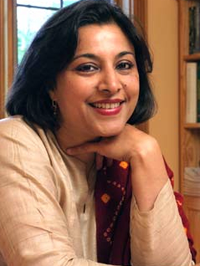 Can You Hear the Nightbird Call?
Anita Rau Badami
Knopf Canada (2006)
Writing about the politics of B.C.'s Indo-Canadian community is not something to take on lightly. Just remember the assassination of former Indo-Canadian Times editor Tara Singh Hayer, fatally shot in 1998 for his Air India probings. Or the death threats received by Vancouver Sun reporter Kim Bolan, author of Loss of Faith: How the Air India Bombers Got Away With Murder, for covering the same territory.
Now young Surrey-bred author Ranj Dhaliwal, who exposes South Asian gangsterhood in his recently released novel Daaku (New Star), is getting flack for saying he believes some local Sikh temple leaders instructed local hoods to do some judicious roughing-up.
So for India-born, now Montreal-based author Anita Rau Badami, grappling with Air India and related 20th-century atrocities in her third novel was a strong impulse, but not an easy one. Can You Hear the Nightbird Call? takes readers through half a century of subcontinental political upheaval and into the Indo-Canadian diaspora. For its three main female characters, the devastating sequence of events begins with the violence unleashed by the 1947 Partition of the Punjab province between India and Pakistan. It moves on through the 1984 attack on Sikh militants holed up in the Golden Temple in Amritsar, Indira Gandhi's subsequent assassination by two Sikh bodyguards, and the following random violence against Sikhs that rocked cities like Delhi and may well have spawned a group of exiled extremists plotting from B.C.'s Lower Mainland.
It's tragic material, told through Bibi-ji, the beautiful, ebullient sister who nabbed a husband to take her to a better life in Vancouver; mixed-race Leela, who also finds herself a West Coast emigrant, where her dark-skinned, grey-eyed in-between-ness is more comfortable; and Nimmo, the doubly unfortunate one who barely survived Partition brutalities as a child only to experience decades-later ones in Delhi. Of lapsed Hindu background, Badami drew on personal experiences for the book, such as seeing a man burned alive during anti-Sikh violence in Modinagar, as well as having had a neighbour in southern India whose husband died in the Air India disaster. In town for this week's Vancouver International Writers Festival -- she's a featured guest on Sat., Oct 21 -- the author settled into a corner of the Granville Island Hotel to speak about her reasons for writing the novel, and what the five-year process demanded.
Here is what she had to say...
On her fear of the tragedy, and of retribution:
I was kind of afraid to go to those places. I wasn't just reading testimonies of people who were killed in India, I was listening on CBC to things that the relatives of the Air India victims were saying. And it was heartbreaking, on both sides, because it's the innocent people who are affected. At one point I [became] so terrified, I really thought I shouldn't be writing the book. The thing is, I didn't want to be too guarded, because it was going to ruin the book if I couldn't write it the way I wanted to. But at the same time I certainly didn't want to be attacked; I had no desire to be any kind of hero to the cause of writing. It was [during] the third draft, I remember, and at that point I decided I'd better do my research as thoroughly as possible. Better find out everything from every possible angle.
On writing about B.C. Indo-Canadians:
I'm getting a little more comfortable with it each year that goes by. In a way, I was writing about it from the outside. I lived [in Vancouver] for about six and a half years in the 1990s. Even though I belonged to that community, I felt that I was a recent arrival, so I didn't really know the layers of history and story and feeling. There are people who have been there since 1900, and many others who came later, and each one of these layers feels differently about their relationship to India.
On getting the community to talk:
I found it incredibly difficult to get people here to talk about certain things. They'd tell me [only] the pleasant things, but not about the politics and how they felt after the Golden Temple was attacked, after Indira Gandhi was assassinated, and how they felt about the Air India disaster. It's almost as if they'd rather bury it and forget about that awful period. I think largely because [Air India] was a huge guilt and a huge hurt. On the one side, the Sikh side, there is a huge feeling of guilt -- even if they weren't involved -- and among the non-Sikh community it was this sort of anger aimed not just at Sikhs but at the Canadian government, for not having done anything, and for having bungled [the investigation into] the biggest act of terrorism anywhere in the world until 9-11.
On the shadow of racism:
The sense I got from talking to people was that [the disastrous handling of the Air India investigation and trial by Canadian authorities] was a racist thing, and that if there were more people who were white on that flight, it would have been different altogether. I tried to keep my opinions out of it because I wasn't here at the time -- I didn't know what Canada was like in the 1980s. It did seem to me that there was not enough of an effort to find out what happened, and how it happened. And the investigation -- I was reading all the accounts -- [the police] followed somebody who was practising how to explode bombs. The RCMP were sitting there in a car, listening to things being blown up. And nobody did anything! This thing could have been stopped. I found that unbelievable, and so I started writing the book.
On why the subject compelled her:
It was a book that had to be written, as far as I was concerned. I just felt it was so unfair to every side concerned, that there is no sense of closure for any of the victims, or their relatives, or anybody. There were these people murdered in Delhi after Indira Gandhi's assassination, and they still haven't caught the perpetrators [even though] everyone knows who did it. Only one person has been convicted. I've discovered that these acts of violence that occur seemingly randomly, seemingly exploding out of the air, aren't really. It's something that has been building for many, many years. A whole community might have been sitting there, swallowing humiliation after humiliation, or some kind of rage, and then it just explodes -- many years later sometimes. That's not to say that the violence is justified at all, but I think it's important to consider why it blows up like that. It becomes a cumulative thing: violence in answer to an act of violence.
On childhood encounters with death:
The politicization of me must have started when I was a child. In Calcutta, for instance, we used to live in this lovely railway colony, which was literally walled. But right outside was the real India. All along the wall of the colony, on the sidewalk, was a shantytown. There were all these people who had no water, no place to sleep except the sidewalk, and no food for the most part. That particular street was known as the Street of Death, because there were many busy roads intersecting at that point, and these buses would come crashing around the corner and take wide, sweeping turns. I remember from when I was about 10 years old, there was a fellow who used to sell bananas on that sidewalk, and he used to live under the cart. One morning he wasn't there, and there were just squashed bananas and blood stains everywhere, because a bus driver had lost control and driven over the banana-man. It was an almost daily thing that someone was crushed to death in that intersection.
On religion dividing families:
I was there in Delhi when people were attacked, and I know people who were affected. One of my cousins married a Sikh guy, and I remember he had to be smuggled [to the airport] in a car, covered in blankets, to fly back to the U.S., where he had a family. He was one of the most cheerful of men to that point, but this incident scarred him so badly. He has [since] insisted his son wear a turban. He's become very Sikh, very committed to Sikhism. And I don't know how my cousin must feel, because she's Hindu. When they got married, with a great deal of opposition from his side of the family -- they were dating for about 10 years -- they went to the U.S. mainly as a way to avoid family tension, and they had agreed that the children should be brought up non-denominational, no religion, and they would choose when they grew up. And [my cousin] didn't have the heart to say anything because she knew how it must have felt.
On her research's troubling treasures:
I found the research overwhelming, which is why the book took me so long. I read a collection of testimonies given by the victims of the chaos after the Indira Gandhi assassination to a non-governmental group called the People's Union of Civil Liberties. They went from house to house in Delhi asking people to talk about what happened. That was an incredibly valuable document for me. [I also read] interviews published in India with people who were involved in extremist activity in the Punjab. One of them was with the family of one of the men who had assassinated Mrs. Gandhi. For some of them, it's almost, "been there, done that, let's move on." They've been in prison for 10 years or whatever, they feel it's done. They've come to terms with themselves. A lot of them are very well established business people, and the community has reconciled itself to these people, too, and I thought that was so strange. There's a sort of casual dismissal.
On the ubiquity of terrorism:
Terrorism has always existed on this planet among human beings, in one form or another. It's just that we seem to be giving it extra airtime now because of 9/11. Which I don't think is right, because it's part of so many political scenarios across the world, but we never hear about [those]. It was part of the whole Punjab of the 1980s. There weren't suicide bombers, but certainly there were people running around who were armed to the teeth, very dissatisfied with the Indian government. After a while the Punjabi population had no clue who was the enemy. Really, after a while it was completely blurred; you had no idea who to support -- everybody was rotten. A lot of people in the Punjab and in India felt that the extremism was imported from Canada, that there were people sitting here, leading a completely comfortable life and stirring up trouble. It was funded quite a bit from here, from what I understand.
On an unexpected Canadian reaction:
When my first book, Tamarind Mem, came out, which I thought was a completely harmless book, I was on this Indian radio show. It was a call-in show, and they had asked me to read a little passage. So I read about a woman who was a fairly strong character. I thought it was completely innocuous; I didn't think there was anything in there to offend anyone. But the first call was from a man -- and this was an Indo-Canadian radio station -- screaming at me for being a feminist and swearing up and down that he would not read the book. This is something that truly surprised me. In India, nobody would go nuts over this book. If they had a problem, they would come and talk to me in a perfectly decent, civilized way. I'm a bit baffled by this kind of possibility, that there are people out there in this community that are so rabid.
On India's violence and resilience:
That country is never still, because it's such a complex country. There's such a great divide between rich and poor. So many religions, so many languages. So if it's not one thing, it's something else: this fractious nature. And somehow it always resolves itself. Functioning anarchy, really! As recently as 2003 there was this ghastly thing in Gujarat where a bunch of Muslims were slaughtered -- they were suspected of having blown up a train of Hindu pilgrims. So in retaliation the hardcore Hindus went berserk and just slaughtered the Muslims in that area. Things like that just shock, they completely shock me. Because I keep thinking that this country has hung in there somewhere. I can't believe it has still managed to survive all these hideous acts of violence.
On the nightbird legend:
I made it up. [And then] I was telling some friends in India about the title of the book, and every one of those women in the room, from different parts of India, claimed that in her mythology or regional folktales there is such a thing as a nightbird, and that it is almost always a portent of some kind of doom. Maybe I'd heard about it from someone way back when I was a child. I did collect all the stories, and for the most part the nightbird isn't a pleasant word.
An Intimate Evening with Anita Rau Badami takes place Sat., Oct. 21, 8 p.m., at Granville Island's PTC Studio. For complete festival details, click here.