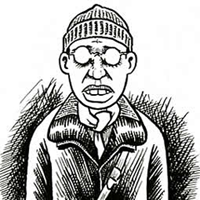 It's cartoon journalism -- in the best possible sense of the phrase. Joe Sacco, the Portland-based cartoonist who appears Sunday, September 24 at the Word on the Street books and magazines festival, pretty much invented the form back in the mid-1990s, when he ended up in the Gaza Strip and started drawing what he found there.
The resulting comic book, Palestine, made Sacco a household name, at least in comics aficionados' households. It also won him an American Book Award, which started getting him mentioned in other, less geeky people's households.
Sacco went on to produce Safe Area Gorazde: The War In Eastern Bosnia 1992-1995, (whereupon he was awarded a Guggenheim Fellowship, and a lengthy profile in the New York Times) and The Fixer: A Story from Sarajevo. The books got due attention because of Sacco's dual achievements: the candour and bravery of the writing (Sacco has a BA in journalism from the University of Oregon) made the books classics of frontline reportage, while the richly detailed quality of his drawing (he's admitted Brueghel the Elder as a major influence) made them first-rank works of art.
It was as if Sacco had, all on his own, somehow managed to come up with a version of Michael Herr's Vietnam-era classic Dispatches illustrated by Robert Crumb. A feat he's accomplished three times, so far. If there's a reason I don't have to spend any time trying to convince you that comics have all grown up and are worthy of serious attention, Sacco -- along with artists such as Art Spiegelman, Harvey Pekar, Charles Burns, Dan Clowes and the Hernandez Brothers -- is heavily responsible for saving us both that tedium, dear reader.
Yes, but what is it?
So is it cartoon journalism? Is that what we call this new-ish form? "Sure," he says now, speaking on the phone from Portland. "I heard some guy call it documentary cartooning the other day. That could work too." How did it come about? "It was pretty accidental, except in the sense that I studied journalism and was interested in politics." A Maltese citizen who grew up in Australia and Los Angeles, Sacco ended up in the Pacific Northwest, working on staff for Fantagraphics, the most innovative comics publisher at the time, where he became part of the autobiographical glut that filled the late 1980s and '90s alternative comic scene.
"In some ways what I'm doing now did come out of that autobiographical genre. Autobiography is a way of learning how to tell a story. But ultimately, there have to be more universal reasons to tell that story."
So while many stalwarts of the autobiographical comics scene went further and further into navel-gazing, Sacco began travelling, and recording what he saw as he moved around -- "So you don't just go there as a sort of gawker." An initial fascination with the Gulf War lead him to the Middle East, which lead him to Palestine, which lead him to that initial series of comic books, which became the collection that made his name, "which became much more refined in the books about Bosnia." Many critics compare his work with that other much-awarded cartoon chronicler of conflict, Art Spiegelman, whose Maus won a Pulitzer for its retelling of his father's experiences surviving the holocaust. While I revere Spiegelman's work, I think what Sacco has created is a new, less neurotic animal.
Before war, there was punk
He appears in Vancouver this weekend in the wake of his latest book, But I Like It, a mixed collection of older music-related work that dates back to his rock-scene days in early 1990s Portland, a European tour selling t-shirts for obscure psych-punk group the Miracle Legion, and a residence as a struggling rock poster dude in Berlin. When I tell him that the new collection has the feel of someone "cleaning out their vaults," he agrees. "That is essentially correct."
But he can defend it. "We did our best to make it look good, and we did a lot of weeding. It needed to be weeded. There's a lot of really bad stuff from that time that isn't in there. It's pretty much the best of an era of my life. But, yeah, it's cleaning up the vaults, to a certain extent."
But I Like It, though not an entry-point purchase, certainly isn't without worth. If you want a quick time-trip back to the self-loathing that was the Pacific Northwest music world circa 1991, or a scattered, impressionistic portrait of the squalor of a minor-league European rock tour, or a rather sweet portrayal of the travails of still being a Stones fan, it's here. Best in the book, though, is the more recent piece "The Rude Blues," a five-pager about accompanying the aging, ornery bluesmen revived and sent out on the road by Fat Possum Records. It shows just how immensely Sacco's work has grown.
Today he's hard at work on another book about the Gaza Strip, focusing on the southern towns of Kham Younis and Rafah. How has the region changed since his first visit? "In some ways it's even more difficult now. When I was there the first time, Gaza was occupied in one sense of the word. Now it's occupied in a different way, surrounded, economically blockaded and being used as a shooting gallery."
Skeptical, but not a total cartoonist
The new work in progress has an emphasis on historical context, going back to the Suez crisis. "If I had the time, if cartooning wasn't such a labour-intense process, I would tell old stories that really reflect on today, about the crusades, or the destruction of the Mahdi army in the Sudan, and Gordon of Khartoum."
Of course, would the people who need all this context ever actually read Sacco's work and learn the intended lessons? "No. If you told that story it wouldn't change anything. For what that's worth, as always, I'm doing what I'm doing for myself, essentially. Books like these...maybe as part of a wave they have some sort of impact, but I'm not fooling myself."
What about the laborious nature of cartooning itself? Most cartoonists I know are miserable wretches, pasty obsessives chained to their drafting boards day and night. "You're right that it's laborious and intense and all that. But I'm a very social person. As many hours as I'm spending at the drawing table, I always get a blast of other people. And I'm interested in what I'm writing about. If I was doing hack work, I wouldn't enjoy it. Plus I'm lucky in that for certain months every year I travel, and that's a very immediate experience. They're such intense experiences that they really stick with me for a long time."
Does he ever envy the journalists he meets in his travels, who can report their experiences relatively immediately and not have to go home and spend three years in front of a table? "Sometimes I'm envious of other journalists because they're always there. But one of the joys of coming home and being chained to the desk is being artistic."
Is he still, 20 years into his career, enthused with cartooning? "Probably more so than ever. It seems like such a fresh art form, with so much untrampled grass for you to put your feet on."
Matthew Mallon is a regular contributor to Tyee Books.