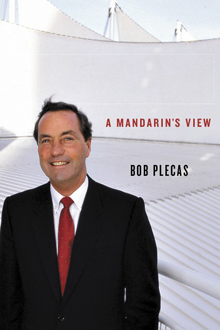 Bill Bennett: A Mandarin's View
Bob Plecas
Douglas & McIntyre (2005)
The giant throng of protesters numbered 60,000 or more, me among them. We were headed to confront the hated Social Credit Party and its even more despised leader, Premier Bill Bennett, at their convention at the Hotel Vancouver.
It is Saturday October 15, 1983, at the height of the Solidarity Movement against the Socreds' massive assault on labour, renters, women, human rights -- you name it, they were legislatively attacking it with 26 different bills.
The line of protesters stretched for blocks and blocks, an endless sea of signs and an ear-splitting array of chants, drums and noise makers. It was an exhilarating rally and the largest of the Solidarity actions.
Within weeks government employees and then teachers would hit the picket lines in an escalating job action that could have led to a general strike. The province was in turmoil.
But on November 13 a deal was struck between labour and the government. Former IWA president Jack Munro flew to Kelowna to meet Bennett at his home to end the dispute and a bitter chapter in B.C. political history was over.
Shaking hands with the devil
Flash forward 23 years and, amazingly to me, Bill Bennett and I are shaking hands and chatting amiably. We are at the launch party for a new book about the former premier's three terms in office from 1975 to 1986 and I'm there as a guest of the author, former provincial senior deputy minister Bob Plecas.
The battles of those days are put aside as Bennett and many of his former cabinet and staff gather to reminisce 20 years after his retirement from politics.
Bill Bennett: A Mandarin's View is Plecas' own view of that amazing battle and the many other controversies and achievements of a premier now long faded from the spotlight and a party that only exists as a dimming memory.
The book is lively, informative and at least partly revealing of Bill Bennett's hidden personality. It is also flawed at times, frustratingly missing analysis of key moments or giving short shrift to important threads to the story of our province.
But it is unequivocably Bob Plecas' book, and is not Bennett's autobiography. It is also a book written by someone who unabashedly admits Bennett was "the best premier I have worked for -- and I have worked for six premiers".
Unlike Allen Garr's 1985 journalistic book Tough Guy, or Stan Persky's polemical two-volume attack on Bennett titled Son of Socred and Bennett II, Plecas is an admirer of the former premier, albeit one who also occasionally throws in some surprising criticism.
The politics of 'restraint'
Plecas was in the thick of things for the government in the Solidarity protest, along with fellow deputy ministers Norman Spector, now a political commentator, and David Emerson, now a Conservative MP and cabinet minister.
Looking back at that time, Plecas gets right to the point:
"There remains one real question: why did a B.C. government that had perfected running on the right and governing in the middle as a sure path to win election after election decide it should swing widely right?

There are several answers, all equally important.

Bennett knew from the day he won the 1983 election that this was to be his last term in office, and he felt he had to 'fix' the problems caused by the recession in order to secure B.C.'s future. And while doing so, he dealt with a few pet peeves.

He wanted to change the agenda in a radical way, leading the NDP to focus on him. Since he would be leaving, they would have expended their energy on the wrong target.

Finally, hubris. The rarefied air of the cabinet chamber and electoral success goat all the Socred ministers caught up in what they could do, and therefore would do.

The sin of arrogant pride. Not healthy."
But like much of this book -- and like every good senior bureaucrat -- what Plecas writes can be interpreted in different ways.
First, were the Socreds really ever "governing in the middle"? No. The Social Credit Party did the political calculus and realized that if the province was neatly polarized, the so-called free enterprise party could take a slightly larger share of the vote and defeat the NDP.
Socreds had the whip hand
The 1972 election that saw Dave Barrett defeat Bennett's father W.A.C. after 20 years in office was won by the NDP with 39.59 percent of the vote to the Socreds' 31.16 percent. The Liberal and Conservative Parties took the rest.
In 1975 Bill Bennett led the resurgent Socreds to victory by bringing key Liberal MLAs like Pat McGeer, Garde Gardom and Allan Williams and Conservatives as well to his party to garner 49.24 percent of the vote.
But Barrett and the NDP dipped only slightly to 39.16 percent. It was the unity of the right wing parties that defeated the social democrats. In subsequent elections Barrett picked up as much as an impressive 46 percent, but it was still less than Social Credit.
And during their three terms of office, the Socreds undid much of the progressive legislation undertaken by Dave Barrett and repeatedly attacked labour, knowing they held the whip hand electorally.
Second, how did Bennett "fix the problems caused by the recession"?
Bennett's "restraint" program actually increased spending in 1983 by 12 percent, well ahead of inflation. And the projected $1.6 billion deficit for that year was to be the largest in the province's history, while the former NDP had balanced the books in the first two years and faced a small deficit in the third. Plecas does point this out in another section of the book but does not explore the contradiction at all.
Bennett lost his edge
Third, was Bill Bennett really planning to leave office by the end of his third term?
That is certainly the view Plecas takes, but following the 1983 Solidarity battle Bill Bennett become an extremely unpopular premier and, in my view, had no hope of winning another election.
Plecas doesn't mention the pivotal 1984 by-election in Okanagan North, won by a New Democrat, Lyle MacWilliams, for the first time ever -- a victory that sent a shock wave through the Socred ranks, particularly since the neighboring riding of Okanagan South was Bill Bennett's own seat.
Bennetts intentions are perhaps an unanswerable question but definitely a debatable one.
As well, the scandalous $500 million Coquihalla highway overrun gets barely a few paragraphs.
However, Plecas's book adds details to many other of the province's key political developments through a series of interviews with Bennett and other major players from the time. He also references other books and media reports.
Overall, though, the picture of Bennett is not that different than the one many of us had at the time. Bill Bennett was the quintessential loner, the tough Clint Eastwood character who rides into town, takes action and leaves again without revealing his inner thoughts or passions.
Plecas clearly illustrates Bennett's penchant for the role of the isolated leader throughout the book. He writes at one point that: "Bennett never lunched or had dinner with colleagues in Victoria. Never a drink after work. A Spartan, lonely existence."
But Plecas also points out that Bennett greatly feared making a mistake, knowing coming into the position of new Social Credit leader in 1975 that he did not have his father's long experience in politics and would be severely criticized and his leadership threatened. Plecas also notes Bennett's strong devotion to his family; he returned often to Kelowna to escape the politics of Victoria.
Bill Bennett: A Mandarin's View will both somewhat enlighten and frustrate those who follow British Columbia's political history. But if you lived through that turbulent time or simply find it a fascinating period, Bob Plecas's book is well worth a read, no matter which side of the barricades you were on in 1983.
Thirteen years after the 1983 Solidarity protests, Bill Tieleman became communications director to Premier Glen Clark. After leaving government he worked with Bob Plecas on a number of projects. Tieleman writes a column on politics every Tuesday in 24 hours, and can be heard talking politics every Monday at 10 a.m. on The Bill Good Show. Email him at weststar@telus.net.