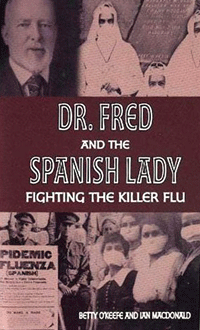 Diseases always interest readers, especially if the diseases kill enough people. Here are some titles that hypochondriacs should avoid like, um, the plague.
Dr. Fred and the Spanish Lady: Fighting the Killer Flu By Betty O'Keefe and Ian Macdonald (Heritage House, 2004) A history of the Spanish flu in Canada, with emphasis on how Vancouver coped. Dr. Fred Underhill was Vancouver's first full-time public health officer. He had to deal with merchants who didn't want to shut down their businesses, civic workers who went on strike for higher pay and citizens who swarmed into downtown to celebrate the Armistice. Dr. John Blatherwick, our current medical health officer, is a bird-flu skeptic, but I'll bet he's read this book just in case.
The Silent Enemy: Canada and the Deadly Flu of 1918 By Eileen Pettigrew (Western Producer Prairie Books, 1983) An excellent history of the period, following the relentless path of Spanish flu along the railway lines that carried returning soldiers home. With Canadian media not saying much about the flu, every community was pretty well left to cope on its own. No one paid much attention to the national scope of the disaster, or to the destruction it caused to First Nations communities.
The Barbary Plague: The Black Death in Victorian San Francisco By Marilyn Chase (Random House, 2003) Brilliant social and medical history, with racism as an unindicted co-conspirator in the spread of bubonic plague in the first decade of the 20th century. A New Mexico woman who died of plague last month was the latest casualty: health authorities in the early 1900s failed to keep infected rats from spreading the disease to squirrels, who eventually carried Yersinia pestis into the American Southwest.
The Great Influenza By John M. Barry (Viking, 2004) Already the standard book on the subject. Barry argues that Woodrow Wilson's proto-fascist policies in World War I accelerated the spread of Spanish flu; he suspects Wilson himself came down with it in 1919 during the Paris peace conference, suffering a mental collapse whose results we are still living with in places like Bosnia and Iraq.
Guns, Germs, and Steel By Jared Diamond (Norton, 1999) This analysis of the role of disease and immunity in shaping history has become another standard. We may fear the next pandemic, but every person of European or Asian descent in the Americas is the direct beneficiary of the impact of smallpox, measles and tuberculosis on the millions who inhabited the Western Hemisphere after 1492.
The Scarlet Plague By Jack London (Available online here) This vivid description of a pandemic in 2013, as described by an old survivor to his barbarous grandchildren, is still very much worth reading. The short story was published in London Magazine in June 1912.
Earth Abides By George R. Stewart (Fawcett, 1986) Reissue of a classic 1949 SF novel about the survivors of a pandemic gradually reverting to barbarism. The novel got a whole generation thinking about the implications of overpopulation and disease. It's also clearly an homage to Jack London's earlier work.
The Decameron By Giovanni Bocaccio (Available online here) When the plague struck Florence, Bocaccio and his friends practiced "social distancing" by getting out of town to a secluded villa, where they entertained one another by telling stories. I doubt that an avian-flu pandemic will give us an equivalent work of art.
Crawford Kilian also reviewed Resistance and China Syndrome for The Tyee. Please make this list truly viral through replication, circulation, mutation or diagnosis.