In the "wild west" of B.C. democracy, the fossil fuel industry not only donates millions of dollars to the BC Liberal Party, but doubles down with intensive lobbying to influence public policy.
And that's just one of the revelations of a new study on lobbying in the province by the left-of-centre Canadian Centre for Policy Alternatives.
The study found, for example, that the province's top 10 fossil fuel firms, which are largely active in northeastern B.C., reported 19,517 lobbying contacts with public office holders between April 2010 and October 2016 — "an average of 14 lobbying contacts per business day."
During a similar period (2008 to 2015) that same powerful industry also poured more than $5 million into the coffers of the BC Liberals. Only the real estate industry gave more money than Big Oil, with $9 million in donations.
Unlike most governments in North America, British Columbia has no limits on how much corporations can donate to political parties or candidates. Nor does B.C. limit either foreign political donations or donations from outside the province.
The study also found that "there is substantial overlap between giving and lobbying, with seven of the top 10 political donors also ranking among the top 10 most active lobbyists."
Both Spectra Energy, a large U.S.-owned gas pipeline firm, and Encana, a shale gas extractor, count as key BC Liberal donors and registered lobbyists.
"We were trying to show that the level of political influence is really strategic, ongoing and occurring with both donations and lobbying," explained Nicholas Graham, the paper's lead author. "I really was really taken back by the sheer volume of lobbying."
In contrast to the almost 20,000 lobbying contacts made by just 10 fossil fuel firms, fewer than 10 environmental groups reported a total of 1,324 contacts with government over the same period.
The firms that made the most lobbying contacts with government included Spectra (4,342), Enbridge (2,510), FortisBC (2,377), Encana (2,265) and Chevron Canada (2,256).
Other active fossil fuel lobbyists in B.C. include Talisman Energy (515), Kinder Morgan Canada (462), Pacific NorthWest LNG (417), Canadian Natural Resources (399), Shell Canada (298), Imperial Oil (282), Penn West Exploration (252), Husky Energy (215), Suncor Energy (148) and AltaGas (106).
Although the report doesn't document which policies the fossil fuel industry successfully influenced, the public record provides some examples.
During the same period, the Liberal government lowered the tax for LNG projects and granted an extraordinary electricity subsidy to Woodfibre LNG, which hopes to develop a project near Squamish, and any future projects.
And according to the B.C. auditor general's 2014 summary financial statements, the province extended more than $1 billion in tax credits to largely foreign-owned oil and gas companies fracking vast expanses of northern B.C. over a five-year period.
A recent Globe and Mail investigation found that the pro-business BC Liberal Party raised $12 million last year, more than any other governing provincial party in Canada.
Lobbyists were part of the giving and often gave tens of thousands in their own names.
Frequent donors include Byng Giraud, the top in-house lobbyist for Woodfibre LNG, who gave $47,149 to the BC Liberals over the last three years. The Indonesian-owned project received provincial approval despite strong opposition from local residents.
The number of in-house and consultant lobbyists registered in the province almost doubled to more than 2,500 between 2012 and 2015. That makes about 30 lobbyists for every MLA.
So who have the fossil fuel lobbyists been meeting with?
About 28 per cent of the lobbying contacts targeted cabinet ministers, providing, the CCPA report notes, "a level of contact that provides companies an unrivaled opportunity to shape policy outcomes."
Another 48 per cent of contacts targeted ministries (the most lobbied being energy and mines) and agencies such as the BC Oil and Gas Commission. The remaining 24 per cent of lobbying efforts were aimed at MLAs.
Natural Gas Development Minister Rich Coleman was the most heavily lobbied minister by the industry with 733 lobbying contacts, while Premier Christy Clark, a tireless LNG advocate, came in a close second with 618.
Spectra Energy, which operates extensive gas pipelines, and mining giant Teck spent the most time lobbying MLAs.
The most lobbied MLAs were current and past NDP leaders John Horgan and Adrian Dix and Liberal-turned-independent Pat Pimm, whose Peace River North riding is a centre of the natural gas industry.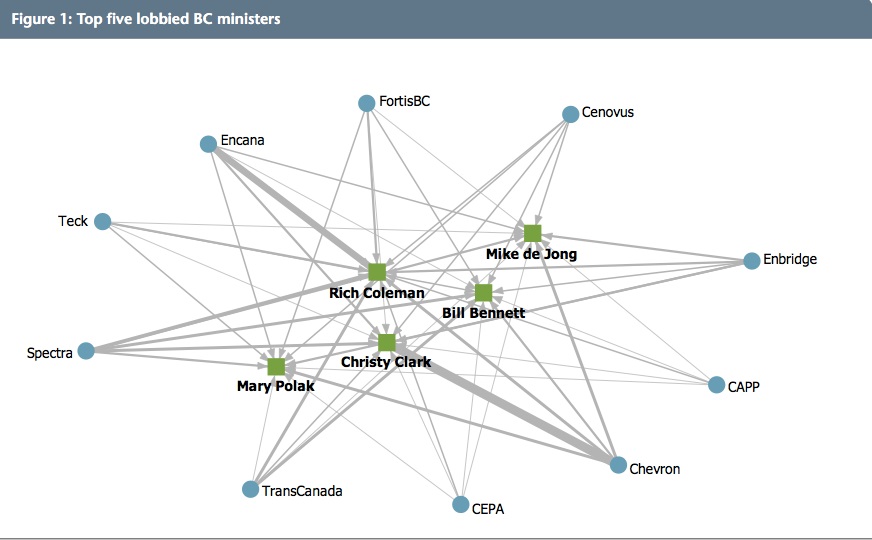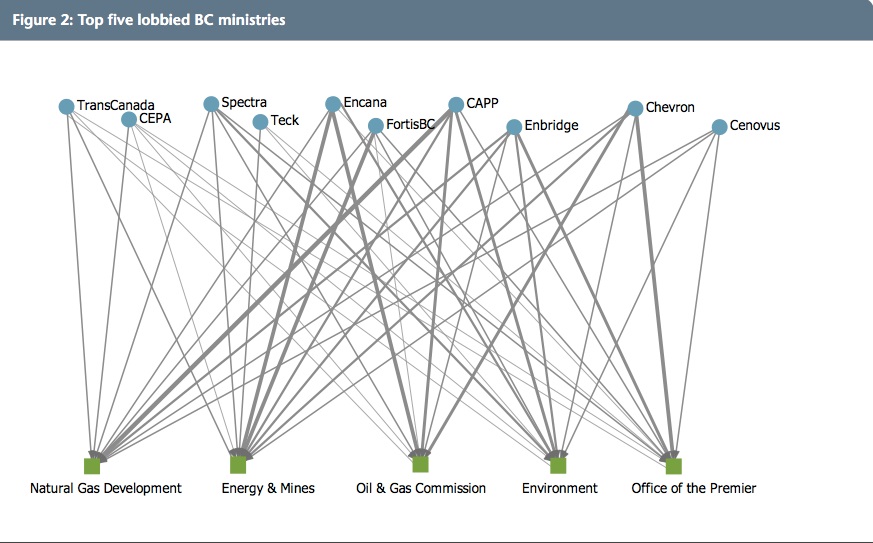 The report noted some interesting connections among former government employees and lobbyists.
One of most active lobbyists for the Canadian Association of Petroleum Producers was Alex Ferguson. He served as commissioner and CEO of the BC Oil and Gas Commission between 2006 to 2011. "Mr. Ferguson reported lobbying his former organization 19 times," said the report.
"CAPP also employs the largest number of lobbyists among all organizations in the sample, listing a total of 29 in-house active lobbyists."
The report recommends banning corporate and union political donations and strengthening the Lobbyists Registration Act so it operates with greater transparency along the lines of the federal system.
The study confirms disturbing political trends across North America. In 2014 a Princeton University study by two political scientists used a statistical model to determine what variables actually influenced 1,799 government policy decisions. They also checked opinion surveys to determine what ordinary people favoured in terms of public policy versus what "economic elites" wanted. The findings probably wouldn't surprise many citizens in Canada or the U.S. "Our findings indicate, the majority does not rule — at least not in the causal sense of actually determining policy outcomes," concluded the political scientists.
"When a majority of citizens disagrees with economic elites or with organized interests, they generally lose. Moreover, because of the strong status quo bias built into the U.S. political system, even when fairly large majorities of Americans favor policy change, they generally do not get it... if policy-making is dominated by powerful business organizations and a small number of affluent Americans, then America's claims to being a democratic society are seriously threatened."
In an interview, Martin Gilens, one of the study's authors, explained "that contrary to what decades of political science research might lead you to believe, ordinary citizens have virtually no influence over what their government does in the United States."