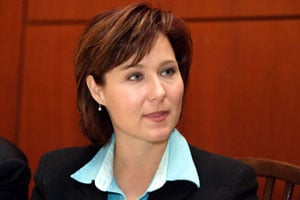 When John Martin joined the British Columbia Liberals and announced on Sept. 21 that he hopes to represent the party in Chilliwack in the next provincial election, it didn't take long for reporters and political researchers to start circulating some of his juicier quotes.
Martin, a criminology professor at the University of the Fraser Valley, can turn a phrase. He put that skill to work as a candidate for the BC Conservative Party in Chilliwack-Hope, when he regularly skewered Premier Christy Clark and the BC Liberal government on his way to a third place finish in a race won by the NDP's Gwen O'Mahony.
And before that campaign, Martin put his views on the public record in hundreds of columns for the Vancouver Province, the Chilliwack Times, the Abbotsford Times and other newspapers. They included attacks on the BC Liberals' drunk driving laws, a call to kill healthcare and scepticism about climate change.
While those views might have fit with a right-wing populist movement like the Conservatives, they're more likely to make some of the more liberal among his new Liberal colleagues squirm.
Following are 12 John Martin quotes to haunt Christy Clark:
1. "Not even the most devoted Liberal supporter could argue with a straight face that this government has earned a fourth mandate. Theirs is a legacy of deceit, incompetence, and financial mismanagement." (CKNW, March 28, 2012, via NDP)
2. "Any talk of a complete reformation of health care is completely off the table. If it were a car, you'd scrap it in a heartbeat. If it were a dog, you'd take it for that one last drive to the vet." (Chilliwack Times, Aug. 3, 2011)
3. "To put it bluntly, boys are getting shafted ... In the '70s, there was concern that girls were less successful than boys in school. Since then, there has been a deliberate feminizing of public education, and boys have lost out big time. Boys are being taught that masculinity is an antisocial trait that must be extinguished." (The Province, Sept. 5, 2007)
4. "The Premier [Christy Clark] decided after the Stanley Cup riots to get some photo ops out of this and make this a big priority and push for cameras. You know, they're basically turning it into a show trial." (CKNW, Jan 26, 2012, via NDP)
5. "Many are completely fed up with the reckless hysteria and junk science the climate change thesis is founded on." (The Province, Sept. 17, 2008)
6. "Now that much of the science behind climate change has been successfully challenged and in some cases, exposed as out and out fraud, die- hard supporters increasingly equate those who don't bow down for Al Gore and David Suzuki to Holocaust deniers." (Maple Ridge Times, Nov. 19, 2010)
7. "Trampling on due process, the rule of law and people's civil liberties is apparently quite acceptable -- so long as we're going after impaired drivers and impaired drivers only. I hope people understand that this legislation represents the most draconian and intrusive government initiative in more than half a century." (Maple Ridge Times, Oct. 8, 2010)
8. "Your rights, supposedly guaranteed under the Charter of Rights and Freedoms, are as of now null and void, with respect to suspected impaired driving. The police no longer need establish reasonable and probable grounds. On a whim, a hunch, or a grudge, they can pull over whomever they please and needn't worry about defending those actions in court. Essentially; they can now charge, convict and pass sentence on the spot." (Ibid.)
9. "I always strive to be careful with hyperbole, but without a hint of exaggeration, this law has 'police state' written all over it... To simply bypass the Criminal Code and give police absolute unlimited and unaccountable authority to run roughshod over people's rights is outrageous." (Ibid.)
10. "The CBC is... irrelevant in the digital age and contributes virtually nothing that is not already accessible elsewhere... No one watches it and its homegrown programming, for the most part, is pathetic." (Chilliwack Times, Aug. 3, 2011)
11. "Any person of any age living with their parents, except in health care circumstances, of course, should be prohibited from having a vote at all. It used to be a person became an adult at no later than 19 and made his own way in the world. Now we have 35-year-olds living with their moms and not feeling the least bit ashamed about it." (Maple Ridge Times, Dec. 31, 2010)
12. "Everything costs more under this Liberal government. Medical premiums, ICBC, BC Hydro, Carbon Tax, Gas Tax. The list goes on and on. It just doesn't end. The only people getting ahead in Christy Clark's British Columbia are cronies, insiders and lobbyists." (Conservative press release, January 25, 2012)
Finally one last quote, but this one's not from Martin. Instead it's what BC Conservative Party Leader John Cummins had to say in a prepared statement about the departure: "With regards to John Martin, who took our party to a third-place finish in last year's Chilliwack-Hope byelection, we wish him well in the future."
When reporters Justine Hunter at the Globe and Mail and Sean Leslie at CKNW asked Clark about Martin's past attacks, she said, "We all say things when we are trying to get elected."
With files from Robyn Smith.