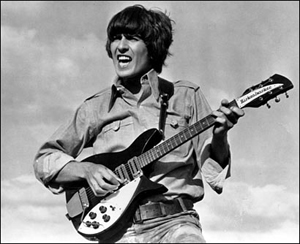 Where are all the right-wing pop songs?
The popular music spectrum corresponds roughly with the political. While mainstream country music is largely conservative, rock and roll was born in rebellion. The 1960s counterculture cinched the connection between pop music and protest as singers took on Vietnam, civil rights, and social injustice. Nobody ever climbed the charts with a catchy ode to Richard Nixon.
There will always be exceptions. The Dixie Chicks broke ranks with their Nashville brethren and Ted Nugent is, well, Ted Nugent. Besides, pop music success is a sure way to leave the working class behind and develop some sympathy for your fellows in the private jet set.
Still, the list of right-wing pop hits is remarkably sparse, and even those listed here are open for debate. Ten songs that could be considered as conservative anthems:
1. Taxman -- The Beatles, 1966
Poor George Harrison -- only a few years removed from his working-class Liverpool roots and suddenly faced with the confiscatory taxation of mid '60s Britain. An unabashedly reactionary whine against wealth redistribution.
2. Ballad of the Green Berets -- Barry Sadler, 1966
No debate about this one. On the pop charts of the Vietnam-haunted 1960s, this ode to the fighting elite of the U.S. Marines stuck out like jungle camouflage in the desert.
3. Revolution -- The Beatles, 1968
This track is worth an entire dinner party discussion in itself. The hit single version was John Lennon's first truly political song, and if Lennon's legion of admirers in the student underground were hoping for moral support they would not get it -- yet. "If you go carrying pictures of Chairman Mao," Lennon sniped, "You ain't gonna make it with anyone anyhow."
Lennon quickly re-calibrated. By the time a slower version of the song was included on the White Album he had slipped in a sly correction. "If you talk about destruction," he sang, "don't you know that you can count me out/in." And no one would ever accuse Lennon, a member in good standing of Nixon's enemies list, of being a secret Republican.
4. Won't Get Fooled Again -- The Who, 1971
Pete Townsend famously knocked activist Abby Hoffman off the Woodstock stage with his guitar, and showcased his suspicion of revolutionary counterculture politics in this epic track from the album Who's Next. The song envisions a Robespierre/Stalinist sequel to the proposed revolution of the student left: And the men who spurred us on/Sit in judgment of our wrong.
Decades later though, Townsend would suggest that the song's sentiments worked just as well as an indictment of Britain's rush to embrace Thatcherism. In general then, more of a caution against political extremism than a right-wing diatribe.
5. Inner City Blues -- Marvin Gaye, 1971
A bag of mixed messages. Gaye's LP What's Going On has always been seen as a breakthrough, the first Motown album to really tackle social issues. Mercy Mercy Me was an ecological lament, the album's title track a plea for understanding of long-haired youth and their concerns. But listen closely to the hit Inner City Blues and you may begin to wonder just where Gaye's politics were at this point. The song seems to advocate social justice, but in the next breath Gaye is complaining: Money, we make it/Before we see it, you'll take it. And later: Natural fact is, honey I can't pay my taxes. Gaye was indeed having tax troubles at the time. His generally progressive message seems to shift some when the issues get closer to home.
6. I'd Love To Change The World -- Ten Years After, 1971
Rather nasty when you pay attention: Everywhere it's freaks and hairies/Dykes and fairies/Tell me where is sanity. Tax the rich, feed the poor/Till there are no rich no more.
7. Sweet Home Alabama -- Lynyrd Skynyrd, 1974
Written as a response to the Neil Young songs Southern Man and Alabama, Sweet Home Alabama has been a redneck favourite since its release. With its tone of outraged dignity against Yankee (or Canadian) moralizing it was unavoidable that Sweet Home Alabama would be viewed as a good ol' boy anthem. But this song too is subject to interpretation. Singer Ronnie Van Zandt (later killed with two other band members in a plane crash) pointed out that a line sometimes interpreted as a tribute to Alabama's racist Governor George Wallace -- In Birmingham they love their governor -- is followed by what sounds like a chant of Boo, boo, boo. The subsequent line -- Now Watergate does not bother me/Does your conscience bother you? -- apparently being a suggestion that Northerners, guilty of their own crimes, should not throw stones at the South. But the song's defensive tone has made it a kind of rock and roll hymn to state's rights, once the favourite rallying cry of racist Southern pols like Wallace.
Kid Rock loves the song. And he's as Republican as an oil drill.
8. I'm In Love With Margaret Thatcher -- The Notsensibles, 1980
The group's name strongly suggests that they may not be in earnest here. Nonetheless, it is what it is. A British hit that, understandably, never crossed the pond.
9. Swords of 1000 Men -- Tenpole Tudor, 1982
An accidental jingoistic rallying cry, the song's raucous beer-hall tribute to medieval battle-craft was released in the UK just as Margaret Thatcher was sending the British fleet to the Falkland Islands. Tenpole Tudor unexpectedly found themselves with a smash hit on the UK charts when the nation adopted the song's chorus -- Hoorah hoorah hoorah-yay/Over the hill with the swords of a thousand men -- as a bit of militaristic cheerleading. Anyway it's a great pop song.
10. I've Never Been To Me -- Charlene, 1982
Perhaps pop music's most obnoxious piece of moralizing, singer Charlene warned women to stay home and make babies rather than follow her shameful plunge into sexual freedom: I've spent my life exploring the subtle whoring that costs too much to be free. Written by two men, natch.
Got any more rightist and righteous jams to add to our mixtape? Add 'em in the comment thread below.