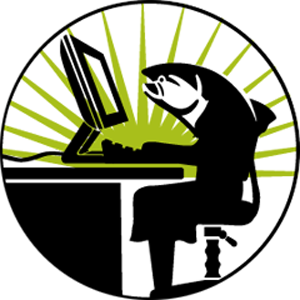 Make no mistake: few get rich as freelance journalists. Most do it more for the love than the money. All work extremely hard for what has been largely a shrinking freelance dollar.
That's why Colleen Kimmett and The Tyee hosted a series of four expert-led panels called Freelance Survival, to give freelancers practical tools and tips from those already making a living in the industry.
Thursday night's session was called "Freelancers: Save Time, Make Money!" and featured three folks with various expertise in said tools. First was Frances Bula, a columnist for Vancouver magazine and Urban Fix and a regular contributor to the Globe and Mail. She was followed by Trish Mau, an expert in online and database searches who works for public libraries, and then Phillip Smith, The Tyee's digital publishing consultant, technologist and an online advocacy specialist who works to advance the field of news innovation through Mozilla and The Tyee.
What follows are their top pieces of advice. It is by no means definitive. If you disagree, have questions, or would like to suggest your own, fantastic. We'd love to hear it. Shoot us a comment below or send a tweet and keep the discussion going!
General tips from Frances Bula:
According to Bula, freelancing is like putting on a 10-course dinner. Everything cooks, boils, simmers and bakes at different rates. Getting it just right and to the table on time is the challenge. Here are some of her strategies:
1. Work in a niche. Bula, for those who don't know, is an amazingly prolific writer. But unlike many freelancers, she said she doesn't re-assemble and repurpose her stories to sell to another client after the first story runs. Instead, she becomes deeply knowledgeable in certain areas so that she won't have to devote time to background research every new story. This allows her to continually create original content quickly.
2. Be strategic. If you're working in that niche and already have the background, interviews and data searches can be ruthlessly quick. That means interviews can last only as long as it takes to get the one or two quotes you need to finish the story. That means searches aren't fishing expeditions into the vast pools of online data where it's easy to get distracted. Get in, find what you need, get out, write, then move on.
3. Make all interviews about more than the story you're working on. After you get what you need from an interviewee, don't forget to ask, "What else are you working on?" This will lead to more stories in the same niche.
4. Try to find a system that doesn't require transcribing full interviews, especially for longer interviews. Transcribing can be the single most time-consuming task there is as a journalist. Of course there are times when you must transcribe an entire interview. But not always. Avoid where possible. What kind of system helps? Bula suggested simply listening to the interview straight-through after you're done and picking out the relevant bits. Phillip Smith suggested an app called Audio Note. Audio Note synchronizes your audio interview with your written notes taken during that interview. The notes are written within the app that's recording the audio, which allows you to easily mark sections of the interview and return to it quickly.  
5. Don't look at your notes when you write the first draft, at least for longer stories. If you don't know something, leave a hole in your story. But get the first draft written and you've got the bulk of the work done. After it's written, go back and rigourously check all the details and fill all the holes.
6. Know what your clients want. The freelance world, generally speaking, works on relationships and reputation. Once you have some established relationships and a good reputation, it opens doors. Just keep in mind what kind of stories different editors and publications look for and then feed those to them.  
7. Become an expert in the research tools that fit your niche. If you're developing a niche with a legal beat, learn how to quickly find court records or appearances. The property assessment search tool is key, as is the library's Canadian newspaper database, which archives stories digitally back to 1987. Phillip Smith suggests a book called Digging Deeper, a guide to finding information on the public record in Canada.
What other kinds of research tools should you know? Trish Mau had a few things to say about that...
Searching online data with Trish Mau:
Part of Mau's job as a librarian with the Burnaby Public Library is to find information for clients... fast. Here are some of the tricks she uses and the advice she recommends:
8. Don't be afraid to ask a librarian. Librarians spend their lives retrieving and storing information. In this rapidly evolving information landscape, they are usually at the front of the curve, not the back. So, once you develop your niche, don't be afraid to ask a librarian for help. They expect it. They love it. It's what they know, love and do all day long.
9. Google is your friend. Learn the tools of the Google search and you will find what you want faster. They're all documented here (basic) and here (advanced). Some highlights:
Use a tilde (~) to look for synonyms. Put it at the beginning or end of the query. It works either way.
Wrap search terms in quotation marks only when you're sure of the spelling.
Use "OR" to find for pages that may have just one of several words.
Use "site:" followed by the search terms to search a particular site. For example, this query -- site:thetyee.ca "Swiss chard" -- will search The Tyee for all instances of Swiss chard. This is a good way to search sites that don't have a good search tool.
Use "site:." to search only particular domains. For example, this query -- site:.org "swiss chard" will find only instances of "Swiss chard" that are found in websites in the .org domain. This will get more interesting as the rulers of the Internet allow more and more domain names. (Learn more about that here and how a Vancouver company is playing a part here.)

10. Google is your enemy. Google may be refining your searches based on your geographic location. If you want a geo-agnostic search, you can turn that option off. Google may also be refining your search based on an algorithm linked to your Google profile (i.e. a history of your activities in Google places like Gmail, Google+ or YouTube). If your concerned about such a thing, log out of your Google account before initiating searches.

11. CTRL-F to quickly scan webpages. All browsers come with a search tool. The short-hand way of opening them is to hit the CTRL key and the F key at the same time. Do that now and type "Swiss chard." See the words highlighted on your screen? Those who know this trick use it many times a day.

Phillip Smith's time-saving tools:

As a digital innovator, strategist and himself something of a freelancer, Phillip Smith focused on some simple tools and techniques that make his life easier.

12. Develop good time management discipline and behaviour. Your actual time "in-the-zone," which is when we all get the bulk of our work done, is quite limited. Don't fritter it away by constantly looking at social media or email. Consider a regimen where you only look at these items at regular intervals. Considering breaking down work periods into 25 minute periods with breaks in between (this is the Pomodoro Technique).

13. Don't be afraid of (some) new technology These are some essential digital tools in Smith's arsenal: