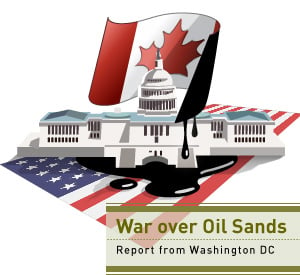 If there were any doubts that Washington's ongoing oil sands debate would develop into anything less than full-scale war, those were dispelled late last July.
That was when a well-connected lobby group attempting to increase America's reliance on Albertan bitumen used military language to describe its mission.
Major U.S. environmental organizations such as the Natural Resources Defense Council and Sierra Club were labeled "opponents." The clean energy laws they'd supported in Congress and at the state level were described as "means of attack."
"I've called this the campaign against [oil] sands, because we definitely think that's what it is," said Kurt Blase, general counsel for the Center for North American Energy Security, during a webinar presentation.
That center is a powerful lobby group that includes Exxon Mobil, ConocoPhilips and other oil industry majors as members. It considers the Canadian and Alberta governments to be important allies.
When The Tyee left off yesterday in this multi-part series, I was drinking coffee with the center's executive director, Tom Corcoran, at an exclusive club for Republicans in Washington, DC.
He'd described to me how providing oil to people is a moral responsibility, one that helps them "develop themselves." He'd also explained how his lobby group waged war -- alongside the Canadian government's own efforts -- against Section 526, a clean energy provision targeting Alberta's oil sands.
In today's story, Corcoran details the fight against another "means of attack" -- his description for any legislative attempts to require U.S. fuels meet a low-carbon standard.
It's a potential U.S. law which Corcoran and oil company allies fear could do major damage to their billion dollar investments in northern Alberta.
The low carbon fuel standard, which his centre previously likened to a "severe self-inflicted wound" for America, has been proposed numerous times in Congress over the past few years.
But thanks to the efforts of Corcoran and his oil industry allies -- including a lead role from Koch Industries -- none of those attempts have been successful. What's more, Corcoran says the Canadian government knew about his attack campaign and was "supportive of it."
Origins of the low carbon fuel standard
The low-carbon fuel standard, a little known piece of global warming legislation first announced by California in 2007, may actually be the most important battleground of the war over oil sands in Washington.
Its innovation comes from tracking all the different types of road fuels entering the state, and then determining how much greenhouse gases were released to produce each one.
Legislators aimed to reduce the total amount of these so-called production emissions 10 per cent by 2020. This target would largely be achieved by avoiding fuels with high carbon footprints -- particularly fuels such as those produced from Alberta's oil sands.
The Canadian government saw a direct attack on one of its most lucrative industries. Federal officials intervened formally at least five times in the California policy's development, framing the fuel standard as a potential trade dispute, rather than a greenhouse gas issue.
Its efforts went largely unheeded. And by December 2007 -- around the same time Section 526 was approved -- U.S. legislators had included a national low-carbon fuel standard in the Lieberman-Warner climate-change legislation then moving through the Senate.
California's governor at the time, Republican Arnold Schwarzenegger, was thrilled. The standard "would dramatically increase low carbon fuels, expand consumer choice and reward innovation," he announced.
Oil sands in crosshairs
An American low-carbon fuel standard, if it were ever adopted nationally, would also strike a major blow to Canada's oil sands industry. Northern Alberta has one of the largest known oil reserves on the planet, yet sells its oil almost exclusively to U.S. markets.
A Ceres-RiskMetrics report from last year found that a national fuel standard could reduce American demand for oil sands fuel a full one-third by 2030. And that's not even the worst case scenario.
"In the unlikely event that no options were available for Canadian oil sands producers to comply with the LCFS," the report read, referring to billions of dollars in carbon reduction measures, "the U.S. transportation market could conceivably disappear."
It was perhaps these types of calculations that made Canadian embassy officials nervous about the Lieberman-Warner climate bill in the winter of 2008. Though it appears much of the embassy's energy at the time went into fighting Section 526, the low carbon fuel standard issue was clearly on its radar.
As then-Canadian energy counsellor Paul Connors wrote to an Exxon Mobil lobbyist that February: "We see the debate on Section 526 as part of a larger debate by some to have the U.S. consider either a tailpipe or a lifecycle low carbon fuel standard (Lieberman-Warner) for transportation fuels."
The issue was apparently on the radar of Koch Industries as well. The company, which refines an estimated 25 per cent of all oil sands crude entering America, spent tens of millions of dollars over the past decade supporting right-wing think tanks that question the science behind climate change. Koch Industries is also widely thought to have funded and organized the Tea Party movement.
The company is vociferously opposed to low-carbon fuel standards (as is the entire U.S. refining industry). "[These policies] would be particularly devastating for refiners that use heavy Canadian crude oil because the policy seeks to discourage or even prevent the U.S. from benefiting from this essential, reliable resource," reads the website for Flint Hills Resources, a wholly-owned Koch subsidiary.
Koch Industries hits hard at low carbon standards
A Tyee analysis of lobbying records reveals that Koch Industries was one of the few oil companies to lobby directly against the 2007 Lieberman-Warner low carbon fuel standard provision. "Oppose restraints on production and use of energy," Koch's records state.
Barack Obama -- then an Illinois Senator -- introduced a separate low-carbon fuel standard in 2007. His bill stalled in a senate committee. But running for president that year and the next, Obama promised to make the standard a pillar of America's energy policy, citing research that it could be equivalent to taking more than 30 million cars off the road by 2020.
Once elected, the new president struggled with Wall Street relief and health-care reform, sidelining his environmental promises. Congress didn't wait, though, to try for another low-carbon fuel standard. Legislators proposed two policies in 2009, one in the House and another in the Senate.
Both were targeted by Koch Industries, which spent more than US $12 million lobbying congress that year. Neither fuel standard budged past the committee stage.
'We worked against it': Corcoran
Yet the issue was far from done within the Democrat-controlled congress. A third fuel standard proposal in the spring seemed to have real momentum, until intense lobbying from Corcoran and his allies stopped it dead.
The standard was included in a draft version of the Markey-Waxman bill, considered one of the most wide-ranging pieces of climate legislation ever proposed in the House. The Center for North American Energy Security -- the lobby group with Exxon Mobil and others as members -- immediately framed the standard as an attack on Alberta's oil sands, among other fuel sources.
If enacted, it would constitute "a severe self-inflicted wound to our national security and economic recovery," reads a briefing note prepared by the center.
And since Alberta would continue to sell its oil regardless (if not to the U.S. then to China), the group argued, any global warming benefits were dubious. "Once we'd learned about it, we worked against it," Corcoran tells me.
The center and its allies began targeting sympathetic policymakers from states such as Oklahoma and Texas -- places with a long history of oil and gas development.
"Then obviously you lobby and try to get like-minded people from back home to meet with that legislator," he says.
Pretty soon, supporters of the Waxman-Markey bill realized they wouldn't have enough votes to get their climate change package past the committee stage. "So they deleted the low-carbon fuel standard," Corcoran says, "and then the legislation moved out of committee."
The Canadian and Alberta governments, who Corcoran considers to be allies, were apparently following the process closely. "They were aware of what we were doing and supportive of it," he says.
Low carbon defeated in both houses
After the House's climate change bill -- minus fuel standard -- was approved, it then became time for the Senate to pass its own version. Once again, Corcoran's center and other fossil fuel majors intervened, with measurable success.
The climate change legislation that eventually made it onto the Senate floor contained no low-carbon fuel standard language. "I'm not suggesting it was only the Center for North American Energy Security," he says. "But I would say that we were a big part of it."
By late last July, when the center's Kurt Blase spoke in a webinar about the oil sands, this so-called "means of attack" had largely been neutralized, at least in Washington. Others still remain.
The center is currently suing the state of California to repeal its low-carbon fuel standard. And the group continues to collaborate with the Alberta government's U.S. representative, Gary Mar, to fight fuel standard laws proposed by 11 Northeast states.
As for the current Republican-dominated Congress, Corcoran envisions legislation someday which would ensure America stays reliant on Albertan oil.
"I'm talking," he says, "about congressional action that would perhaps give preferences to Canadian [oil sands] imports and encourage the further development of those resources." He adds later: "Oil from Canada is a good thing."
On Monday: Enviros fight back: How America's largest green groups got a billion-dollar oil sands project delayed, and why the outcome of that battle could decide North America's energy future.