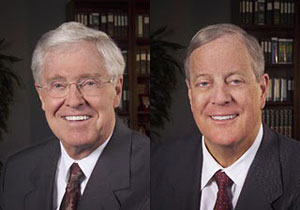 The Tea Party movement, poised to help shift the U.S. legislature to the right and stymie President Obama's green agenda, has financial and organizational ties to Koch Industries, one of America's biggest processors of Alberta oil sands crude.
Congressional midterm elections on Tuesday could create a U.S. government less amenable to climate change action, partly a result of Tea Party influence.
That would likely bode well for Alberta's carbon-intensive oil sands industry, which has long worried that national greenhouse gas standards south of the border will reduce profits and restrict future growth.
The Tea Party movement is in many ways leaderless, disorganized and devoid of any real political platform. Yet it "stands a good chance of establishing a sizable caucus to push its agenda in the House and Senate," according to a New York Times analysis.
Over half of Tea Party supporters don't think global warming will have any serious impact in the future, a recent poll concluded, compared to 15 per cent of Americans who feel the same.
And some Republican candidates endorsed by Tea Party activists are doubtful climate change even exists. West Virginia Senate hopeful John Raese, for instance, referred to the "myth of global warming and the other myth that man is causing global warming" at a debate this month.
Many analyses suggest Republican candidates -- some supported by the Tea Party -- stand to make big gains in Congress this Tuesday, which has been controlled by Democrats since 2006.  
The Alberta connection
Koch Industries provides critical support for the Tea Party movement through Americans for Prosperity (AFP), an advocacy group it established in 2003 and now helps fund. AFP sponsored and helped organize nearly 1,000 Tea Party rallies in April.
Koch Industries, the second largest privately held company in America, boasts annual revenues of US $100 billion. It's also a major Alberta oil sands player.
Flint Hills Resources, a wholly-owned Koch subsidiary, operates a Rosemount, Minnesota, refinery dependent on Albertan energy. The Pine Bend Refinery, says the company website, "is among the top processors of Canadian crude in the United States."
"It was specifically designed to process heavy, sour crude piped in from Canada," reads a Koch-produced newsletter from last January.
The crude oil Koch refers to comes from northern Alberta, where a substance called bitumen is clawed and steamed from the ground, then cooked at high temperatures or diluted with chemicals. The process creates 82 per cent more carbon emissions than that for conventional oil, the U.S. Environmental Protection Agency estimated.
Koch's Pine Bend Refinery can process 325,000 barrels of crude oil a day. About four-fifths of that comes from Alberta. The refinery, which is connected to Wisconsin by a Koch-owned pipeline, produces up to 40 per cent of that state's road fuel supply.
Koch Industries worries American climate change legislation will harm its refining operations. Earlier versions of Wisconsin's proposed Clean Energy Jobs Act contained a low-carbon fuel standard, designed to reduce the carbon footprint of the state's road fuel sector.
In theory, it would have provided incentives for suppliers to avoid fuel with large carbon footprints -- fuel from places such as Alberta's oil sands.
State policymakers dropped the low-carbon fuel standard this April. Lobbying pressure from Koch and its affiliates -- as well as Alberta's envoy to Washington, Gary Mar -- may have played a role.
Climate laws 'devastating' for refiners
Koch is also actively opposing California's greenhouse gas targets. Subsidiary Flint Hills Resources gave US $1 million to the Prop 23 campaign, an initiative to suspend the state's landmark climate legislation.
California voters will decide on the proposition's future this Tuesday. If passed, it will halt the state's low carbon fuel standard, among other climate initiatives.
That standard requires an emissions cut of 10 per cent across the state's vehicle fuel sector by 2020. (A Tyee report last week revealed how major Prop 23 funder Valero Energy, a Texas-based refiner, has staked its financial future on processing Alberta's oil sands.)
The Centre for North American Energy Security, another proponent of high-carbon energy from Canada, worries if California adopts a low-carbon fuel standard, other states could follow. Koch appears to share those fears.
"(Such legislation) would cripple refiners that rely on heavy crude feedstocks to provide the transportation fuels that keep America moving," reads the company website, apparently referring in part to its Pine Bend refinery.  
"It would be particularly devastating for refiners that use heavy Canadian crude oil because the policy seeks to discourage or even prevent the U.S. from benefiting from this essential, reliable resource."
Alberta has the second largest known oil reserves in the world, after Saudi Arabia. Nearly all its energy exports go to the United States.
Koch founds Tea Party movement?
A Greenpeace report last spring revealed Koch Industries-controlled foundations funneled US $24.9 million between 2005 and 2008 to groups skeptical of global warming.
More than US $5 million of that funding went to Americans for Prosperity, the advocacy group with strong connections to Tea Party groups across the United States. The right-wing movement, a sometimes confusing mix of grassroots activism and fossil-fuel company mandates, has no real leaders or political platform.
Republican candidates endorsed by Tea Party groups generally oppose health care reform and national cap and trade legislation.
David Koch, executive VP of Koch Industries and Americans for Prosperity chairman, denies aiding the Tea Party movement (though recent public comments indicate his ideological support).  
A comprehensive New Yorker report this summer detailed substantial links between Koch Industries, Americans for Prosperity and Tea Party campaigns. The magazine quoted an unnamed Republican campaign consultant who'd done work for David Koch and his brother Charles.
"The Koch brothers gave the money that founded (the Tea Party)," he said. "It's like they put the seeds in the ground. Then the rainstorm comes, and the frogs come out of the mud -- and they're our candidates!"
Numerous calls to Koch Industries were not returned by posting time.