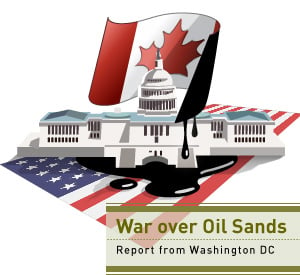 Nothing exemplifies the high-stakes political tensions of the oil sands better these days than the battle over Keystone XL.
A major leak from the 3,200-kilometre pipeline proposed by Calgary-based TransCanada could contaminate drinking water for millions of Americans, opponents fear.
But that's only part of the reason that America's largest environmental groups are fighting against it.
The pipeline, which would plunge from northern Alberta through the U.S. heartland and onto Texas Gulf Coast refineries, is being framed as a broader referendum on the oil sands industry itself. Further still, it may help decide North America's energy future.
That's because the oil that would fill it requires much more energy to extract and upgrade than conventional crude, generally resulting in higher emissions.
With little time left to take meaningful action on climate change, groups such as Friends of the Earth, Sierra Club, National Wildlife Federation and Natural Resources Defense Council argue the U.S. should not grow dependent on some of the planet's most carbon-intensive oil.
These groups -- along with their Canadian ally, the Pembina Institute -- constitute the most powerful environmental coalition ever to take on Alberta's fossil fuel industry. No doubt the odds are stacked against them. Pro-oil sands forces, as previous articles in this series have explained, include the planet's wealthiest petroleum companies and high-ranking Alberta and Canadian government officials.
Still, the environmental coalition has managed to stall U.S. approval of Keystone XL for months, helping add a billion dollars to the project's cost.
And as the movement builds support for its climate goals within Congress and the White House administration, advocates claim Canada's reputation among the American people may be at stake.
Clogged pipeline
Many people expected that Keystone XL would get the U.S. government's go-ahead last summer without even a skirmish, let alone full scale war.
After all, the Canadian phase had been OK'd by regulators early last spring. And two other recent oil sands pipelines -- Enbridge's Alberta Clipper and TransCanada's Keystone phase one -- received U.S. State Department approval with virtually no media scrutiny or opposition.
But two factors helped raise the stakes of Keystone XL higher than any other pipeline in American history.
The first was the publicity surrounding a summer of disastrous oil spills, making fossil fuel infrastructure a matter of national debate. The second was a fast-growing awareness of oil sands issues within U.S. environmental and policy-making circles. Green groups who'd attempted to publicize the very pressing -- though forward-looking -- risks of climate change began to use Alberta's oil sands as a way to get them on the public's radar.
Not only was the industry Canada's fastest growing source of emissions, it also destroyed vast swathes of Boreal forest (an important carbon sink) and provided a powerful visual reminder of North America's fossil fuel addiction.
Since the U.S. virtually constitutes the oil sands' only export market, legislative restrictions in Washington and other jurisdictions could have a strong impact on the development of so-called "dirty fuels."
Oil sands proponents sometimes wonder why environmentalists don't go after North America's greenhouse gas spewing coal plants with the same fervour.
Part of the reason why is that those plants just don't have the same symbolic value as a carbon-intensive oil sands industry still in its infancy, linked to the U.S. by steel umbilical cords.
From a green group's perspective, what better way to battle that industry -- and the whole notion of fossil fuel dependence -- than to centre the fight on a single pipeline?
If Secretary of State Hillary Clinton approves Keystone XL, they argue, she'll be promoting North America's dependence not only on Alberta's oil sands, but the entire frontier of environmentally risky fossil fuels, including those derived from deep oceans and arctic seas.
Say no to the pipeline, they argue, and it's a vote of confidence for alternative, low carbon energy sources.
"Absolutely we think Keystone XL is a big deal," Alex Moore, dirty fuels campaigner for Friends of the Earth US, tells me. "It's probably the most important environmental decision that the State Department's going to make this year."
Fighting on two fronts
Green group positioning helps explain why there are really two separate debates about Keystone XL playing out in the media. There's the safety debate, which frames the pipeline as an environmental disaster waiting to happen. It could, after all, pour crude into the Ogallala aquifer, an important source of drinking water for millions of Americans, opponents worry.
These types of safety questions have strong resonance in Nebraska, where Republican senator Mike Johannes has called for a pipeline rerouting.
The second debate, which frames the pipeline as a climate change disaster waiting to happen, is largely playing out in the halls and offices of Washington DC. It's here that the anti-oil sands coalition scored its first major victories against Keystone XL last summer.      Green groups cultivate influence in Washington the same way as their industry opponents -- they lobby.
The Natural Resources Defense Council, Sierra Club and others maintain long-standing relationships with Capitol Hill policymakers. Though lacking the million-dollar lobbying budgets of their fossil fuel adversaries, environmental lobbyists still exert major influence.
A good example is the letter signed by 50 congressmen late last June, urging State Secretary Clinton to consider the "significant greenhouse gas and climate change implications" of Keystone XL.
Many of those congressmen belonged to the Sustainable Energy and Environment Coalition, a Democrat group that advocates for "clean energy innovation" in the House. It's an obvious ally for green groups fighting Alberta's oil sands.
Another powerful player sympathetic to their concerns is Democrat congressman Henry Waxman, who penned his own letter opposing Keystone XL a week and a half after his colleagues.
(Indeed, Waxman worked with the NRDC years earlier to introduce Section 526, a clean energy law that became one of the key battlegrounds for Washington's war over the oil sands.)
Even though the fate of Keystone XL will be decided by the State Department, not Congress, getting allegiant members of congress to speak out is an important strategic victory, says the NRDC's international director, Susan Casey-Lefkowitz.
"Really what we turn to Congress for is raising their concerns with the (Obama) administration around the pipeline decision," she tells me.
Delays costly to pipeline backers
Green lobbyists, meanwhile, also meet with administration officials to raise similar concerns. That kind of double-front offensive can produce effective results.
Late last July, the U.S. Environmental Protection Agency released a scathing review of Keystone XL. The review came a month after the 50 members of Congress wrote their letter.
It urged the State Department to consider "the national security implications of expanding the nation's long-term commitment to a relatively high carbon source of oil."
Soon afterwards, a U.S. government decision on Keystone XL was postponed indefinitely. After months of regulatory purgatory, recent reports indicate Secretary of State Clinton won't choose whether to approve it until late 2011.
These delays have been costly for the Calgary-based TransCanada, which recently added $1 billion to the project's budget.
Though there's no single explanation for the political foot-dragging, green group lobbying certainly helped, the Sierra Club's "dirty fuels," director Kate Colarulli tells me.
"It's not a direct result," she says. "But groups such as my own play a really important role in advocating what's important... If you think about all the things the EPA is considering, we can make sure the most important issues rise to the surface."
The more these conversations happen, the more Canada's entire U.S. reputation is put at risk, say green coalition advocates. Canadian and Alberta government officials -- along with oil company allies such as TransCanada -- are orchestrating their own lobbying campaign on behalf of Keystone XL, framing the pipeline as a vital piece of American energy security while downplaying the oil sands' environmental impacts.
When U.S. government officials get the full story, says the Pembina Institute's U.S. representative, Danielle Droitsch, they clue in that Canada is more concerned about selling oil than tackling climate change.
"I don't know if Canadians realize that our reputation internationally is at stake," she says. "We're losing credibility to one of the most important nations in the world."
Tomorrow: How oil sands crude is helping fund one of the most aggressive conservative political campaigns in U.S. history.