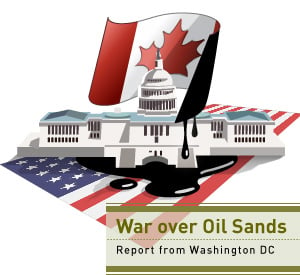 In the hallways and offices of America's capital city, a war is being quietly waged out of view of most Canadians and Americans.
The outcome will decide North America's energy future and its impact on the planet's climate.
The tactics are all the high pressure persuasion and hard-ball politicking that tens of millions of dollars can buy -- many of those dollars contributed by Canadian taxpayers.
The war pits America's largest environmental groups against some of the world's wealthiest corporations and their "allies" in the Canadian and Albertan governments.
The battle line divides two viscerally opposed camps: Those arguing that North America's deepening dependence on Alberta's oil sands industry represents a pragmatic solution to looming energy crises, and those who say relying on oil sands crude marks an irreversible step closer to climate change catastrophe.
The prize, at end of the day, will be votes cast by politicians.
Will Washington's legislators pass laws that have the effect of opening the oil sands spigots wider, assuring that Alberta's bitumen crude increasingly, and permanently, flows into the U.S. market?
Or will they legislate against high carbon emissions fuel sources as a measure to reduce climate change? That could severely constrict the flow of oil sands' output into the U.S., dashing the profit dreams of corporations -- and some Canadian officials -- who have already bet hugely on providing bitumen-derived crude for American consumption.
The Tyee goes to the story
With so much on the line, there has been surprisingly scant coverage of how this battle is being waged and by whom. Until now. Beginning today, The Tyee is publishing The War for the Oil Sands in Washington, an in-depth, multi-part series that begins with three stories this week and many more in the coming weeks.
The reporting comes out of months of research capped by a week spent in Washington late in February, during which I interviewed oil sands lobbyists, environmental advocates and the congressional insiders either side hopes to influence.
What I found was an intense lobbying campaign being waged by each camp, both battling for the sympathies of Congress and the White House administration. The odds are clearly in favour of the oil sands coalition, which holds enormous political influence and has won major legislative victories on several fronts. But the green coalition, especially with Barack Obama in power, has more clout than its limited resources might suggest.  
This policy war rages as North Americans grow increasingly aware of the huge environmental impacts associated with Canada's oil sands. Those include strip-mined Boreal forests, mass duck graves and sprawling toxic lakes. But most importantly, from a global perspective, are the massive levels of greenhouse gases released each year. Extracting and refining crude oil from the oil sands requires much more energy than conventional operations, generally releasing many times more emissions. Despite recent technological advances, the industry has become Canada's fastest growing source of greenhouse gases. It's also now America's number one source of petroleum, far surpassing Saudi Arabia. Major oil sands expansions -- those planned and underway -- appear set to assure that dependence for decades.
Climate-concerned observers worry that with little time now left to take meaningful action against global warming, North America's economy is instead growing reliant on the world's most carbon-intensive oil. And they're furious that any U.S. policymaking attempt to reverse this trend has been fought aggressively by the planet's biggest oil companies and their Canadian government colleagues. This oil sands coalition has gotten major clean energy provisions in Congress blocked, deleted or delayed over the past few years. Besides defending billions of dollars worth of investments and profits, oil sands-friendly lobbyists argue they're trying to ensure North America's energy security in an increasingly hostile world.
During my reporting in Washington, the extent to which the Canadian and Alberta governments have allied themselves with multinational oil interests was revealed during a series of conversations with key lobbying players. One major architect of that effort met me at an exclusive social club for Republicans, where he explained in precise detail how his side has fought, and in some cases defeated, U.S. climate laws targeting Alberta's oil sands. You will listen in on that interview tomorrow, in the next installment of this series.
Closed doors at Canada's embassy
I spoke as well with a "high-powered lobbyist" employed by the Alberta government, a cross-border business group with ties to State Secretary Hillary Clinton and a spokesperson for the American Petroleum Institute, arguably one of the most powerful industry groups in America. My investigation also revealed the oil sands advocacy of Koch Industries, which in addition to fomenting the rise of the Tea Party movement, plans to spend $88 million influencing the next presidential election.
This oil sands coalition, with its tens of millions of dollars in lobbying spending each year, would seem an unfair match for the environmental groups arrayed against it. But the groups I spoke to -- including the Sierra Club, Friends of the Earth and Natural Resources Defense Council -- described major policy victories, despite their relatively meagre resources. They explained to me how they've cultivated many sympathizers behind the scenes in Congress and the administration.
Advocates against the oil sands also detailed how Canada's previously strong reputation for environmental leadership has been all but destroyed within their own circles and others. That trend is evident in the policy-making world too, where interviews with several congressional staffers revealed that aggressive government lobbying has now made some legislators feel dubious about Canada's willingness to combat climate change.
Despite nearly a dozen phone calls and emails in the weeks leading up to my trip, no representative from the Canadian embassy would agree to meet with me. Nonetheless, sources from both the environmental and industry camps explained that the embassy has been extremely active -- and "effective" -- in ensuring oil sands crude flows unimpeded to America.
Indeed, the Alberta government's U.S. representative, Gary Mar, meets with so many policy-makers that a spokesperson for the American Petroleum Institute thought it was "amazing he's not cloned somehow." And Canada's U.S. ambassador Gary Doer is also in the thick of battle, writing politely tough responses to congressmen who'd publicly questioned the need for a proposed oil sands pipeline.
As I covered the War for the Oil Sands in Washington from the perspective of its trenches, it also became clear that this battle is joined to other, similar struggles taking place in Europe and state legislatures across the U.S. Wherever people are trying to craft measures to fight climate change by penalizing high-emissions fuel sources, odds are good that the oil sands lobby -- including the governments of Alberta and Canada -- have put a pin in the map and are pushing back hard.
Check the Tyee regularly in the coming weeks as we explain how Canada has taken on an increasingly active role in Washington's climate change debate -- and what that means for Alberta's oil sands industry, North America's energy future and the fate of the planet.
Tomorrow: In an opulent Washington club where high-paid lobbyists conduct their business, a one-on-one interview with Tom Corcoran, the former Republican congressman whose job now is to sell to politicians a positive view of Alberta's oil sands.