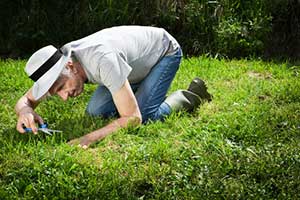 [Editor's note: Daniel Wood mows through North American lawn culture in a companion essay also published today.]
Critics of North America's grass addiction suggest homeowners consider reducing the overall area of their lawn by 50 per cent. The catchword in this new approach is xeriscaping: designing and planting a yard that needs no additional water.
The first target is obvious: the largely useless mono-crop known as the front yard. Experts say remove the grass entirely and replace it with flora indigenous to the householder's bio-region. This means joining nature rather than fighting it. With native bushes, wild grasses, ground-cover, and trees, the birds and butterflies will -- in time -- return. Watering isn't necessary since these plants are suited to the local climate. Critics call, too, for the reduction of backyard grass through the planting of a vegetable/cutting garden --- selecting again those species best suited for that bio-region.
With these changes, the polluting gas mower follows the typewriter onto history's scrap heap. Ditto lawn fertilizers and pesticides. These steps, the critics admit, will initially cost money. But this investment will -- in a few years -- easily repay the homeowner in savings as water, gas, and petrochemical prices soar.
12 Steps to Recovery for the Lawn Addict
If the thought of xeriscaping makes your grass stained hands tremble, you may have a serious problem. If so, here are 12 steps towards recovery:
1. Repeat this phrase: "Hi! My name's _____ and I'm a lawn addict."
2. Admit that in the pursuit of a weed-free lawn you've harmed a lot of birds, butterflies, and beneficial insects.
3. Accept that nature is correct, and that summer-long emerald lawns come at a big cost.
4. Remove the boring front lawn completely and replace it with native ground-cover.
5. Plant a vegetable/cutting flower garden in part of the backyard.
6. Dump the polluting gas mower and buy a new, lightweight push mower.
7. Support lawmakers calling for restrictions on pesticides for cosmetic uses.
8. Join class action lawsuits against local by-laws mandating lawn appearance.
9. Plant indigenous trees, bushes, and wild grasses that lure birds and butterflies to your neighbourhood.
10. Investigate the Natural Gardening Movement, the Wild Ones native lawn movement, or the Evergreen in-school gardening program.
11. Read How to Get Your Lawn Off Grass by B.C.'s Carole Rubin (Harbour, 2002).
12. Practice xeriscaping --- waterless lawn and garden design.