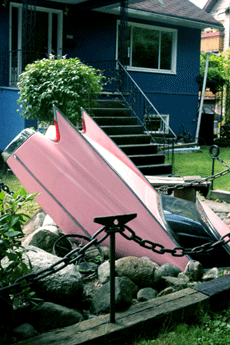 Amid the tasteful and discreet front gardens of Vancouver's Kitsilano neighbourhood, Steve Edmundson's front lawn boasts an eye catcher or an eyesore, depending on your point of view. While the lawn itself is ordinary, if a bit weedy, it has the back end of a pink-finned Cadillac sticking out from its east side.
The 1960 Cadillac Coupe de Ville juts out of the ground at an angle, as if the car got stuck on its way to the centre of the earth. It's been there for eight years -- when Edmundson got the car from a scrapyard, stripped the front half for spare parts for his own Cadillac, and wound up with the useless rump end intact. A building maintenance painter by trade, Edmundson has long admired and collected pre-1960 Cadillacs. "It seemed like a shame to chuck that big chunk away," he said.
So Edmundson upended the Caddy on the lawn and lit up the taillights, making the car look eerily alive at night. (Pizza boys have no problem finding the house, he says with a laugh.) And that was the start of Edmundson's front yard found-object showcase on Balaclava and West 6th Ave (which includes chains, gears, cogs, benches, and elevator doors), a neatly arranged lot he calls "a little bit of B.C. history and a bit of American chrome."
Great Wall of Vancouver
"It's a way of expressing myself," he said. What does he think the yard says about him? "I'm inventive, maybe. Ingenious."
He's not alone. Dropping the Cadillac into his front lawn put Steve Edmundson's name on the list of dedicated homeowners who add such quirky bits of personality to their dwelling, turning it into a "lookylair" -- a public deviation from the cookie cutter houses that populate our cities and rural places. While some see them as nuisances made by eccentrics, others see them as sparkling examples of inspiration and unfettered creativity.
Another local lookylair is the Great Wall of Vancouver: a five-storey cement wall rising out of a platform set into a beach in the Point Grey neighbourhood. The top reaches the former backyard of its creator, Ken Connibear, who died in 2002 at the age of 95. A writer, poet, hunter, Rhodes Scholar, and Simon Fraser University administrator, he spent 40 years mixing cement and adding in almost every discarded household item to finish his masterpiece. His cremated remains are now set into the top of the wall.
"People come and say it's so artistic, but this man never threw anything in the garbage," said Marilyn Connibear, his second wife. "He came from a time when you used everything, and it's certainly in the wall. Every fuse that blew in the stove-it got embedded in the step. There's a whole raft of fuses, old license plates, broken plastic dishes." And it's got the name of every place Connibear ever visited, engraved into the stones.
It's popular. "We've got guestbooks that people would sign when they came up the cliffs," said Marilyn. "And there are quite literally thousands of names - four complete full guestbooks."
Ken's particularly welcoming philosophy ensured his Wall won the approval of his neighbours, a fate different from most lookylairs. (The Cadillac house does not bother its neighbours either, but most neighbours view the house with a wary wonder, using terms like "strange" and "weird").
But if neighbours are ambivalent at best, the architects themselves are devoted. Famous international ones include the Watts Towers, 17 steel and concrete towers Simon Rodia handbuilt in front of his California home, then embedded with discarded glass, tile, and pottery to create the most famous lookylair on the list. And the 60-acre Rock Garden in Chandigarh, India, which Nek Chand spent 30 years building, used recycled trash to build human and animal statues in a series of connected courtyards.
And they all have admirers. Like Jim Christy who liked lookylairs so much he wrote a book about them, Strange Sites: Uncommon Homes & Gardens of the Pacific Northwest. As a kid, he writes in its introduction, he felt filled with despair by the split-levels and ranch houses that made up his community-but fascinated with the rough-hewn fishing shacks and treehouses he saw. He called the houses "revivifying slaps on the back and jolts to the sensibilities," inspirational beacons of raw creativity in the midst of conformity.
On his travels he found a magnificent colourful rock garden in Seattle, Washington; a tiny village in Pincher Creek, Alberta where each building is made out of glass insulators from telephone poles; and a house built out of 600,000 embalming fluid bottles in Boswell, B.C.
Unprotected
Sure, all the owners and houses are different, but they have a few things in common. To start with, the houses all come from the owner's desire to express him or herself. The home "decoration" usually starts small, then grows into something bigger and more outlandish, as in the case of Carnation, Washington. Christy found a house where the owner created a plywood owl that spread to become an entire "plywood menagerie" of animals all over the front yard and an adjacent field.
Next, there's the fact that like Edmundson, they all know how to work with their hands. And finally, that "the houses and their creators have no concept of an 'art world,'" according to Christy, "and their minds were formed before the age of mass media."
But they're not all the same. Edmundson, the Cadillac man, is a bit out of place even in this group of oddballs -- he's in his mid 40s, while most of the people Christy encountered in these homes were over the age of 60. The older generation has a lot more time and money to spend on their homes, says Mike Collier, who produced the Weird Homes TV show for Life Network, based on Christy's book. His show, which stopped filming two years ago but still airs, chose over 300 unusual homes in North America from a list of twice that many.
"We did have to work hard at finding younger people," said Collier. "Generally they're too busy with their lives, becoming successful or whatever."
Most of the homes, he added, were found in rural areas. "They have their place, and generally that's a rural place. I think they would just have too much trouble [in the city]. The novelty aspect would wear off pretty quick, and people in the cities spend so much for houses so they're worried about property values."
It has, however, encountered a more pressing problem that both Christy and Collier lament. There is very little protection for creations like the Wall, as they're built on private property. Few lookylairs are declared civic landmarks-even fewer are protected as national treasures like the Watts Towers or Nek Chand's gardens.
Bulldozers?
Instead, when the owner passes away as Ken Connibear did, lookylairs are at the mercy of the new owner, which often means the house or garden will be bulldozed to utilize the profitable land underneath. As the lookylair creators skew older, more and more of them are now dying. And with fewer young minds to pick up the slack, Christy says this means there will be much less of the "pure" weird homes and gardens in the future. This worried Marilyn Connibear. After Ken died, Marilyn moved to an apartment, and wondered about the fate of the wall.
But the young woman who now lives in the Connibears' former house smiles as she talks about the fate of the Wall.
"We're not going to do anything with it," she says. "We're just planning to live with it, and love it."
Jhenifer Pabillano is on staff at The Tyee.
What's the Tyee word of the week? It's the word that defines a sub-culture. Each week this summer, the Tyee explores contemporary BC.
Have an idea for a Tyee word of the week? Send it to editor@thetyee.ca with the subject "my word of the week."