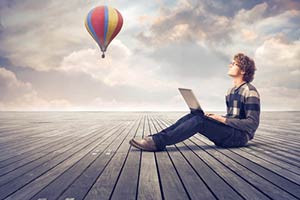 The news is dead. Long live the news. Amid the horror stories of hamster-wheel journalism, the decline of advertising sales and dropping public trust, there's a glimmer of hope from five scrappy startups you've probably never heard of. Your dedicated Tyee correspondent is in Austin, Texas this week, drinking with the world's nerdiest digital creatives, dodging elevator sales pitches from entrepreneurs seeking the most angelic of investors, and trying to survive on 20-hour days of programming at the boisterous beast that is the 2013 South by Southwest (SXSW) Interactive Festival. So get off the ledge, dear publishers and journos. Entrepreneurs are here to help. Here's a bit of proof storytelling is alive and well in the digital age:
1. Zeega.com (@zeega)
Watch out, Tumblr! Newcomer Zeega is looking to remake the Internet by moving the world of online storytelling beyond the scrolling blog. CEO Jesse Shapins wears a Grizzly Adams beard and has invented courses for the Harvard Graduate School of Design. He is also a cultural theorist and media artist whose work has appeared in Wired and at the Museum of Modern Art in New York City. His latest venture allows users to create custom, full-screen transmedia environments with a focus on interactivity (especially slick on a tablet!). A couple favourites: PBS NewsHour inside a gun show and the shadowy world of sewers and tunnels through the eyes of urban historian Steve Duncan.
2. Cont3nt.com (@cont3nt)
"Get paid. Get published. Change the world." It's music to the ears of freelancers everywhere and the slogan of the world's first real-time market for photo and video journalism. Think of it like an eBay for breaking news. The focus is on raw visual elements; objectivity is a valuable commodity. Cont3nt.com is a thorn in the side of the Associated Press thanks to an e-commerce platform that lets reporters connect directly with publishers looking to buy footage. In a perfect scenario, the footage will be published and paid for within 30 minutes of contact. Membership is free for freelancers and Cont3ent skims just five per cent off the top. Not too shabby.
3. Atavist.com (@theatavist)
Is your story too long for a magazine but too short for a book publisher? Check out Atavist, headquartered in Brooklyn, NY. Atavist runs a pay-per-view publishing platform of the same name (with interactive treatments of printed stories generally selling for US$2.99), but is also a digital publishing tool that buys original long form narrative non-fiction stories (think 20,000 words) and pushes them out as apps, ebooks and magazines across a number of retailers, including Amazon. Clients include the Paris Review, Wall Street Journal and the TED Books App. Freelance pitches encouraged.
4. Reelsurfer.com (@ReelSurfer)
This simple app looks to turn consumers into content creators by enabling users to cut and share mashups of highlights from any online video. Its founders' pitch proved popular with investors last year, as the company, based in Palo Alto, California, received nearly US$900,000 in startup funding from American seed accelerator Y Combinator last fall. Getting started is as easy as entering the URL of the video to be clipped into a field on Reelsurfer, then choosing in and out points to create the desired clip. Users can also organize clips into reels and share them across a variety of social-media platforms. How you use it is up to you: from punchlines of favourite comedians to ridiculous promises of campaigning politicians, let the Internet be your muse.
5. Meograph.com (@meograph)
In the vein of last year's SXSW social media darling Storify, Meograph offers another spin on the curated story, but this app also uses videos, photos, graphics, Google Earth and a timeline feature to create interactive, multimedia synopses of newsworthy events (such as the Trayvon Martin killing). Makers pitching startup incubators claimed to be "building the new Adobe" with a focus on videos and infographics – the most viral elements of interactive storytelling. Don't miss out; check it out today (for the moment, the app only runs on the Google Chrome web browser).