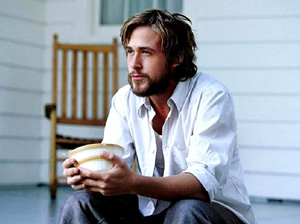 [Editor's note: Every Saturday we're publishing a Tyee List, starting with numero uno today. Lists of what? Lists of whatever strikes our fancy. Or yours -- feel free to submit your own here, subject line LIST.]
If Hollywood films have taught us one thing, it's that there is only one person in the world who can make us truly happy. The Soulmate.
Each February, the homo sapien's need to find that ultimate pairbond reaches a fever pitch. Unfortunately, while Hollywood films are adamant that our soulmate exists, they reveal precious few hints about where to find them, reducing modern love to the romantic equivalent of a perverse Easter Egg hunt. Worse, how does one engage with one's soulmate once that chance meeting has taken place? How does one ensure that attraction will ensue, thus ensuring a life of endless joy and fulfillment?
We are offered few explanations. Which is why, this Valentine's Day, The Tyee endeavoured to undertake an ambitious social experiment on the science of attraction, using the most effective guide to modern seduction yet uncovered by researchers: the films of Ryan Gosling.
But how effective are the techniques demonstrated by Gosling's films? Would they prove successful if field-tested in real-world situations? Researchers decided to find the truth. In preparation, a number of Gosling's films were studied, with a particular emphasis on those advocated by PerezHilton. This task was made exceedingly simple by Time-Warner's recent declaration that February is to be known as Ryan Gosling Month, and that for the remainder of February, the actor will be given his own On Demand channel.
Three films, in which Gosling employs different romantic techniques to win over a girl, were selected. In order to ensure the most accurate possible results, researchers selected a subject with a resemblance to Gosling, and engaged in an extensive hair, makeup, and wardrobe process known colloquially as a "makeover." (See Figure 1.) Both subject and researcher made their way to the Broadway and Commercial Skytrain Station in Vancouver B.C. (the busiest transit hub in the city, thus ensuring the maximum number of potential soulmates), and, following the subject's consumption of two pitchers of beer (at the subject's insistence and at researcher's expense), began the testing process.
The following describes the technique Gosling employs in each of the films, how it worked out for Gosling, and how it worked out in real life. Below are the findings.
1. The Direct Approach. Inspired by Crazy, Stupid Love:
How it works in the film: Two women are seated at a table, discussing the sex appeal of Conan O'Brien. Suddenly, a well-dressed man in an impeccably-tailored suit (Gosling) approaches.
"He looks like a carrot," one of the women says to the other, of O'Brien.
"Who looks like a carrot?" Gosling asks.
The women explain their conversation, and, in response, Gosling tells one of the women (Emma Stone) that she's "really sexy." She responds with confusion, and asks if perhaps he isn't a bit too old for cheesy pickup lines.
"You're wearing that dress like you're doing it a favour," he replies.
"That's a line. Me being unable to take my eyes off you for the past two hours, that's a fact."
He offers to buy her a drink, and, flustered and aroused, she leaves the bar.
Much later, she returns to the bar and kisses him.
Romance ensues.
How it played out: After extensive study of Gosling's technique in the film, researchers determined that the subject's best course of action was to interrupt two women having a conversation (by asking "Who looks like a carrot?"), tell one of them they were attractive, offer to buy them a drink, tell them that he had been watching them secretly for hours, and then study the response.
The female subject for this experiment was selected at random. Unfortunately, the female subject's grasp of English appeared to be spotty at best, and, as a result, she simply answered "No" to each of the subject's queries (including those for which "No" was not an appropriate response, ie: "Who looks like a carrot?"), before finally walking swiftly in the opposite direction, shaking her head violently.
The first test was therefore deemed a failure.
2. Threats. Inspired by The Notebook:
How it works in the film: A fairground. Evening. A cool wind blows as Allie (Rachel McAdams) enjoys a ride on the Ferris wheel with a beau. Suddenly, Noah Calhoun (Gosling) appears, leaping into the chair, introducing himself, and asking for a date. Allie refuses. Prompted by calls from below, Noah leaves the chair, hanging himself from the Ferris Wheel's metal crossbar.
"Will you go out with me?" he asks.
Again, Allie refuses.
Noah won't take no for an answer.
He begins to loosen his grip, threatening to plummet to the ground far, far below, and it is only then that Allie agrees to a date.
"You think you're so clever, don't you?" she asks.
He looks pleased with himself.
In a moment of abandon, she reaches forward, and undoes his belt, exposing his undergarments for all the fairground goers to see.
Romance ensues.
How it played out: Researchers determined that the ideal course of action was for the male subject to approach an attractive female, give his name, and then repeatedly threaten to harm himself until he was granted a date.
The female subject, in her early 20s with a grunge fashion sensibility and a lip piercing, was approached on the escalator to the upper levels of the Broadway-Commercial station. (Note that multiple escalator rides were necessary before a suitable female subject could be located.)
"I'm (name redacted)," said the subject.
He was promptly ignored by the female respondent (who was wearing headphones).
"I'm (name redacted)," he repeated.
This caused considerable irritation to the female subject, who then removed said headphones, and replied "What?" in an exasperated fashion.
"Will you go out with me?" asked the subject.
"What are you talking about?" she replied.
Hostility was evident.
By now, both the male and the female subject had reached the top of the escalator, and the female subject began working strenuously to put maximum distance between herself and the male subject.
If you don't go out with me, I'll throw myself down the escalator," the male subject shouted, as she disappeared down the hall.
The second test was therefore deemed a failure.
3. Staring. Inspired by Drive:
How it works in the film: After taking his attractive neighbour (Carey Mulligan) and her son out for a drive, and skipping stones with the pair near a pond, a Hollywood stunt driver (Gosling) begins to exchange fleeting, worldless glances with said neighbour. They begin to stare at one another under a variety of circumstances, such as in her apartment and in his car. Scarcely a word is exchanged. Gosling looks at Mulligan, his face moving through a dizzying range of emotions -- everything from vulnerability, to sexual interest, to flinty detachment.
Finally, she reaches over and takes his hand.
Romance ensues.
How it played out: Researchers used various instruments in an attempt to gauge the velocity of Gosling's stare, however, results were inconclusive. The male subject's recreation of Gosling's stare is available in Figure 2.
Field data results were distinctly more telling, with the male subject required to make eye contact with several female subjects, and continue to stare at them until they held his hand.
Three separate female subjects were used, and the results were so similar that they could be said to be universal, no matter who the male subject selected, or how dizzying his range of emotions.
For roughly the first 15 seconds that staring was initiated, none of the female subjects noticed.
By seconds 15 to 20 (approximately), the female subject noticed the male subject, and immediately looked at the floor.
By the 30-second mark, two of the three had returned the male subject's gaze, and, sensing his intention, began to search the area to see if they were, in fact, the subject of a prank. (The third subject boarded a train, and therefore, was removed from remaining data collection.)
By the 40-second mark, both remaining female subjects began to exhibit signs of acute discomfort, with one choosing to move to a different area of the platform, and the other making a lewd gesture before immediately producing her cellular telephone to make a call.
The intention was to repeat all test results, however, by this time, both subject and the researcher had become aware of the peripheral presence of transit security, and it was reasoned that, in the interest of science, further verification should be immediately aborted.
Results are in
All three tests, conducted under real-world conditions, were spectacular failures, ultimately disproving the hypothesis of researchers, and were unable to accomplish either of the experiment's primary objectives: namely, finding and keeping a soulmate.
Further, given the size of these failures, researchers now suspect that all three tests were predicated upon false notions of love, romance, and sexual attraction glamorized by Hollywood films, and that said false notions may be contributing factors to the current state of modern romance. While further verification is needed, preliminary findings indicate that subsequent experiments will achieve similar results.
In other words, the seduction techniques employed by Ryan Gosling in his films are completely ineffective in real life, even if one happens to look more than a little bit like Ryan Gosling.
[Editor's note: The Tyee remains in search of a romantic movie tactic that will produce surefire success in the real world. Should we hire a John Cusack lookalike next? Any further insight in this department is appreciated. Lend us your plot ideas in the comment thread below.]