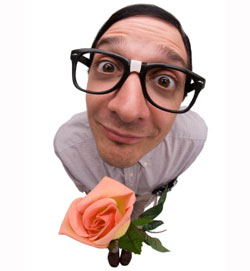 "Do we have cooties?" a friend asked me a few days ago. "Would it kill them to talk to us?"
This week alone, two friends have told me that men from here are. The. Worst.
Another friend just quit Plenty of Fish, the online dating site. After gaining a few erratic "pen pals" and only one date, she deleted her profile. "Can men in this town not even email?" she asked me. (These are my friends, so don't you dare even ask if they're lame).
Sad that men suck? Could be one more reason to admit defeat (hey, it's not me; it's this town), get a cat, and re-watch The Wire (which actually sounds pretty frikken awesome). But my brother-in-law helpfully warned me that if I get a cat, I'll be a spinster forever.
But it seems it's not just this town: guys-here-are-the-worst is what one professor hears in every college town she visits. Sure, that's her academic topic, but still. After one visit, a student vented in her college paper about how the guys at her college are "the worst... noncommittal, arrogant, awkward, and... not even that good looking." Then the student said she'd learned from the lecture that at least they "aren't the only heartless ones out there... it's men everywhere."
"I assure you, that point was not the intent of my lecture," says the prof, Dr. Kathleen Bogle, from LaSalle University, who wrote Hooking Up: Sex, Dating and Relationships on Campus.
Bogle says "the worst" narrative gets told in big cities, small towns, and college campuses. So why do women believe their dating lot is particularly sucky? (And no, it can't just be that women are bitchy, because men have a version of the same complaint too.)
Bogle tells me, "First, research has shown that women complain to one another as a way of bonding. And, nothing bonds women more than complaining about men! Second, complaining about the men in your town (or on your campus) provides a justification for why your love life – or sex life – is not what you want it to be. It's not the women from Sex and the City's fault they are single in the their 30s, it's because the men won't commit, cheat, or have some oddball quality that our heroines can't put up with."
Oh Sex and the City, where would any conversation about dating be without you?
The eternal shyness of the Vancity man
But the trouble is this: though people might complain in every town about the opposite sex, they don't complain about the same things.
Most of my smart, hot, oddball (in a good way) friends here in Vancouver complain that men never approach them. Whether you're in a bar, in the street, or in the ocean drowning, at some point you're going to wonder if you accidentally sprayed yourself with man repellent instead of perfume.
While another friend, from Paris, complains that men are so aggressive there you feel like a pigeon among the cats. When you pick a dress out of your closet in the morning, you know you'll be cat-called so often you'll swear from that day forward to wear nothing but burlap and parkas.
When I was in Dublin once with a friend, so many smiling, good natured men came over to chat with us, we thought it must be some sort of Punk'd filming or bachelor-party dares. Turns out, men there just kind of cheerily approach women in bars. And they don't seem bothered by, "No thanks, I don't really fancy a snog." They just kept smiling as they said, "Cheers!" Strange. I'm having a hard time imagining what the women in that town complain about.
In fairness, I asked a couple of (sweet, good-looking, funny) single guy friends about their experience here. One (a particularly nice one) said that whenever he approaches women, they treat him kind of like he's a creep. Strangely, he's stopped doing a lot of it. But a couple of weeks ago, he was in New York, and accidentally bumped an attractive woman's arm. He apologized and backed away, and was actually startled when she turned around, said no problem, smiled, and started talking to him.
So what up? Bogle says every city has different norms, whether for food, work, leisure or mating, influenced by stuff like its history, what type of work people do, average marriage age, the political climate, gender definitions, attitudes to cheating, and so on. "The fact is that human behavior is contagious." And, yeah, that makes dating some kind of virus.
When it comes to Vancouver, aloof behavior is "embedded in the cultural bedrock upon which this place was founded," explains Gordon Price, the director of the City Program at Simon Fraser University. And he says our town has a lot of history when it comes to reserve (read: ignoring pretty ladies / treating nice men like creeps).
He says reserve is a legacy from our British colonial roots, which got pumped up instead of deflated by the other dominant cultures here. Plus, there's the latitude and climate -- the cold, gray and rainy weather makes us want to cuddle up with our cats rather than put on high heels and head out into the (dark) night.
We're also victims of the Canadianism of being polite rather than individualistic or outgoing. Price says the attitude is: "you might have a different religion, language and origin but we're going... to focus on how to avoid slaughtering each other." Canadians "get along" and give each other space. Hot. Or not?
Sure, there's a lot of variation. It comes out differently in Calgary, for example, which has more big bad Americanisms due to oil culture (Dallas, anyone?). And different in Toronto, which is a bigger, tougher, older city.
Next turn-off: the suburbs
And even though people think of Vancouver as a dense, urban city (famous for Vancouverism and condos and what-not) it's still "basically suburban." It incorporated in 1886 and was one of the first cities on the continent to get a streetcar a year later. By 1890, they were building suburbs. We didn't have row buildings (like Montreal or Toronto), we had houses and yards. "Young people come to the city to find DNA, and go back to the suburbs to make more of it," says Price.
As urbanized as Vancouver seems to be getting, people still go out to work and shop, then retreat back to their yards. Though there are now lots of bars here, bar culture is still pretty new. And unlike warmer cities, people are still unused to the culture of the street and of public places. BBQ at home, anyone?
Price said when it comes to dating culture, what my friends are commenting on isn't actually unfriendliness, it's just reserve. "The opening gambit needs to be done in a different way. You get an arched eyebrow if you come on too heavy." And if you get it wrong, you get burned, which makes you much more reserved the next time.
He says 80-90 per cent of Vancouverites have friends of mixed races, which shows we are "friendly in a pretty profound way."
But while Vancouverites might be really friendly deep down, they're often the inverse on the surface. Sure, I'm glad it's not the other way around. It just means that singles -- whether men approaching women or vice versa -- have a pretty tough time in this town. Unless they're just enjoying friends with benefits.
I imagine Dan Savage might say we need a bit more of Sadie Hawkins in this town. Well, I can tell you that Sadie and I are close, but sometimes I feel like I'm using a dog whistle in a room full of monkeys (translation: they seem simultaneously pleased, startled and awkward).
Another friend of mine says the reality is we all need to "man up": take more risks, be more friendly. To which my first friend says, "Give me a frikkin' break." It's hard enough to find a date in this town, never mind change everything about dating culture.