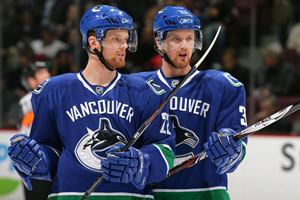 [Editor's note: The Tyee's Saturday List is back! Lists of what? Lists of Ryan Gosling romance tips! Or whatever else we feel like. Submit your own here, subject line LIST.]
Vancouver's not that big. You never know whom you might bump into at Costco, or Value Village, or going to work on the Skytrain. So just in case, here are 10 things not to say to the Sedins:
1. Hey, you have identically bad breath!
2. Does it bother you that even DNA testing would be unable to prove conclusively that your children were not sired by your brother?
3. Meh. I might be more impressed if you were conjoined.
4. Frankly, when I pay to see Swedish twins in action you guys are not what I have in mind.
5. Which is the evil one?
6. You guys have great "Finnish." Get it?
7. Soooo cute! Coach Vigneault even dresses you the same.
8. Can you get me Don Cherry's autograph?
9. Prove you're identical.
10. Are you more interesting in Swedish?
Run into the Sedins before? Called 'em something awkward? Or any other tips? Add them in the comment thread below.