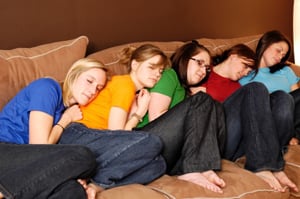 When my housemate asked if she could host a cuddle party in our living room, I said "Yeah. Sure." And then planned to work late that night.
Maybe even bring some takeout back to the office, in true Liz Lemon fashion, and catch up on 30 Rock episodes until such time that I could be sure the cuddlers had vacated my home. I truly didn't mind that she wanted to take over the living room with touchy-feely, and having gotten to know her pretty well over the past six months we'd lived together, this strange request wasn't that surprising. I just didn't really want to be part of it.
But I had to admit I was curious. I told friends and colleagues about it, and, as expected, questions came flying at me.
What is a cuddle party?
Wait -- are these all strangers?
Has anyone ever had sex at a cuddle party?
How does the cuddling start?
I haven't been to a cuddle party before, I kept telling them. But all the attention this was getting was incentive to find out. I felt like I'd built it up now, and had to deliver.
I'm not going to get into the intimate details of my own cuddling here -- I'm saving it for my memoir -- but I will say that the general atmosphere, from where I stood was relaxed, friendly and not sexually charged.
There was hair playing and back rubbing and arm scratching and some spooning and amidst all that were snack breaks, chatting and laughter.
Afterwards, I felt like I imagine all those people I see coming out of hot yoga studios feel. Relaxed. Happy.
(Like yoga or meditation, Cuddle Party is a thing that some people pay to do. Our party was facilitated by a woman who trained with the Cuddle Party co-founders Reid Mihalko, although she now facilitates on a pro bono basis with friends and acquaintances just because she likes it. Had I looked at the decidedly cheesy Cuddle Party website beforehand, I probably wouldn't have gone.)
Our facilitator was not cheesy at all, but wonderfully funny and frank. As she imparted the rules of the cuddle party, it struck me that at least some of these are applicable to real life and relationships, and therefore worthy of a List.
1. Touching isn't always about sex.
The first rule of cuddle party is that Clothes Stay On The Whole Time. Now, for the record, I would prefer a much more casual societal attitude towards nudity. Nudity doesn't equal sex either. But the point here is that the cuddle party is not about sex. Touching is not necessarily about sex.
When the participants introduced each other at the beginning of the cuddle party, we were asked to explain why we'd come. What it came down to for most of the 14 men and women present was the desire for physical affection and intimacy. One woman described how she felt she had to hold back from touching people in her day-to-day life because it would seem weird. A man said he appreciated the middle ground between friendship and sex that cuddling offered.
2. You must ask for and receive a verbal yes before touching someone.
This is just downright good etiquette. If everyone had the freedom to choose to say yes or no to being touched, and have that choice respected absolutely, it would be a better world in my opinion. There's something powerful in giving someone else that choice.
3. If you think "yes" say "yes." If you think "no" say "no." If you think "maybe" say "no."
Raise your hand if you've ever been asked to do something that you don't have the time or inclination to do and instead of politely declining you say "sure, okay," and then immediately regret it. Forget that. I mean, sure, we all have demands in our life that we don't necessarily want to attend to but can't ignore. However, if it's truly a request, then take it that way. If you think yes, say yes. If you think no, say no and if you think maybe, say no. Because...
4. You can always change your mind later.
In fact, at cuddle parties, you are encouraged to change your mind.
5. Don't fear rejection.
This is probably the best lesson offered at cuddle party. When I was a kid I loved running. (Ah, those were the days. I hit my prime around age 11.) I was fast and I would race anyone, anywhere, at any time. Finish line is that stop sign. Go! At recess I would exhaust all possibilities for potential competitors. Do you want to race? No? Okay. Wanna race? No? Race to down the field?
I didn't let rejection get me down -- at least, not until the following year when I started junior high and started going to school dances. The sting of the first heartbreak and rejection I experienced in my teenage years took time to get over. (Sometimes I still think about what I would say -- and what I would be wearing -- if I ever ran into that guy in the street.)
But as an adult, I know now that ultimately we are all responsible for our own emotions. You aren't going to kill someone by rejecting what they have to offer, and if someone rejects what I have to offer, I know they have their own reasons for doing so.
6. Have fun and be fearless.
What more is there to say?