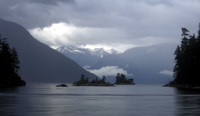 [Editor's note: This is the first of a regular feature we call "Geist Times Two" -- two brief reviews from a pair of the literary savants at Geist Magazine. Enjoy!]
The Story of Dunbar: Voices of a Vancouver Neighbourhood
Edited by Peggy Schofield
Ronsdale Press (2007)
Desolation Sound: A History
By Heather Harbord
Harbour Publishing (2007)
The Story of Dunbar: Voices of a Vancouver Neighbourhood (Ronsdale Press), edited by Peggy Schofield, feels a bit like a family album. Technically I grew up just outside the borders of Dunbar, but I went to high school there so I consider myself an honourary Dunbarite (Dunbarian? Dunbite?). Among the many photographs in Schofield's 440-page book is one of my Grade 12 drama teacher, Miss Lawrence, as she looked during her third year on the job in 1929, long before my time. Another shows my parents' old friend Jack Wood, who as a post-war contractor and land developer built many of the homes that still decorate the Dunbar streetscape. Yet another shows my pal Tony, with whom I still play tennis, age two, being taught by his father to handle a racket in a local park. Dunbar was the centre of whatever Beatnik culture existed (flourished would be too strong a word) in Vancouver in the late 1950s.
I recall my older brother taking me to the Black Spot coffee house where bearded, turtle-neck-wearing non-conformists (as they were called in those days) gathered to exchange ideas. There was fish netting draped from the walls and a lone conga drum stood in the corner, and I was pleased that the book acknowledged this now-forgotten cultural landmark. The most surprising thing I learned was how multi-ethnic the origins of the neighbourhood were. I always knew that Dunbar encompassed the First Nations community of Musqueam at its southern edge, but it was news to me that a community of Chinese truck farmers was established at Musqueam in the late 19th century, ostensibly to show the Indians how to grow crops. There was also a small number of Japanese Canadians who made their living from salmon fishing until they suffered internment in 1942. In my day, Dunbar was a prosperous, white-bread suburb with just the occasional outbreak of juvenile delinquency (as it was called in those days) to disturb its placid existence. These teen "riots" (which Schofield and her colleagues for some reason do not mention) usually occurred on Halloween and resulted in little more than broken windows and egg-stained storefronts. How innocent it all seems now.
Desolation Sound is a neighbourhood of a different sort. Situated on the B.C. coast north of Powell River, it is a popular summer anchorage for coastal cruisers. I have sailed through this beautiful area several times and can confirm that when Captain George Vancouver named it Desolation, he must have been having a particularly dyspeptic day. Long before the arrival of the wealthy boat owners, the Sound was home to large groups of coastal First Nations, and subsequently many European settlers found their way there. (We call them stump farmers out here on the coast.)
This is the story Heather Harbord tells in her book, Desolation Sound: A History (Harbour). Here again my family plays a small role. My sister, whose duties as a young public health nurse included visiting some of the Sound's isolated communities, is quoted in the book, relating how she arrived at one of the communes to give the communards their shots, and found them cavorting unclothed through the woods. The anecdote gives a flavour of what much of the south/central B.C. coast was like in the late 1960s when it was a haven for dreamers and draft resisters. More resilient settlers form the bulk of the book, however. People like Mike Shuttler, who homesteaded in Prideaux Haven around 1890, planted an orchard of apple and cherry trees and fertilized his vegetable garden with seaweed. Or Devina Chambers, who raised four children in Okeover Inlet, knitting their socks and sweaters using wool from sheep she raised herself until a cougar ate them. Or Gladys Nightingale who left her job at the Westinghouse factory in Vancouver to run away to sea with her dashing lover and later became a committed Kabalarian.
The fact that Desolation Sound has occupied a place on the local bestseller list ever since its publication suggests that I am not alone in appreciating books that put such people, and their neighbourhoods, back into history.
-- By Daniel Francis
---
Consequences
By Penelope Lively
Key Porter (2007)
The dust jacket on Consequences, by Penelope Lively (Key Porter), bills the novel as "a sweeping saga of three generations of women and the consequences of love and life" -- the sort of talk one expects to find on a good, thick bodice-ripper. But there the resemblance ends. The story starts in 1935, on a bench in St. James's Park, London, where Lorna "was crying because she had had a violent argument with her mother; Matt was feeding the wildfowl in order to draw them."
With passion and precision, but none of the tedious "detail" that clogs so much contemporary fiction, Lively draws the reader through the next 70 years of connections and fallings-apart that flow from that chance meeting on a park bench. She gives us the irresistible, star-crossed lovers Lorna and Matt, then shifts the narrative to their daughter, Molly, who happens to pick up a discarded copy of the Evening Standard in the tube, glances at Situations Vacant, sees that the Literary and Philosophical Institute ("the Lit. and Phil.") is looking for a library assistant and meets the man who will eventually father her daughter, Ruth.
Years later, at age 43, Molly ponders the fact that she is no longer young: "Youth had whisked by while she sold books and made books and changed nappies and wheeled Ruth in a pushchair on the last leg of an Aldermarston march and wore miniskirts and took the pill, which had arrived just too late to scupper Ruth's conception, thank God." The love of her life arrives by chance somewhat later, and now the story changes hands again, to Ruth, who hooks up with Peter, and moves into a flat with him and buys furniture. When she gets pregnant, Peter is dismayed: "'One was thinking later rather than sooner, I suppose.' For a brief and disquieting moment they stared at one another across some treacherous divide. Then Peter gathered himself and suggested a glass of champagne to celebrate. The champagne made Ruth feel even more queasy than she already was; he drank too much and later that evening they had an argument about the installation of a shower unit." Oh, dear. Ruth too has to grow up a bit more to comprehend the possibilities of love. For her the tide changes when she happens to drop into a small art gallery on her way to buy a takeout coffee. And so on.
"Every conception is fortuitous, every birth," Lively writes. Both the content of the book and the title -- like her other titles (Making It Up, Passing On, Corruption, Heat Wave and others) -- embrace all the meaning of the word consequence, from result or effect, to social distinction, to significance or importance.
-- By Eve Corbel