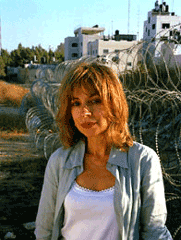 The Last Resistance
By Jacqueline Rose
Verso (2007)
Jacqueline Rose, a regular contributor to the London Review of Books, expertly weaves literature into our understanding of political and psychological life today in Israel and Palestine in her profound and profoundly ambitious new collection of essays The Last Resistance. The essays have been published to coincide with the anniversary of Israel's occupation of the West Bank and Gaza, which began 40 years ago today with the beginning of the Six Days War. "An occupation," Rose notes in the introduction, "that has now lasted longer in Israel's history than the period between the Declaration of Independence of 1948 that founded the state and the 1967 war which was when it began."
Rose's work mobilizes the nuance of literature to make both Palestinian suffering and moral degradation in Israel more easily understandable. Here she quotes Israeli author David Grossman: "'When I write, for a moment I am not a victim.' Writing is a cure for dispassion that makes him feel alive again: 'an act of self-definition in a situation that literally threatens to obliterate me.'" Later, in an absolutely fascinating study of the fiction of Vladimir Jabotinsky -- the founder of the ultra-rightwing "Revisionist" strand of Zionism that has dominated Israel since the election of Menachem Begin -- Rose examines fiction as a space wherein even the most strident of ideologues can explore subtlety and self-doubt.
The Rent Collector
By B. Glen Rotchin
Vehicule Press (2005)
In a later essay, Rose accesses the question of the suicide bomber through the prose of Tolstoy and the poetry of Mahmoud Darwish. In our own country, Montreal novelist B. Glen Rotchin allowed the Orthodox Jewish protagonist of his outstanding novel The Rent Collector to consider the earthly motivations of suicide bombers. He later told me in an interview that "We live in the age of the suicide bomber. This is our most stark political/social/religious context. I did not think it was possible to tell this story without touching upon that reality, just as I thought it was necessary to touch upon the legacy of the Holocaust."
The Anthology of Modern Palestinian Literature
Edited by Salma Khadra Jayyusi
Columbia University Press (1992)
Rose's book draws on -- and, significantly, formally injects psychoanalysis into -- work done by the late Edward Said, as well as Salma Khadra Jayyusi, the editor of the Anthology of Modern Palestinian Literature, and the leading expert on, and translator of, Palestinian poetry and prose. Jayyusi's Anthology clearly took its strength from the first intifada, a far more optimistic, less despairing uprising than its successor. There is a hopefulness to Jayyusi's introduction, published the year before Oslo, when she writes that "the greatest struggle and the greatest triumph of Palestinian writers lies in their refusal to become humanity's cringing victims.... While never ceasing to be aware of the particular predicament of their people, they exhibit a resilience that transcends tragedy and overcomes necessity."
Palestinian resilience appears in many of Jayyusi's selections. "[E]rase with your edicts/our past/our literature/our metaphor," writes Fawaz Turki in his poem The Seed Keepers: A Recital. "Do that and more,/I do not fear your tyranny./I guard one seed/of a tree/my forefathers have saved/that I shall plant again/in my homeland." Yahya Yakhlif's short story "That Rose of a Woman," doesn't once mention Israel, but returns again and again to phrases embodying the stubborn will to survive: "he reminded me of the fig tree and its determination to survive"; "looked like a fly that had landed on it's back and now struggled to right itself"; "She wanted everyone to be joyous again"; "the dry fig tree was still clinging to life".
Jayyusi also includes the giant of Palestinian poetry, Mahmoud Darwish: "I name the soil I call it/an extension of my soul/I name my hands I call them/the pavement of wounds/I name the pebbles wings/I name the birds/almonds and figs/I name my ribs/trees/Gently I pull a branch/from the fig tree of my breast/I throw it like a stone/to blow up the conqueror's tank." In this single, staggering verse from "Poem of the Land," Darwish renders undeniable the visceral Palestinian connection to the land on which Israel sees them as interlopers as well as expressing resistance as organic and overwhelmingly natural.
Operation Shylock: A Confession
By Phillip Roth
Vintage International (1993)
Not surprisingly, the two towering novels of the Israeli/Palestinian conflict -- Philip Roth's Operation Shylock: A Confession and Emile Habiby's The Secret Life of Saeed, The Ill-Fated Pessoptimist -- trade in black humour, cutting irony, and absurdity. While the politics of Operation Shylock aren't (always) my own, there's no denying its importance as a meditation on the multiple personality disorder of the American Jew's relationship to Israel. The novel literally features a cat-and-mouse struggle between two men named Philip Roth: the author Philip Roth and a man who has stolen his name and notoriety, and uses them to call publicly for the Jews of Israel to return to the Diaspora for their own safety and for the authenticity of their Jewish experience. (This work led to the publication in The Nation, in 2004, of a tongue-in-cheek essay by Adam Shatz entitled "In Praise of Diasporism"; Shatz also edited the collection Prophets Outcast: A Century of Dissident Jewish Writing About Zionism and Israel).
The Secret Life of Saeed: The Ill-Fated Pessoptimist
By Emile Habiby
Interlink Books (2001)
Like Operation Shylock, Emile Habiby's The Secret Life of Saeed tackles an absurd situation with even greater absurdity: his protagonist is abducted by aliens, and his life is saved by a donkey within the book's first pages. Saeed explains his odd surname, "Pessoptimist," which "combines two qualities, pessimism and optimism.... I am quite at a loss as to which of the two characterizes me. When I awake each morning I thank the Lord he did not take my soul during the night. If harm befalls me during the day, I thank Him that it was no worse. So which am I, a pessimist or an optimist?" For Palestinians, for whom "peace process" means "war," and "homeland" means "bantustan," Habiby's irony seems appropriate.
My Name is Rachel Corrie
By Alan Rickman and Katharine Viner
So what about the rest of us, observing safely from afar, isolated from the reality of the occupation? In The Last Resistance, Rose twice mentions the play My Name is Rachel Corrie, a script adapted by Alan Rickman and Katharine Viner from the writings of Rachel Corrie. Corrie was the young International Solidarity Movement member from Olympia, Washington, who renounced her white, middle class privilege for a mission to the Occupied Territories. It ended tragically, however, when a Caterpillar tank driven by the Israeli military crushed her to death.
My Name is Rachel Corrie stands as potentially the most powerful literary statement on the role of the "observer," the disinterested North American who is, in fact, an enabler of occupation through tax dollars and political support. Noam Chomsky called the relationship between Israel, Palestine and America "the Fateful Triangle." Though they present themselves as mediators (Bill Clinton stood equidistant from both Rabin and Arafat when they shook hands), the Americans and, it has to be said, we Canadians (who have allowed our government to starve Palestinians for electing the wrong people), are fully engaged belligerents. Rickman and Viner's framing of Corrie's own extraordinary words makes clear the possibility of bucking that complicity, working one's way out from under it by listening, by acting, and above all by attuning oneself to the universal value of human life. To paraphrase Jacqueline Rose, Corrie's is a story with which we should be forced to connect.
---
EVENT NOTICE: 'Forty Years of Occupation, Prospects for Peace'
Dr. Naseer Aruri, born in Jerusalem, is a renowned Palestinian intellectual, an author of several books on the Palestine-Israel conflict, and Emeritus Chancellor Professor at the University of Massachusetts. He has been on the board of directors of Amnesty International and of Human Rights Watch and is a founding member of the Arab Organization for Human Rights.
Dr. Aruri will be in Vancouver June 6 to speak on "40 years of occupation and the prospects for peace" at the Vancouver Public Library, 350 Georgia Street, Alice MacKay room, at 7 p.m.
Earlier in the day, at 10 a.m., Aruri and others will speak against the occupation, including the Canadian government's policy on this issue. Location: SFU Harbour Centre campus, 1315 Bank of Nova Scotia Room. Speakers will include:
Terry Greenberg, retired member of Canada's Department of Foreign Affairs
Svend Robinson, long-time member of parliament
Reverend Brenda Faust, minister of Trinity United Church Port Coquitlam
Murray Dobbin, journalist, broadcaster and author
Dr. Ivar Ekeland, Canada Research Chair in Mathematical Economics at UBC and former President of the University of Paris-9
Ken Davidson, head of the International Solidarity Committee of CUPE (Canadian Union of Public Employees)
Lee Lakeman, organizer of Vancouver Rape Relief and Women's Shelter and a representative for the Canadian Association of Sexual Assault Centers
Cynthia Flood, prize-winning Canadian short-story writer
David Diamond, founder and director of Headlines Theatre, recipient of Vancouver City's Cultural Harmony Award
Carl Rosenberg, editor of the Jewish magazine Outlook
Sister Elizabeth Kelliher, of the Franciscan Sisters of the Atonement
Henry Krause, pastor of Langley Mennonite Fellowship
Thekla Lit, founder and president of BC ALPHA (Association for Learning and Preserving the History of World War Two in Asia.