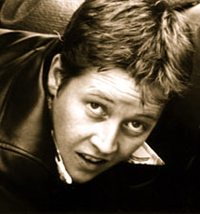 Bow Grip
Ivan Coyote
Arsenal Pulp Press (2006)
Novelist, storyteller and trickster Ivan E. Coyote is on the phone from her East Vancouver home and we are talking about book reviews. Coyote wrote reviews for more than eight years for the Georgia Straight. "I must have done 100 reviews and panned a grand total of three books, and they all came back to bite me on the ass."
These days Coyote is too busy for the book-reviewing gig. Her new novel Bow Grip has been enjoying great non-ass biting reviews, and she has hooked up with live-wire literary agent Anne McDermid. Coyote was preparing two book outlines for McDermid when I spoke with her.
Coyote is the author of three story collections, including the warm and plainspoken short tales found in Loose End (Arsenal Pulp Press, 2005), which are collected from a column she wrote for the Vancouver newspaper Xtra West. At the conclusion of that collection, Coyote writes of a fire that destroyed the home she lived in for 12 years. In Bow Grip, Coyote credits her cousin, who pried the hard drive out of her melted computer after her house burned down, with saving the manuscript that is her first novel.
Does Coyote have the staying power for a longer work? The answer is a definite yes; Bow Grip is a heartfelt, amusing page-turner with characters recognizable from the working-class walk of life.
Joey Cooper is a good-hearted, 40-something mechanic from Drumheller, Alberta, until recently happily married to Alison. His buddy Mitch Sawyer runs an Esso in town and his wife Kathleen is a quiet kindergarten teacher. Joey and Mitch played hockey together and share the occasional beer. Now they share some news; their wives ran off with each other. And, as is the case in a small town, everybody knows. Mitch now spends his nights in the bar of the local hotel, lamenting to anyone who will listen about his wife running off with another woman to their "one-bedroom artist's loft in Calgary."
As Joey Cooper sees it: "Mitch Sawyer seems to feel that the fact that Kathleen left him for another woman is more binge-and-sympathy worthy than if she'd just run off with his brother or the postman, but I guess I don't really see it that way. My wife of five years has left me, and I pretty much don't care who she went with, all I know is that she's gone, and it's been about twelve and a half months now of looking like she isn't coming back. Drinking doesn't seem to help much either, so mostly I try and just avoid running into Mitch Sawyer. I like the Mohawk gas better anyways; higher octane, plus they got the video rental counter right there in the gas station. I've been watching a lot of movies lately."
When privacy becomes secrecy
Coyote has a great ear for conversation and a keen understanding for those small moments -- punctuated by her dry, observant sense of humour -- that define who we are and offer glimpses of our humanity.
When James, a stranger who lives in a bus on the edge of town, approaches Joey at the garage he works at, they come to a Robert Johnson crossroads deal. Joey agrees to sell his beater Volvo in exchange for a beautiful handmade cello. Joey sees the cello as an opportunity to make some overdue changes in his life, considering his mother keeps insisting he needs a new hobby to get over his break up -- and it is hard to argue with your mother.
The car breaks down shortly after Joey sells it to James. He takes a trip out to the bus where James lives and makes a dark discovery about the reasons for its purchase. Then, moping about at home one evening, Joey makes another startling finding -- his wife had graduated from college while they were together without his knowledge. How could such a thing take place in a relationship?
"I had never sat down at Ally's desk since I gave it to her, just like she would never have touched anything on my workbench in the garage, or opened mail with only my name on it. It was one of the things about Ally and me that I had always appreciated, that we still had private spaces and lives. No rules or hassles about it, we just fell into things that way. We were both just naturally private people. Not like some couples get. Until she popped the news to me about her and Kathleen Sawyer, of course. That was the first time that her privacy turned itself into a secret."
With his suspicions now aroused, and with a strong desire to close the door on his failed marriage and return some furniture, Joey hits the road and travels to Calgary where he lands at a rundown hotel, populated with mysterious drifters offering sage advice, straight out of a Sam Shephard novel.
Joey's eventual meeting with his ex and her new beau produces one more surprise for him, but not before he finds a cello teacher, a sympathetic shrink, insight into the furtive James and a new path for his life. The cello it seems is a conduit -- the sound and the shape of the mystical musical note of life passing through us.
Coyote sat down at her keyboard recently and e-mailed some answers to questions I sent her.
The novel is dedicated to the men in your family. Why is that? What influence have they -- and particularly your father -- had on you?
I wanted to honour the men in my family, as in the past a lot of my hero characters have been women, and I thought it was time the male influences I have had got their proper credit. My dad taught me the love of building stuff, of working with my hands, and to not be intimidated by technical things. He can fix or build anything, and I was always impressed by that, and have tried to make myself as capable as I can in my own life. I can fix my own car, wire my own house, build my own shelves, stuff like that, because he taught me to be capable, and to learn by doing.
Joey, an infertile divorcee whose wife has left him for another woman, seems a remarkably sympathetic/empathetic character. Do you believe his character is idealistic? Or some sort of instruction manual for being a man?
I don't think Joey is ideal, or that he is an instruction manual for anything. I certainly didn't write him to be any of those things. I just imagined and created a decent human being, one who was raised to respect people. I feel like that was how I was raised, and I am a bit surprised at how many readers are shocked that Joey is a working-class man from a small town, but he isn't a total redneck. To me this is very telling, and it shows how much urban middle-class folks lean heavy on their stereotypes, which is ironic, when you think of it. I know lots of decent small town blue-collar men. My family is full of them. Joey is not pure fiction, he comes from a place and a family that are very real, in my experience.
Regarding Joey's discovery that his wife had graduated from college while they were together without his knowledge, how could such a thing take place in a relationship?
To me, this was a symptom of one of Joey's faults: he is private to a fault, and he assumes that other people are the same way. He doesn't ever ask his wife how she is, or what she is up to; he assumes she will just tell him everything she wants him to know. His lesson is that real communication is not just a passive activity, it's not always only about listening, it is sometimes about asking the right questions. I was writing about a relationship that failed because of things that were not said or done, where silence was the culprit.
You seem to have real insight into the human heart and those small moments that reveal us to others and ourselves. Where did you get that talent/ability? Have you ever considered writing a lonely hearts column?
I have always liked eavesdropping. I like to watch humans be human. I notice little things, I take notes on the details, and I'm always looking for a story, hidden anywhere. I love stories that are about everyday, mundane things that could have happened to anyone, and finding the magic little seed of humanity buried in them. Anyone can tell a story about a great event, or breaking news, or a disaster or a miracle. I call them headline stories. It's a lot harder to capture the beauty or the insight hidden in the everyday. But it is something that everyone can recognize, and relate to.
This is your first full-length novel. How difficult was the transition from short-story writing to a full-length novel?
Writing a novel was the hardest thing I have ever done, at least in my creative life. Everyday I had to slay a couple of demons: would anybody be interested, did I have it in me, could I finish it? It was terrifying, and torturous. I can't wait to do it again.
This novel is set in Drumheller as opposed to your regular writing haunts of Van East. Was that a conscious choice or just where the muse led you? Why Drumheller? What kind of research did that require?
Drumheller. I needed a small town that was close to a big city. I needed dinosaur bones. I needed working-class folks. Alberta seemed to make sense to me, and I have a sister there, and a buddy, who I could call for details. The rest of the research I did online, and during one short day trip to Drumheller when I was first crafting the idea of the book in my head.
Trading a cello for a Volvo seems like a strange and symbolically laden choice. How did you arrive at these as your exchange choices? A cello seems a very feminine and slightly sexual choice and a Volvo very lefty. Anything to that?
The cello seemed like the farthest thing away from anything that Joey would come across by accident in his life. I wanted him to find something by himself for himself, something that nobody he knew played, something he'd never thought about before. I was also dating a cello player at the time, so that was handy. I never thought of the cello as lefty or feminine. Actually to me it is a rich person's instrument, one that only spoiled private school kids would have access to. It is a sexy instrument, for sure, and it does have sweet curves, but the feminine thing? Must have been subconscious. I'm a very subconscious writer. I don't over think things, or create with metaphor or symbolism in mind. It's more visceral for me. I think with my guts.
What makes for a good storyteller?
A good storyteller knows how to pick the right tale for the right crowd at the right time. A good storyteller knows how to listen while they are talking. A good storyteller remembers everything, especially the stuff everybody else would think is irrelevant. A good storyteller knows that every one of us has at least one thousand amazing tales to tell.
What was the toughest crowd you ever performed for?
Kids are the hardest audience of all time. Especially in packs. You have about three seconds leeway before you lose them, and they never come back. They haven't yet learned to be polite and just pretend they are listening, either.
The whole scenario at the hotel reminded me of Sam Shephard and his work. Are you a fan? Can you relate to that comment at all?
I love Sam Shephard. I didn't have him in mind when I wrote Bow Grip, but I do love his work.
Many of your characters and settings come from the working-class walk of life. In a world that has gone all Doug Coupland modern-reference buzzy, is that a risk? Why make that choice?
I can't read Douglas Coupland, so I can't really give you much of an educated answer on that one. I just write what I know, about people who I can relate to and live inside long enough to write about them. Then I hope people like my book. What's in, or what the buzz is about, I don't really think of that stuff when I sit down to write. That's for the marketing folks to decide. Me, I'm just the writer. I just love to write, and tell stories. I love that I can go to work without putting any pants on. To me, that is success.
For an excerpt from Ivan E. Coyote's Loose End, visit Geist.