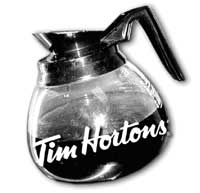 The capitalist memoir/business autobiography -- such as doughnut mogul Ron Joyce's Always Fresh: The Untold Story of Tim Hortons by the Man Who Created a Canadian Empire -- is a fairly odd literary form. With the possible exception of Margaret Atwood and her weird robotic pen thing, there are no examples of the opposite phenomenon -- authors who, after a successful career writing books, decide to try their ostensibly inept hands at running a major corporation. But there are plenty of tycoons who, after a life in business, sit down to write a book, and the results are often as hilariously failed as one can imagine it would be if Farley Mowat bought out Bombardier (light rail for the killing).
"Always Fresh" is hardly a phrase that jumps to mind when describing such works, which hew closely to the formulaic strictures of Horatio Alger novels written in the first person: a hard-working, bootstrap-pulling everyday Joe rises above his "Humble Beginnings" (that particular cliché is one of Joyce's early chapter headings), gives a little something back, and makes a name for himself. The risk one runs with a book like Always Fresh is that it comes off sounding as though written not by a writer, but rather by an elderly former cop turned pastry baron.
Of course, that's what a "co"-author is for -- a professional wordsmith to clean things up and make Joyce's story presentable. But Robert Thompson, the former National Post business writer and contributing editor to Travel & Leisure Golf who shares the byline for Always Fresh, seems to be reaching for a vérité style that successfully aims at invisibility, allowing Joyce to write as we can expect that he would, given his literary credentials. So we get plenty of quotation marks tossed up around thematically remembered conversation and passed off as dialogue, plus shoptalk passages as exciting as watching Boston cream dry:
" 'Tim, we've got to see if we can restructure the company and get out of the rebate business altogether,' I told him emphatically. But the idea of dumping the rebate system would come with harsh financial repercussions. We simply couldn't afford to continue operating at a three per cent royalty, which would not allow the system to be readily expanded. That led me to consider our options, and eventually I determined that we should cut out the middleman and start our own distribution centre. This would not only free us from the rebate system, but open up a new stream of cash flow."
At least there are eccentrics
Always Fresh is not, though, wholly without its charms. For various reasons, many Canadians have embraced Tim Hortons as part of the national business mythos, along with enterprises like the Hudson's Bay Company and Eaton's. It follows, then, that many will be interested in the business's history, which began in Hamilton in 1964 when it was founded by its namesake, a legendary Toronto Maple Leafs defenceman who would die at 44 when, drunk and speeding on his way to Buffalo, he flipped his sports car. Yet while it would be better to have the book written by a more impartial observer than Joyce, his decades-long career at least furnishes some interesting anecdotes.
There is the story of the restaurant manager, Jim Gowan, and head baker, referred to simply as Jeff, who came with his first franchise, purchased from Tim Horton and his then-business partner, Jim Charade. Gowan, a Scottish homosexual, was in a relationship with Jeff, who used a Ouija board at the beginning of every baking shift in order to determine how many pounds of flour to prepare. There's also a trip to Florida during which Joyce finds himself in a topless donut shop, served by a bare-breasted waitress; upon discovering that the doughnuts they serve weren't half bad, he asked if they were made on site. "No," she replied. "We buy them at the Tim Hortons store not far from here."
Losing your Timbits
But Joyce's inflated self-regard renders Almost Fresh almost nauseating. "There have been many things I've been pleased to have had a hand in developing or creating during my time at TDL [Tim Donut Limited] and Tim Hortons, but it may turn out that the children's camps are my legacy." Nothing like a man publicly considering which of his myriad accomplishments may or may not be his "legacy" to help you lose your Timbits.
Throughout the story, we're treated to insight into just how hard-working, determined and visionary Ron Joyce is. Far rarer are the passages that indicate just how careless an operator Joyce could be; a rashness epitomized in his terrible deal to sell TDL to Wendy's. Joyce fully admits the deal was a mistake, coming just short of admitting that he did not do due diligence when selling his company to the Americans.
We also get Joyce's grating right-wing politics, from complaints about unions and the Canadian customs agency's refusal to accommodate his 73-foot sport fishing boat registered in the tax-sheltering Cayman Islands, to laudations for morally and politically disastrous individuals like Mike Harris and Conrad Black.
In the end, creamy filling like topless doughnuts and Ouija-devoted bakers gets lost in the dry, days-old cruller of self congratulation, boring shop talk and rightist waxing. Nevertheless, if you're the type of doughnut enthusiast who is irritated by that last sentence because crullers aren't cream-filled, you might enjoy enough of this one to give it a passing grade.