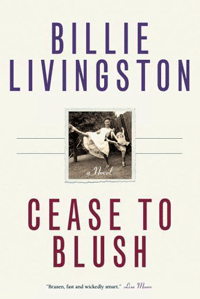 Cease to Blush
Billie Livingston
Random House Canada (2005)
At the heart of every good story there is a mystery, and the biggest mystery is the secret of who we are. In her long-awaited second novel, Vancouver writer Billie Livingston returns to the theme of the mother-daughter relationship explored in her first, Going Down Swinging (Random House, 2001), but with craftsmanship and insight matured by a quantum leap or three. In Going Down she convincingly portrayed two women separated by a generation in alternating chapters of mother-versus-daughter versions of events. While an impressive debut, like most first outings the book drew heavily on personal experience for plot as well as detail.
With Cease, Livingston takes a measured step back from the limelight and into the stage-managerial shadows of the mature novelist. Still working the mother-daughter lode, an archetype as richly poignant as Ceres and Persephone, she now borrows props from old masters of the genre with confidence -- in this case, the Mysterious Trunk. Livingston's protagonist Vivian inherits the old crate filled with her mother Josie's papers and souvenirs with a distinct lack of enthusiasm -- at first. That's because she's a textbook case of extended adolescent rebellion against her late mother's respected-Vancouver-feminist-lesbian lifestyle: a girl who bears the title of slut with pride and turns up late, stoned, drunk and, worst of all, overdressed for her mother's funeral.
Through Vivian, in the opening sequences Livingston gets off plenty of telling shots at the fashionable political correctness that passes for feminism these days. But when our heroine opens Pandora's Box (for those of you who slept through Classics 100), she discovers that the dead woman she defined herself against actually had a secret past. From here, the novel becomes a quest for identity in the mode of the classical myth. For Vivian, the revelation that her mother was not the person she had assumed her to be is a kick that knocks the props from under her own fragile persona.
Of mobsters and presumptive presidents
Intrigued by the evidence in the trunk, which includes an intimately autographed photo of Frank Sinatra and other early 1960s Rat Pack mementos, Vivian backtracks the trail her mother covered so carefully. She fills in blanks and connects clues, discovering her mother's (now aged) former New York and Las Vegas cronies hiding like Gila monsters under California's sun-baked stones -- people who knew her not as Josie Callwood, feminist writer, but as Celia Dare: singer, actress and notorious "beard" for celebrities of organized crime in the days when they partied with presumptive presidents.
"Beards" were starlets and B-actresses whom senior mafiosi kept on retainer and squired in public to disguise business meetings as social occasions. A rebellious youth herself, Dare had made the cover of Time in a group photo during a flirtation with San Francisco's late Beat/early Hippie movement before resurfacing in Las Vegas as the "beard" of Johnny Rosselli, suave mob strategist and go-between for the shadow mafia world and the CIA at the time of the assassinations of President Kennedy in '63 and his brother Robert in '68. Since Rosselli vanished and resurfaced bisected, his halves encased in separate oil drums in Miami's bay, it behooved anyone closely associated to become invisible.
Vancouver, B.C., beyond the reach of the FBI and on the outer fringes of mob radar, was a good place for a babe on the run. Hence, Celia changed her name and her look and lived quietly (to live at all) in the aftermath of the most traumatic events in U.S. history since the Civil War. Her minor legend was left to the custody of obsessive collectors of memorabilia from the last tango of glamour in American popular culture.
Readers may speculate whether Vivian's biological father was Johnny Rosselli or Bobby Kennedy -- that's just one coincidental bonus of this carefully researched novel. Frank Sinatra, Dean Martin, Sammy Davis Jr., Peter Lawford, Marilyn Monroe, Louis Prima, mob boss Sam Giancana, even John F. Kennedy himself -- the historical celebrities are cast in walk-on cameo roles by Livingston, who directs them with a sure hand. And Vivian's quest to understand her mother's transformation from one life to another becomes the mirror of her own rebirth as a person.
Unearthing complex context
In a sense, the novel is Livingston's investigation into her own historical and cultural context. Too young to remember the events that utterly changed the social and political landscape of the late 20th century, she had to reconstruct them like any author of historical fiction. She subtly works her research into the narrative, using conversations with fictional witnesses, fictional letters, and Vivian's own obsessive reading of biographies, autobiographies and histories, to put the living flesh back into the elegant cocktail gowns and tuxedos.
But most impressive is the way Livingston manipulates her material to create thematic resonances that enhance emotional engagement without intellectually mugging the reader. She avoids the typical florescent warning signs of CanLit -- Caution: Leitmotif Crossing, Metaphor in Progress, Watch for Symbols Next 3 Km. Instead, drawing on her own experience in the film industry, she has Vivian hired to be made up as the "dead hooker" in a local TV series obviously based on Cold Squad or Da Vinci's Inquest while memories of Josie's gruesome cancer death are still fresh in her mind. On her road-trip quest into her mother's past, she gets her stereotypical streaked blonde hair cut to a sleek dark bob -- transformations that echo the measures Celia/Josie took to hide.
The theme of disguise subtly permeates the novel at every level, but it's more than metaphorical stage makeup. The key moment comes when Vivian, almost unconsciously empowered by her quest for the truth about Josie, stands up to her parasitic boyfriend Frank, who has manipulated her into participating in his home-based Internet porn business, by contemptuously telling him, "You don't even know me." Like her mother, Vivian has shed all her disguises and taken possession of her self, even if it means being unrecognizable to those who think they know her best.
The book's title is lifted from an observation by the ever-controversial Marquis de Sade: "Women without principles are never more dangerous than at the age when they have ceased to blush" -- when they have discarded all disguises of false modesty and the "weaker" sex and can no longer be embarrassed for daring to be themselves. The same might be said of writers. With Cease to Blush, Livingston has made her rep as one of the most dangerous writers you will ever be lucky enough to encounter.
John Moore is a regular contributor to Vancouver Review, in which this piece also appears. The Summer 2006 edition of VR, a nominee for best magazine at this year's Western Magazine Awards, is now available at discerning newsstands. The issue also features Terry Glavin's "Lost Cities: The Archaeology of Metrotown," Tim Carlson's "Condofest" on lining up for a Woodward's unit, and "A Night Downtown," fiction from George Bowering. Content from previous issues, including Zsuszi Garner's "Investment Results" May Vary," which won the silver award for short fiction at this year's National Magazine Awards, is available on the VR web site.