In the last civic election, Vancouver's most left-leaning party was virtually wiped from the political map. Coalition of Progressive Electors mayoral candidate Meena Wong finished in a distant third. The political party, which had for decades been a gravitational force in Vancouver politics, failed to elect a single councillor, park commissioner or school trustee. "The results tonight are disappointing," I heard Wong lament at COPE's election night party in the former VIVO Media Arts Centre on Main Street, where housing activists, artists, seniors, indigenous people and Downtown Eastside residents drank $2 draft and danced to a bluegrass band.
There were several theories going around for why COPE did so badly. One party volunteer told me fears of vote-splitting were valid. Some COPE supporters had potentially voted for the centre-left Vision Vancouver to avoid electing the right-wing Non-Partisan Association. Others criticized the campaign itself. Wong wasn't able to find a populist hook that could "mobilize working-class and low-income populations to engage in a political system that has abandoned them," Michael Stewart wrote on Rabble. But the prevailing theory was that Vision and the NPA raised huge amounts of money from developers and then simply outspent COPE. "Every one of their ads is nearly the budget of our whole campaign," Wong said.
It had been the most expensive civic election in Vancouver's history. Vision raised $2.9 million and the NPA raised $2.4 million on pro-development platforms. Their biggest backers by far were companies somehow involved with real estate. COPE, which proposed such policies as a tax on empty homes, raised less than $100,000.
A few years after the election, Simon Fraser University student Gary McKenna, who's now a reporter with Coquitlam's Tri-City News, decided to do his masters thesis on how political donations helped decide who got elected in 2014 and who didn't. "I was just trying to get a sense of what impact [they have]," he told me.
He spent months analyzing voter and financial data in Metro Vancouver. And he concluded in his 2017 thesis that "campaign contributions and spending have a significant impact on electoral success," particularly from powerful development companies such as Bosa Properties and the Beedie Group. "If there is a corporate elite overseeing municipal decision making," his thesis reads, "money is one of the most important elements in preserving control over the civic power structure."
Almost one third of the $9.5 million in political donations that McKenna tracked across Metro Vancouver came from developers or related companies. There is little doubt that this money gives pro-growth politicians and their parties more resources to win elections. It allows candidates to hire expensive polling firms, take out major media advertisements and pay professional staffers. "Money isn't the only thing," COPE co-chair Connie Hubbs recently told me. "But when you don't need to have someone staying up till 2 a.m. to fill volunteer slots, yeah that makes a difference."
Corporate money, as we'll see below, also influences civic elections in subtler and more insidious ways. It has altered local voting behaviour in ways that favour the city's wealthy. And it has helped to restrict the range of political solutions that are considered acceptable for Vancouver's housing crisis. In the upcoming October civic election, new legislation will for the first time ever impose strict limits on political fundraising. In theory, this could make it easier for candidates who are critical of unfettered urban development in Vancouver to compete and actually win. Pete Fry, who has made several runs for city council as a Green Party candidate, told me the new campaign finance reforms are a positive step. Yet, he continued, "we won't see the end of big money influence overnight."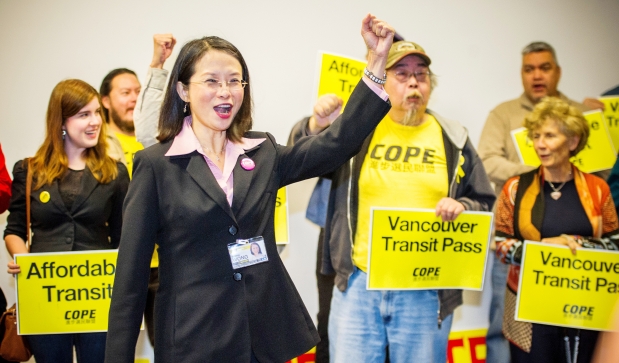 Growth for profit
In the late 1970s, a U.S. sociologist named Harvey Molotch wrote a seminal paper describing cities as "growth machines." He argued the main goal of civic institutions is to facilitate growth. The profits from this growth go to a relatively small group of business elites, who put heavy pressure on local politicians to implement policies to increase real estate values and draw new consumers into a city. This results in city politics that reflect the views of elites more than ordinary people. The tight alliance between politics and business is so ingrained in our society that growth is now "a background assumption of civic life," he has argued, even though cities often "harm the vast majority of their citizens as well as their environments" in pursuit of it.
As a masters student at SFU, McKenna wondered if the "growth machine" model could be applied to Metro Vancouver. How much influence do business elites truly exert over the political process? McKenna's analysis of the 2014 election revealed that more political fundraising does indeed correlate with more votes. To be precise: candidates spent on average $2.35 for each vote they received. "There is little doubt that campaign contributions and spending have an impact on vote totals," he wrote.
Once in office, politicians are hard to unseat. Incumbents got on average $44,881 in donations, compared to $24,101 for challengers — and 83 per cent of incumbents won their races. "It is easy to see how challengers struggle to win seats against an entrenched and well-funded group of incumbent candidates," McKenna wrote.
Of all the money donated in 2014, corporate donors were by far the largest givers. They contributed 56 per cent of donations, while unions gave 10 per cent. Half of the corporate money came from developers. "With little movement at the council table, these informal relationships can exist for multiple election cycles, allowing elites great influence over community planning and public policy," McKenna wrote.
Some examples are glaring. In 2014, Vancouver city council approved a rezoning proposal that let Concord Pacific Developments build two towers at the corner of Nelson Street and Pacific Boulevard. Records filed with Elections BC revealed that Concord Pacific gave $40,000 to Vision Vancouver in the months leading up to the decision.
Corporate donations on their own don't create conflicts of interest. "You hear candidates say all the time, 'well, I never change my vote based on a donation,'" McKenna said. "Most of the city councillors I've met, I would say that that's probably accurate." Even the perception of a conflict of interest alters our democracy. "The appearance to the public is key, not the integrity or good faith of the public servant," a Vancouver independent election task force report from January 2017 explained.
"Surveys have found that a significant proportion of non-voters say they were cynical about the political process," the election report noted. "They believe that campaign contributions have an undue influence over elected candidates and the perceived links to contributors distorts spending priorities by city council." The report cited research "that the dominance of money from corporations and unions discourages those who are not wealthy or well connected from running for office." Banning those donations, it read, would "encourage more people to seek elected office, make contests more competitive and contribute to an increase in turnout."
Empty homes tax delayed
People who study why our society fails to take action on its biggest problems often focus on something called "framing." Social problems like Vancouver's affordability crisis are so complex that we rely on simplified mental models, or "frames," to make sense of them. These frames tell us what the problem is, who or what is causing the problem and what type of political action can address it. "If a particular frame comes to dominate political debates," Canadian inequality experts Keith Banting and John Myles explained in a 2015 paper, "it tends to become institutionalized or embedded, informing official interpretations of social trends and guiding policy changes." Once in place, frames are hard to change. They come to feel like "conventional wisdom."
This is crucial to recognize, Banting and Myles argue, because the dominant frames in our society tend to align with the interests of business elites. If the election of politicians relies on the support of these elites, then the range of solutions that are deemed acceptable to our problems shrinks. Anything that puts the concerns of ordinary citizens above corporate profits is attacked as illegitimate. "That's what worries me, our incapacity to mobilize resources for public goods," Myles told me.
The dominant frame on Vancouver's housing crisis is there are too many people trying to buy homes and too few homes for sale. So the best way to lower prices, conventional wisdom goes, is to cut taxes, streamline regulations and build more housing supply. When Gregor Robertson ran for the Vision mayoral nomination in 2008, he challenged this frame. He called for a speculation tax on homes that aren't being lived in. "Basically, the investors that are holding all these vacant homes, and there's well over 18,000 estimated by housing at city hall, we need to have a tax, effectively a business-tax rate applied to empty homes," he said at a Vision debate.
His frame, that speculators are using homes as investments and thus driving up prices for everyone else, wasn't popular. "The whole premise here is false," Gerry Fanaken, CEO of Vancouver Condominium Services, told the Georgia Straight. The speculation tax "vanished quickly from Robertson's campaign platform in the run-up to the 2008 election," Frances Bula wrote recently. "It was pooh-poohed as too interventionist, too socialist, and he ditched it after a couple of public trial runs."
During the 2014 election, COPE's Meena Wong once again introduced the idea of taxing empty homes. "If you enjoy our city so much, do your duty — contribute," she told the Globe and Mail. The B.C. Real Estate Association dismissed the policy. "The data (on vacant properties) I've seen does not suggest this kind of approach would yield tremendous benefit on the affordability side," its economist Cameron Muir told the Vancouver Sun. That same Sun story pointed out that the proposed speculation tax "would disrupt free market forces that characterize property development."
An editorial in the Province was clearer still about the threat it could pose to business elites: "[The tax] involves taking money from one group and giving it to another."
In private, mayor Robertson remained supportive of the idea. He wrote to then-B.C. premier Christy Clark in 2015 that "housing should not be a speculative commodity that can be left empty in the expectation of automatic gains."
And by 2016, as home prices, and public anger, rose to stratospheric heights, some elites were cautiously showing support. "A speculation tax has to be explored," Bob Rennie, a prominent condo marketer and Vision fundraiser, told a meeting of the Urban Development Institute. But he undercut that point by repeatedly arguing that taxes stifle growth and only more homes being built — and hence profits for his industry — can fix the housing crisis. "Without supply, there's not going to be any affordability," he said.
Yet in early 2017, the city of Vancouver voted to implement the tax. And this year, almost a decade after Robertson first proposed the policy, and several months after announcing he won't be running for re-election, the tax brought in $30 million for housing solutions. This spring I asked Paul Finch, treasurer of the BC Government and Service Employees' Union, if he thought corporate money in politics has slowed progress on addressing Vancouver's affordability crisis. "I don't want to comment on Vision or the mayor's intentions," he replied. "Quite clearly, Vancouver is the most unaffordable city in Canada and potentially North America. That speaks for itself."
Campaign finance reform
But there are limits to corporate influence in politics. In the lead-up to the 2017 byelection for Vancouver city council, Vision raised $278,000 in donations, nearly two-thirds of which came from major real estate developers. The party's candidate, Diego Cardona, came in fifth place. The NPA's Hector Bremner won the byelection with $53,700 in fundraising, while Jean Swanson, who called for a "mansion tax," came in second. Her independent campaign raised about $37,000, most of it small donations from individuals. "I think people are fed up with Vision," she told me.
Not long after the byelection, the B.C. government banned corporate and union donations during civic election campaigns. The legislation, which passed in late November, caps individual contributions at $1,200. "We think these changes will level the playing field for candidates," said Municipal Affairs and Housing Minister Selina Robinson. One of the biggest supporters of the reforms is outgoing mayor Robertson, who said, "we have been calling for these changes for many years."
This was a bit surprising to me, given all the money that Vision has received from developers over the years. I asked COPE's Connie Hubbs for her opinion. "If we get back to [local elections] being a smaller dollar thing you don't have to pay those fundraisers," she explained. "You also don't have to be beholden to those people."
Several people I spoke with, including Hubbs, cautioned that our system won't change immediately. Years of corporate money in civic politics have made voters cynical and disengaged, while the parameters of our housing debate have largely been set by developers. Even with hard limits on corporate and union donations, pro-development parties like Vision and the NPA continue to have institutional advantages. "Vision Vancouver has 10 years of corporate developer contributions that have built a machine — that machine includes voter lists, all sorts of capacity that smaller parties [don't have]," the Green Party's Pete Fry told me. "That stuff doesn't just go away because you changed the campaign finance formula."
To make his point, Fry emailed me a photo taken during an NPA dinner that was held shortly after the new donations rules were passed. The photo is of a placard giving "Special thanks to our amazing sponsors!" Number two on the list is Beedie Living, one of the Vancouver's most powerful developers.
Looking at the photo, I thought back to COPE's election night party in 2014. Despite having presided over one of the worst performances in COPE history, Wong made a defiant prediction. In the 2018 civic election, she told the room, "all the money in the world won't buy Vision or the NPA another city hall." This October, we will see if she was correct.