Mayor Gregor Robertson scored a hat-trick Saturday night, winning his third consecutive election -- and his centre-left Vision Vancouver kept its majority on council for another four years, despite significant controversy over some of its agenda.
Robertson's victory margin was slightly smaller than three years ago when he won by almost 20,000 votes. But the mayor and his Vision team were delighted to remain in control of city hall given the baggage they had accumulated over six years with several contentious policies on increased density and bike lanes, plus the city's increasing housing affordability crisis.
Robertson has long argued that there is a silent majority of voters who approve of his record despite the anti-Vision sentiments expressed regularly through the campaign on Twitter and at all-candidates meetings.
In his second term, Robertson pushed through initiatives to cut street homelessness, he lobbied for the Broadway subway and nurtured a growing green-tech and new media sector. During the campaign he argued strongly against the Kinder Morgan pipeline expansion, a move partly designed to bring back green voters who may have become disenchanted with other parts of Vision's agenda.
Among the celebrants at the Vision headquarters was environmental icon Tzeporah Berman who praised Robertson for his efforts on climate change. "Vision has been solid in its opposition to the Kinder Morgan pipeline as well as coal exports. This is a victory for Vancouver and it's a victory for the climate."
Despite an investment of over $470,000 by luxury train baron Peter Armstrong, the Non-Partisan Association, led by Kirk LaPointe, only gained one councillor, Melissa De Genova. The NPA had hoped the Coalition of Progressive Voter's Meena Wong would draw enough votes to make the mayoral race close, but she trailed badly in third.
Candidates from the Green Party and the NPA took the top four council spots, but that didn't matter to the over 600 celebrants at the Vision party who were relieved that they still hold power at 12th and Cambie.
Robertson 'humbled'
"Four more years! Four more years!" roared Vision supporters, as Robertson said he was "so humbled to be re-elected as your mayor."
But when the ballots were tallied for school board and park board, voters delivered blows to Robertson's party, erasing Vision majorities on both. The school board is split with three trustees each for Vision and NPA, with a Green holding the balance of power.
Vision was nearly knocked completely off the park board, the site of several controversies, including a bike lane cutting through a Kitsilano park, a move to clip the powers of community centre associations, and a ban on breeding cetaceans in captivity at the city's aquarium. At the end of the night, Vision retained only one park board commissioner, while the Greens had two and the NPA gained control with four.
Robertson said that Vancouver now has a "wider diversity of opinion on council, school board and park board. We still share many of the same values and I am confident that we are going to find common ground and continue to build a green, inclusive and vibrant city together."
The re-elected mayor said that he had also heard "loud and clear that we can do better over these next four years -- and we will."
Robertson said that Vision had achieved over the past six years "much more than we ever thought possible. We made a real and measurable impact on homelessness, getting people off the street. We became one of the world's greenest cities, making our way to the top.
"We have made changes to this city that will last for generations."
Robertson called on the provincial and federal government to work on homelessness, mental health and addiction -- and he pledged that the Vision council would work hard to win next year's referendum on the regional mayors' transit package.
He also urged national governments to live up to commitments on climate change.
"Oh my God, I am so thrilled," said Carmella Allevato, who was the COPE mayoral candidate in 1996. "I was so worried that we would fall back into the dark days and we're not going to do that."
The Vision supporter was worried initially that Wong could be a spoiler, "but at the end of the day, Gregor really reflects where the city is at today."
LaPointe praises Robertson
A few blocks away, LaPointe, a former journalist and newspaper manager, was gracious in defeat. He described himself as an "underdog," to Robertson, irking the mayor many times in the campaign. "I kind of got up his craw for a little while there. He wasn't all that happy."
LaPointe praised Robertson's ability to lead a city as divided as Vancouver.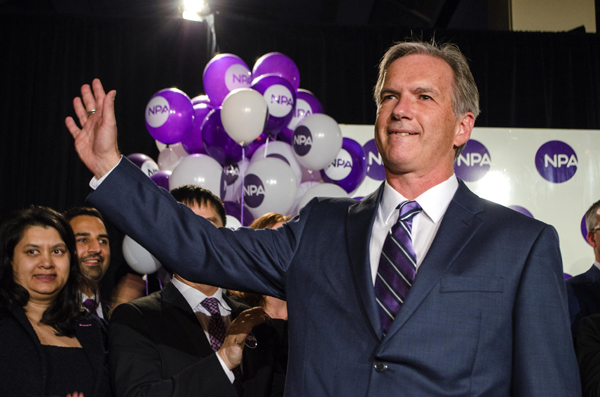 "It's a very challenging city to run, and he's done a job that voters have respected him for and given him a chance to run it again," LaPointe told the NPA crowd gathered at the Hotel Vancouver.
LaPointe also had kind words for COPE's Wong for raising issues during the campaign that others ignored.
Despite LaPointe's loss, the NPA made gains on council, adding former park board commissioner De Genova to join incumbents George Affleck and Elizabeth Ball.
Meanwhile, at COPE headquarters, the mood was upbeat despite Wong's third-place showing.
As the election results came in, it soon became obvious that COPE wasn't going to elect a single councillor, park commissioner or school trustee. Nor was Wong going to be mayor. But the mood at COPE's election party -- where draft was going for $2 a cup and a bluegrass band provided the raucous soundtrack -- was anything but somber.
"The results tonight are disappointing," Wong told a room packed with Downtown Eastside activists, 20-something hipsters, seniors, First Nations and everyone in between. "But we put COPE back on the political map in Vancouver."
Wong had started the evening out in a cheerfully defiant mood. Was she nervous, a TV reporter asked her as people started to arrive for the election party. "No, I'm not," Wong replied. "I've done the best I possibly can."
Wong's candidacy for mayor was always a long shot, and the results bear that out. Four hours after the polls closed she was trailing LaPointe by more than 56,000 votes.
Yet the nearly 17,000 votes Wong did receive was a much better showing than most expected.
That's due to a campaign she focused tightly on the people left behind by Vancouver's shift towards a green knowledge economy. "Affordable neighbourhoods are disappearing," she said. "I don't feel good when I see people work hard and can't make ends meet." To Robertson's warning that voting for COPE would get the NPA elected she had two words: "fear tactic."
Yet it appeared to have affected at least one COPE volunteer, who admitted to worrying deeply that LaPointe would be elected mayor, and conceded that Robertson's vote-splitting warning was "valid."
The prevailing narrative among COPE supporters was that Vision and the NPA had vastly overspent them. "Every one of their ads is nearly the budget of our whole campaign," Wong lamented.
Yet if it's true that Vancouver is now experiencing the "erosion of the middle-income class and the movement toward a two-class society," as one recent report puts it, then COPE's appeal to the city's disenfranchised may only grow stronger over the next four years. In 2018, Wong declared to the room, "all the money in the world won't buy Vision or the NPA another city hall."
Strong Green showing
After the raging party at COPE headquarters, the Greens' election celebration in the Olympic Village felt more like a parent-teacher gathering. Yet the Greens had their best electoral performance in Vancouver history.
They elected one school trustee, two park commissioners and a city councillor, Adriane Carr, who by far received the most votes of any council contender. "To see myself at the top of the list it's an honour," she told the room. "It's a feeling that people of this city have faith in us."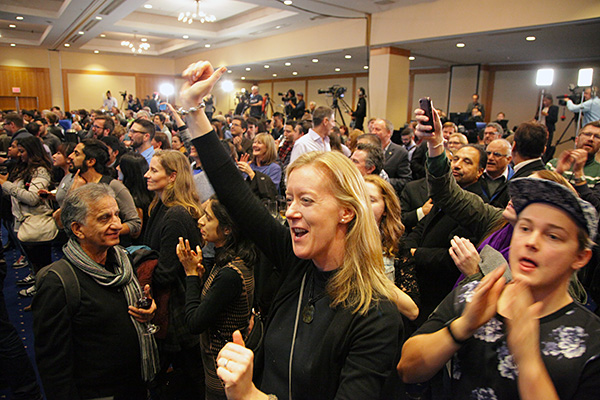 As sole Green council member for the past four years, Carr has been most visible when fighting to make the neighbourhood planning process more inclusive. Vision's approach to sustainability has "focused on exporting the Vancouver brand and using that to attract tech businesses," Green Party organizer Jordan Bober said. "There's so many things that are much less glamorous but make a bigger difference."
Such as? To start, by giving regular folks more say in the political process, Carr said. "People are yearning for a government that puts them at the centre," she declared.
Back at Vison headquarters, Vancouver School Board chair Patti Bacchus said was disappointed to lose her Vision majority and said it remains to be seen if she can remain chair.
"It looks right now that it is a split board but we will need to sit down and figure out how that will work going forward. The key is going to be finding a way to come together to speak as a board for educational funding."
She added that all candidates she met on the campaign recognized the need for more funding for public schools.