Earlier this year, several dozen people gathered in Vancouver's Russian Hall to discuss how to mount a left-wing takeover of City Hall this October. The event was organized by the Coalition of Progressive Electors. It included representatives from the Green Party and OneCity, as well as the team that attempted to get anti-poverty activist Jean Swanson elected to council in 2017.
"We don't believe that affordable housing is going to trickle down adequately from the market," Derrick O'Keefe, a writer and activist who is running for council with COPE, told the room. He urged those attending "to imagine your city as something other than a means of capital accumulation."
"You have the right to imagine a post-capitalist city."
Those aren't typically the terms that people use to describe local elections. But in recent years global investment capital has transformed Vancouver into one of the world's least affordable cities. Progressives are now searching beyond the city for examples of how to fight back. An email advertising the meeting in the Russian Hall referenced Jeremy Corbyn, Bernie Sanders and Seattle's Kshama Sawant.
"Business as usual is not working for the ordinary person," COPE co-chair Connie Hubbs told me. "It's only working for a small amount of people who are profiting enormously."
People such as Hubbs and O'Keefe aren't the only ones reaching that conclusion. Peter Ladner, who ran for mayor of Vancouver in 2008 with the right-wing Non-Partisan Association, has argued that "gross income inequality undermines almost everything we strive for." In a piece for Business in Vancouver magazine, Ladner wrote that someone whose house value grew $1.5 million in two years could gain potentially $2,000 per day, while a full-time worker might earn $104 per day. This, he lamented, is "an illustration of best-selling author Thomas Piketty's disturbing contention that capital begets capital, and will, without some manner of income redistribution, stretch the divide between those who have and those who don't."
Yet the dominant narrative in Vancouver is that the housing crisis is mainly a local problem with local causes.
"Our region's poor housing affordability has plenty of causes — limited availability of land, an attractive market for foreign investment, population growth, and constrained supply," reads a 2017 report from the Greater Vancouver Board of Trade. Benjamin Tal, the deputy chief economist at CIBC World Markets, earlier this year argued that "Vancouver has a geography problem. It's an island, basically, and there's no room to build."
But those factors alone can't explain why major cities around the world are also experiencing record unaffordability.
"Scarce, unaffordable housing is not a local problem in a few places, but is baked into the 21st-century global city," Richard Florida, a Toronto-based urbanist who coined the term "creative class," wrote last April. "Housing has been financialized and turned into an investment vehicle, which has caused an oversupply of luxury housing and a lack of affordable housing in many cities across the world."
In other words: Vancouver's housing crisis is a symptom of our wider economic system. It means that the upcoming municipal election in October isn't just a decision about which politician should govern the city. It's also a referendum on that system: if capitalism should be regulated, accelerated or transformed into something new.
***
In a story for Vancouver Magazine exploring how history will remember outgoing Vision Vancouver mayor Gregor Robertson, Frances Bula argued Robertson has a "CEO persona."
Bula was referring to his demeanour. But the description could also apply to a decade of Vision policy on affordability. Robertson provided incentives for developers to build more rental and affordable housing. Last year he brought in a speculation tax on empty homes. Yet overall Robertson governed like a corporate manager. He worked closely with developers to address the worst excesses of the housing market. Rarely did Robertson challenge the legitimacy of the market itself. The Globe and Mail once described him as "Vancouver's green capitalist-in-chief."
Robertson's would-be Vision successor seems to be taking a similar approach. Ian Campbell, the Vision candidate for mayor in the October election, is a hereditary chief with the Squamish Nation. If elected, he would be the first indigenous mayor of Vancouver. Campbell is also on the board of the MST Development Corporation, which oversees properties owned by three Lower Mainland First Nations. The Georgia Straight wrote he's "associated with at least $1 billion worth of properties primed for development."
Campbell sees himself as the steward of Vision's legacy. "It's essential we continue to build on the tangible results that Vision has created," he has said.
One of those results, which neither Vision nor Campbell is eager to acknowledge, is the widening divide between rich and poor in Vancouver. From 2010 to 2014, the number of Vancouver couple families earning over $250,000 increased by more than 25 per cent, while the number of families earning $25,000 to $30,000 grew by less than five per cent, the Sightline Institute, a think tank based in Seattle, noted. "Furthermore, none of these income data include non-taxable capital gains such as the sale of a principal residence, which would likely inflate the high-income bulge even more," Sightline researcher Dan Bertolet wrote. Part of the growth in income inequality is due to immigration. Roughly 2,000 millionaires moved to Vancouver in 2015.
Real estate speculation is also increasing the divide. "Unlike Toronto, Vancouver doesn't have the high-paying jobs to drive its economy," the Globe and Mail's Kerry Gold wrote last year. "Instead, the city relies largely on an inflow of foreign money to fuel its real estate industry. That reliance has put communities at a disadvantage, widening the gap between the haves and have-nots." 
Research led by University of Toronto professor David Hulchanski found lower-income people are pushed to the edges of Vancouver while central neighbourhoods become richer and less diverse.
The housing crisis accelerates inequality in less obvious ways. High prices for land squeeze grocery stores, restaurants and gas stations. "It actually makes everything more expensive," explained Paul Finch, treasurer of the BC Government and Service Employees' Union. The union last year released a report urging local and provincial leaders to pass stricter controls and taxes on speculation.
"Yes, there are some that benefit financially from growing property values, but a growing majority do not," the report argues. "Workers and residents need a new system that restores fairness, stability and security to our housing market and to the real estate transactions that shape it."
The system would put communities at its core instead of private profits.
***
The two leading right-wing politicians competing to become Vancouver mayor in October agree we are in a housing crisis. But they don't see our economic system as the problem. They argue the only way to solve the crisis is to accelerate capitalism.
Non-Partisan Association candidate Ken Sim refers to Vancouver as "a $1.4-billion entity that needs to be managed in a better way." He boasts on his website about visiting the offices of corporations such as Toyota, Honda, FedEX and Google. At the moment Sim's housing policies are short on details, save for pledges to streamline regulations and reduce taxes. But it's clear where his priorities lie. He promises on his website to be "the most business friendly mayor in the history of Vancouver."
Sim's main right-wing challenger is Hector Bremner, who won a council seat with the NPA in 2017's byelection, but left the party this year after its directors rejected him as a potential candidate for mayor.
Bremner's recently announced Yes Vancouver Party has made rapidly increasing housing supply its top priority. It would do this by densifying every neighbourhood in the city, lowering taxes and reducing permit approval times for new development. He says only the market can make the city more affordable: "The truth is the private sector is chomping on the bit to build more rental." Bremner deems the housing crisis "a failure of local government."
This is the way that Vancouver's real estate industry sees things too. "Although imposing new housing taxes is relatively easy and politically expedient, we simply can't tax our way to affordability," wrote Anne McMullin, president and CEO of the Urban Development Institute, in an op-ed for the Vancouver Sun. Industry voices argue government has to get out of the way and let developers build.
"The supply-side argument has been the development industry's mantra from time immemorial," Adrienne Tanner noted earlier this year in the Globe and Mail. But, she continued, "its efficacy as a solution to high prices is debatable."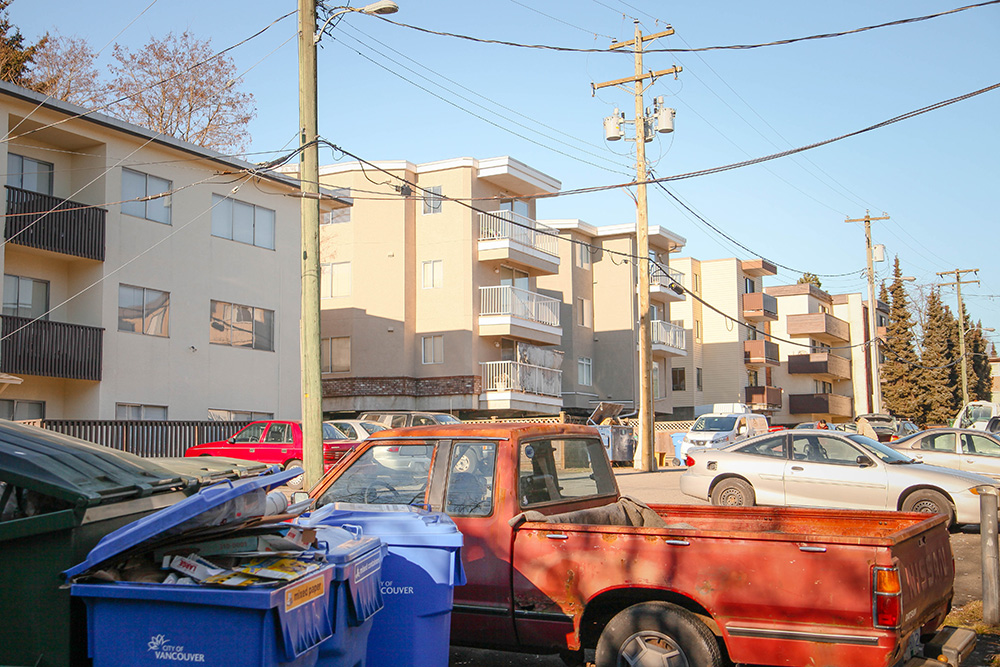 That's because developers, like all capitalist enterprises, exist to make profits, not solve social problems. They earn more money selling high-end homes to wealthy buyers and speculators than building affordable options. The CEO of investment firm BlackRock, Lawrence Fink, in 2015 described "apartments in Vancouver" as a status symbol for the ultra-rich comparable to contemporary art or gold. Though luxury sales went down this year, the social consequences of a market targeted for years towards rich people could be hard to undo — and this is a problem not just in Vancouver, but across North America.
"The luxury market is largely overbuilt, while there is a shortage of affordable rental housing, and developers are hamstrung by the now record-high cost of construction," concludes a CNBC report on U.S. housing.
A rapid build-out of homes affordable to families earning under $100,000 per year would indeed solve the housing crisis. But not when Vancouver defines affordable as $3,702 per month in rent for a three-bedroom.
"The wide-open supply argument has been thoroughly tested and it's been found wanting," David Ley, a well-known Vancouver geographer who has studied real estate bubbles all over the world, told the Globe and Mail. "The problem has simply been aggravated… supply is not a problem solver, but in fact a problem generator because it is pricing up land all the time."
***
High land prices are driving Vancouver's poorest citizens into homelessness while creating record profits for developers. Two left-wing candidates for mayor believe this is ultimately a failure of our wider economic system. Kennedy Stewart, a two-term NDP Member of Parliament who's running as an independent says that "our housing market has failed for all but the wealthiest and we need to make things right." To him this is an issue that transcends borders. "Most countries with severe housing pressures like ours eventually discover markets only provide the most expensive types of housing," he argues. He promises to "root out rampant speculation and build the kind of affordable housing [that] developers won't."
Patrick Condon proposes to do this by bringing in new taxes on developers and homeowners and using the proceeds to fund a massive build-out of non-market housing. The UBC urban design professor (and occasional contributor to The Tyee) had declared his desire to run under the banner of the long established left-wing COPE party, but dropped out of the race in mid-July after suffering a stroke.*
Condon's goal had been for 50 per cent of the city's housing stock to come from non-market sources. "If the trajectory of the city is to persist, there would be no way for working families to live here," he told The Star Vancouver in June. "We're well on our way to becoming the Monaco of North America: a great place to park your cash and to visit every year or two."
Property speculation has brought great wealth to Vancouver. Real estate is now worth more to B.C. than oil and gas is to Alberta.
But an economy that depends on transforming homes into financial assets that can be sold to wealthy people and speculators cannot also sustain a healthy society — nor a functioning democracy. "The buyers no longer worry about things like the neighbourhood, the schools, the location of the nearest supermarket," observed financial journalist Felix Salmon. "After all, they'll probably actually stay in the [property] for no more than a few weeks of the year." This is increasingly accepted as the byproduct of prosperity.
And it has become the logic of capitalism. "In the past, housing was built and paid for locally," wrote the urbanist Richard Florida earlier this year. "But with the creation of new financial instruments related to housing, this local connection was broken. Housing, and especially its financing, became a national and then a global industry."
"Perhaps the most frustrating aspect about the financialization of housing," Florida continued, "is the fact that all of the money being poured into housing markets has not contributed to a significant increase in supply, but rather to an increase in ultra-high-end units that are extremely expensive to produce."
And this has caused our society to see housing as a financial asset, instead of a fundamental human right.
The upcoming municipal election in October will be a historic opportunity for voters to weigh in on capitalism. Vancouver's housing crisis "may be part of a global crisis," independent mayoral candidate Shauna Sylvester explained, "but it demands bold, immediate local solutions."
Voters won't just be choosing a new mayor and council, but whether they want political leaders who fight for the rich, or everybody else.
* Story updated Wed., July 18 at 9:45 a.m. with information about Patrick Condon dropping out of the race for COPE's mayoral nomination after a stroke.