The richest person in the world does not like to pay taxes. Jeff Bezos, the founder and CEO of Amazon, is worth US$140 billion. His wealth grew $12 billion in a single afternoon this April. "The only way that I can see to deploy this much financial resource is by converting my Amazon winnings into space travel," Bezos told an interviewer earlier this year. But when Seattle proposed that Amazon and other large businesses pay up to $150 million per year to fund solutions for Seattle's homelessness crisis, Amazon halted construction on a downtown office tower in protest. One month after Seattle passed a scaled-back version of the tax, which would've raised $48 million per year, Amazon pressured the city to repeal it.
Seattle has the third biggest homeless population in the U.S. Volunteers in King County, to which the city belongs, counted over 11,600 people without homes on a single winter night in 2017. People "are being displaced and gentrified and pushed out of the city and dying on the streets every day," Keaton Slánský, an organizer with the Seattle Democratic Socialists of America, told me. "It's so frustrating and maddening when we have literally the wealthiest man on the planet in our city."
Seattle rents have skyrocketed in recent years. And Amazon's decision to locate its corporate headquarters in the downtown South Lake Union neighbourhood is partly to blame. The U.S. consulting firm McKinsey & Co. found average rents have grown 12.3 per cent per year since 2014, and the number of homeless people went up 9.2 per cent per year. It estimated Seattle has to spend $410 million per year to fix the crisis. "Cities are the hubs of the emerging digital economy," a summary report noted. "Homelessness can be an unintended consequence of rapid economic growth."
Seattle's extreme inequality has resulted in radical political change. Voters have twice elected Socialist Alternative member Kshama Sawant to city council. Since then, working class activists have won a series of victories for low-income people, including the first $15 minimum wage in the U.S. and protections for vulnerable renters. Membership in the Seattle DSA has grown from a few dozen to over 800 people. "That's huge," Slánský argued. "Through repeated gains in Seattle we've really shifted the idea that things don't have to be this way, we can change it."
Seattle-based pollster Ben Anderstone doesn't think it's a coincidence Amazon is growing alongside a fiery socialist movement. He told me they're "definitely linked." Polling Anderstone has done suggests many residents are anxious about those left behind by Seattle's economic boom. Affordability and homelessness are top issues. But there isn't a clear consensus about how to fix them. "The populist left in Seattle has really taken advantage of this moment of ambivalence by saying 'hey there's all this money coming into the city, there's this increasing inequality, why not take the surplus of resources we have right now... and apply that to the problem?'" he said.
In early May, Amazon announced plans to open a new satellite office in downtown Vancouver, B.C. It will employ 3,000 people, bringing Amazon's total workforce in the city to 5,000. Even the pro-business Vancouver Sun called it a "mixed blessing." "Where will all those workers, and their families, live?" a May editorial in the paper wondered. "More demand for housing could raise prices and rents." I asked Slánský if he had any advice for the renters, millennials, low-income residents and Indigenous people who are already screwed by Vancouver's housing crisis. "I don't think you need a socialist on city council to do these things we're doing," he replied. "At the end of the day it comes down to a moral stance." Seattle's socialist movement has drawn a moral line on affordability and made people pick sides. Either housing is a human right or a privilege for the rich. It's made the debate about capitalism.
Fighting Amazon to deliver on housing
It so happened that the same day Amazon was making its announcement about Vancouver, I was visiting the company's corporate campus in downtown Seattle. The tech behemoth, currently valued at over $828 billion, is in the midst of a rapid expansion. Last year, Amazon had 8.1 million square feet of office space in Seattle, more than any company in any major U.S. city. Amazon's physical footprint is now approaching 13.6 million square feet, the equivalent of five Empire State Buildings.
I began my visit at a building called "Day One," so named for a 1997 shareholder letter where Bezos referred to "Day One for the Internet." A cheery receptionist gave me a pair of earphones and instructions for how to download the self-guided audio tour on my phone. Realizing my phone was almost dead, I sat on the floor next to an electrical outlet. A man walked by and looked briefly concerned, but then saw my earphones and Amazon map and smiled sympathetically. Outside, I began the tour.
"There's not another company on the planet that's doing what Amazon is doing," a voice said into my ear. Construction cranes loomed above. I watched tourists take selfies in front of three glass spheres containing 3,000 species of tropical plants.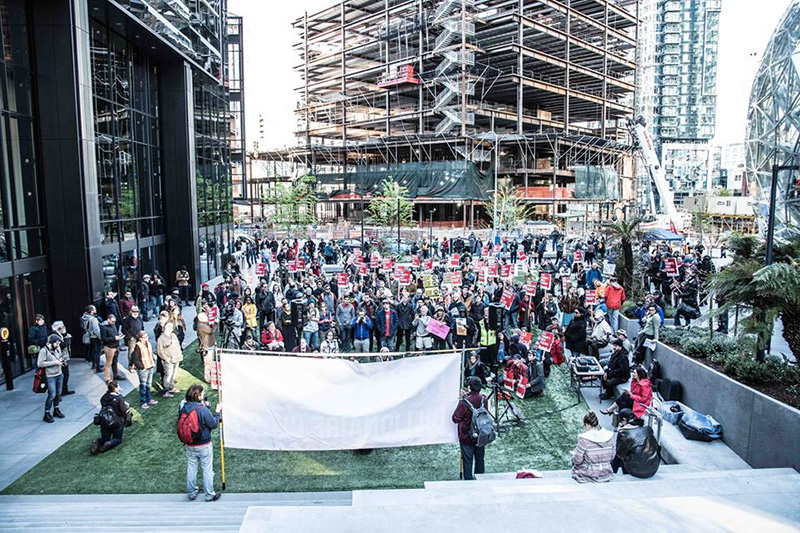 A few weeks before my visit, this street was filled with hundreds of socialists and housing activists. The goal was to build support for taxing Amazon and other Seattle businesses earning over $20 million per year and using the revenues for affordable housing. "We chose that location because... it's a good visual representation of the inequality that exists in this city," Socialist Alternative organizer Kailyn Nicholson told me. If Amazon can afford a surrealist urban biosphere, she explained, then it can also help pay to house homeless people: "It just paints a really stark picture."
Not long after, many of those same activists packed Seattle City Hall for a public meeting on the tax. When business representatives spoke against the tax, activists booed and hissed. And when people spoke in favour, they "started chanting and clapping and cheering," Nicholson said. The atmosphere grew so raucous that the meeting's chair briefly kicked everyone out and locked the council chamber doors. Socialist Alternative council member Sawant joined them outside. Several weeks later, city council voted unanimously for a $48 million tax on large businesses.
But within days of the tax passing, Amazon, Starbucks and other corporations in Seattle were fighting to repeal it. The companies put $350,000 into a "No Tax On Jobs" campaign. The Seattle Times ran seven editorials claiming the tax would hurt the local economy, despite an analysis from Moody's Investors Service saying that it would have little impact. On June 12, council held a repeal vote. At the meeting, Nicholson went to the microphone and accused city officials of surrendering to Amazon. She was removed by security. "[The repeal] just exposes the fact that the local [political] establishment is totally willing to sell out working people under pressure from big business," she told me, "which is a lesson folks need to learn."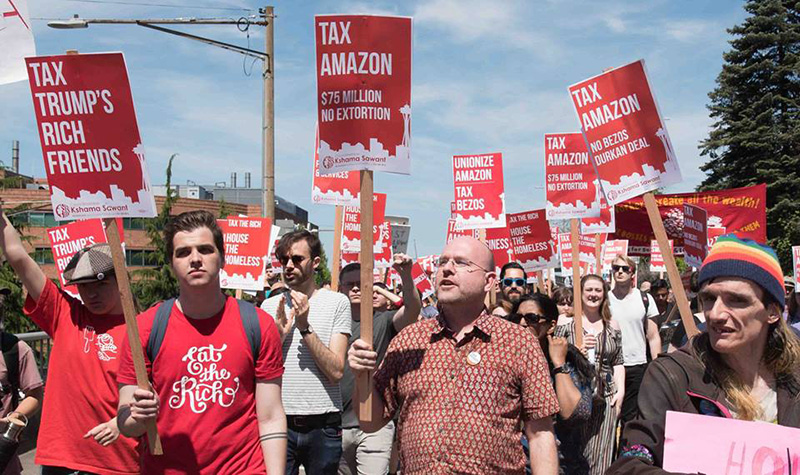 'We won today'
This February, when Vancouver was still competing to attract Amazon's second corporate headquarters, and before the announcement of the new satellite office, the Vancouver Economic Commission bragged in a report that "we have the lowest wages of all North American tech hubs." It said those low wages could help save Amazon $34 billion over a 10-year period. Despite the worst housing crisis in Vancouver history, the report said the region "has many affordable neighbourhoods," and that political leaders have made "significant progress in cooling an overheated downtown housing market."
The 50 housing activists and Chinatown seniors who blocked all the entrances to Vancouver City Hall in early May disagreed. The protest was over a new housing project at 58 West Hastings in the Downtown Eastside. Vision Vancouver Mayor Gregor Robertson earlier signed a pledge saying all 231 units would be rented at prices affordable to the neighbourhood's low-income residents: $375 per month. But recent funding commitments suggest only half of the units would be rented at those prices. "I remain committed," Robertson said outside city hall. "Council has approved a plan to get the building built and work with the community to get up to 100 per cent." As he walked away the activists shouted, "Gregor lies, people die."
"We won today," one of the protest's leaders, a young activist and artist named Vincent Tao, explained to the Vancouver Courier. "We took city hall and I think it sends a powerful message both to the city and to the city councillors that we can take power, and we have the power to change the city." He wasn't exaggerating.
Many of those same activists were part of a coalition that in November convinced the city to block a Beedie Living condo tower at 105 Keefer in Chinatown, the first rejected in Vancouver since 2006. The real estate development industry was livid. "I mean, what message does that send to anybody trying to do business in the City of Vancouver?" fumed Anne McMullin, president and CEO of the Urban Development Institute. For Steffanie Ling, a writer and art critic based in Chinatown, the rejection proved regular people can fight against powerful companies and win. "I know that some people think it's kind of hopeless, like they can't do anything," she told me at Gold Stone Bakery and Restaurant in Chinatown. "Which is not necessarily true."
Ling was initially hesitant to become involved in the fight against 105 Keefer. She wondered what right she had as an artist to attend rallies alongside low-income Chinatown residents. She felt overwhelmed by the arcane details of development proposals. "Often a lot of young people feel alienated like they don't know enough, like they don't know how to justify their presence at these events," she said. But Ling also felt compelled to help protect a neighbourhood being literally paved over by glass towers and hip cafes. So she started attending meetings. She took furious notes. She realized, "there's no justification process, you just have to go."
Ling was one of dozens of people who spoke against the 105 Keefer project at a Development Permit Board hearing in October 2017. Unable to be there physically, she got Tao, her friend, to read a statement on her behalf. "Ours is a city that is built on lines drawn between classes," it said. "Beedie Living needs to learn how to be told 'No, you are not going to have Chinatown.'" It went on, "You are all in position to teach a lesson to developers who run amuck in our city blind to a housing crisis."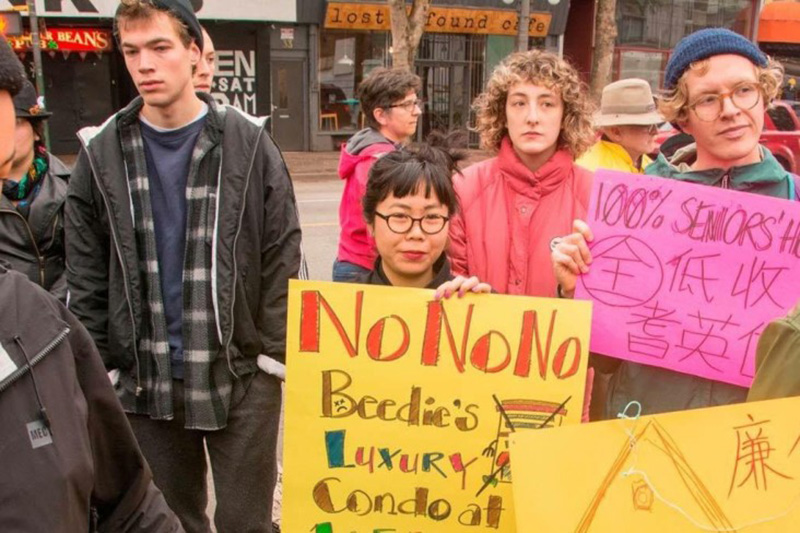 Balance of power at stake
The campaign against the 105 Keefer project succeeded, like all effective political action, because it turned a complex issue into a compelling narrative with clearly defined moral stakes. The city could either side with a wealthy developer or the Chinatown residents fighting to save their homes. Yet this type of clarity is rare in Vancouver's housing debate. "There are those who believe anyone who speaks out against foreign real estate investment is misguided at best, racist at worst. Some believe homeowners, particularly those of boomer age, are the enemy. There are those who believe 'supplyists' are really shills for developers, trying to convince everybody that more condos are all the city needs," the Globe And Mail reported.
The lack of an overarching narrative about Vancouver's housing crisis reflects a wider confusion about who — or what — is responsible for the crisis. "Vancouver doesn't have a homegrown tech boom or economic boom that's created its own homegrown elites," Paul Roberts, a Seattle-based journalist and author who has reported on housing in Vancouver, told me. "There's kind of a fog, it's like mist, it's more challenging for people to get their arms around what is actually happening there." Roberts went on, "Whereas I think people can tell themselves, at least in a place like Seattle, that you can see this very specific economic hierarchy forming."
At the top of the hierarchy is Amazon. And at the bottom are record numbers of homeless people. The rise of Seattle's socialist movement can be explained in part by its ability to link the city's inequality to a wider critique of capitalism. Amazon may have succeeded in crushing the business tax earlier this year. But Socialist Alternative's Sawant, as well as all the activists working alongside her, helped ensure that the tax was on the city's agenda to begin with.
The reason Amazon fought the tax so hard, Sawant said, "is not because they can't actually pay, obviously, but because they want to send a message, not just to Seattle but to every city in North America, that 'if you have the temerity to go against us, we will take away our jobs.'" She had this advice for Vancouver: "If we want to actually bring about some social change... the only way we can do it is to build movements that are organized and are independent of corporate interests." The particulars of each city's battles will vary. But whether it's socialists attempting to tax one of the biggest companies in the world, or Chinatown residents fighting a condo developer, "what's really at stake is the eventual balance of power," Sawant said. Do we want our society structured around the priorities of business elites or ordinary people?
As I walked through Amazon's campus in Seattle with the company's self-guided audio tour playing, it was tempting to think this divide didn't exist, that whatever benefited Amazon was also good for society. The disembodied voice of company spokesperson Allison Flicker explained the company's philanthropy in Seattle, its commitment to sustainability, a project to house 200 homeless people. The audio tour ended with a burst of upbeat music. "I hope you have an awesome rest of your day exploring Seattle!" Flicker said. But when I took off my earphones I realized I was all alone. And so were the people around me staring silently at their phones.