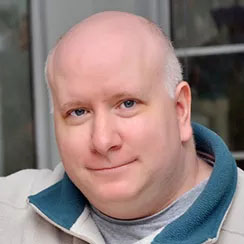 Ron Mattson, one of seven people wrongfully fired from the health ministry in 2012, says he hopes British Columbia voters will rightfully fire premier Christy Clark on Tuesday.
"The only thing that will make me feel better, like there's some actual justice in this, is if the Liberals get turfed," he said. "We want justice for Roderick, so don't vote for the Liberals, vote NDP."
Roderick MacIsaac committed suicide three months after the government fired him and has largely become the face of the scandal. When fired he was a few days from the end of a co-op term that included working on a way to assess the safety and effectiveness of an anti-smoking program promoted by Clark.
MacIsaac's sister Linda Kayfish, who on the first day of the campaign said she was still waiting for a genuine apology from Clark, has since featured in an NDP ad telling her story.
Mattson said all the people who were fired, as well as researchers whose contract work for the ministry was stopped, suffered a great deal over the past five years. "The first couple years I just went through hell for big chunks of it," he said. "They should have known the horrible impact on us and the terrible stress we were put under."
A 487-page report that Ombudsperson Jay Chalke released in April said none of the people fired deserved to lose their jobs and government investigators and managers made many mistakes before and after the firings.
Mattson had previously sued the government and health minister for wrongful dismissal and defamation and received a settlement payment plus a statement that his firing was a "regrettable mistake." But he said that until he read Chalke's report, "I didn't have the full story of just how reprehensible they were."
The report makes it clear that investigators knew before he was fired that he had done nothing wrong, Mattson said, and yet the government has gone five years without properly apologizing. Instead, it negotiated hard in the legal process to minimize its liability to him.
Clark and her cabinet are ultimately responsible for the management of the government, he said. "There's a fair bit of anger that those who are responsible in the ministry don't have to suffer any consequences," he said. "There weren't any consequences for them. They're still working. I'm pretty angry about that."
The Ombudsperson report's release brought back what it felt like to be wrongfully fired, then smeared in the media, Mattson said. "It's one of those things you try to put out of your mind," he said, adding the last few weeks had been stressful. "I wanted to go out and do a whole bunch of electioneering, but mentally I'm just not up to it."
Mattson, who is also a councillor for the town of View Royal in the Capital Region, said he was never a member of any party until this year, when he joined the NDP to support Mitzi Dean's bid to be the party's candidate in Esquimalt-Metchosin.
"I've tried to be as neutral as possible over the years," he said.
But he said he was inspired to campaign against the BC Liberals. "The premier can't get away with saying she didn't know about it," he said. "She can't just pass it on to someone else... She apologizes for her bureaucrats and doesn't take any responsibility. That really antagonizes me."
"She's a horrible person and she shouldn't be running this province," he added.
The NDP look like the most likely option for people who want to change the government, Mattson said. "They've also for quite some time been taking the lead on this and trying to keep the story alive," he said, adding he'd heard nothing on the firings from the Green Party's sole MLA, leader Andrew Weaver.
"I just want the Liberals to lose," he said. "If you want justice for us, gong the Liberal government. Get them out."
Another of the people fired in 2012, Rebecca Warburton, said this week in an opinion piece in the Victoria Times Colonist that the only beneficiaries of the firings were drug companies whose sales increased because they had avoided safety research.
"I hope we can re-establish public drug policy that reflects the public interest, instead of drug-company interests," she wrote. "That is in voters' hands."