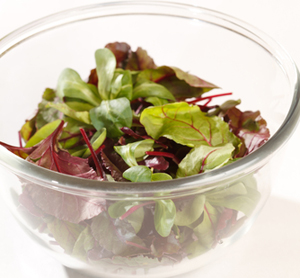 It's a typically cold and rainy December morning on a rooftop in downtown Vancouver. The revolving restaurant atop the Harbour Centre skyscraper peeks above some closer buildings to the north, the pious spire of the Holy Rosary Cathedral marks south. Steps away, the concrete roof supports a massive greenhouse filled with plants and machines making noise. This is our next stop on an exploration of the power of local business relationships.
"Most of what we're trying to do is knock California product off the retail shelves," says Donovan Woollard. He arrived by bicycle, calls himself a social justice advocate and wears blue and yellow plaid, jeans and rain boots. He's a strategic advisor at Alterrus Systems Inc. and the man behind the business development strategy at Local Garden, the brand that turned the top tier of a city-owned parkade into a sophisticated hydroponic food farm.
"The City of Vancouver is our landlord," says Woollard when pressed about recent criticism city officials faced for enabling the project. "Most of this parkade sits empty most days of the week. It's new revenue for the city."
Local Garden rents the 5,800-square-foot space -- 22 parking stalls' worth -- for $2,400 a month. Given our mayor's green ambitions, the local food proposal was an easy sell to City Hall. A bigger challenge was finding $2 million to finance the project, the company's first installation after years of research and development.
"Because this is our first commercial install, it's seen as a slightly higher risk loan," Woollard says. Alterrus approached a number of different lenders for construction and operational loans. In the end, Vancity's Community Capital team agreed to roll the dice. Woollard says Local Garden hopes to pay the investment back within five years.
Picking and packing
Inside the greenhouse, a small crew of workers is picking and packing leafy greens in the undergrowth of a space age jungle. Kale, arugula, basil and various lettuces sit in clusters in plastic trays stacked 12-high, the resulting towers suspended from a massive conveyor on a serpentine track whose path delivers bursts of heat, light, water and organic nutrients. Local humanitarian agency Mission Possible provides the labour force: half a dozen residents from the neighbouring Downtown Eastside.
"Most of the folks on site here are going through their work readiness training program, coming back into the workforce after being out due to any number of different life challenges," Woollard says. There's more. Shift Urban Cargo Delivery picks up harvests three times a week on their cargo tricycles. Those get dropped to local restaurant clients, which include fine dining spots Fable and Boneta. Online grocer Sustainable Produce Urban Delivery -- better known as SPUD.ca -- and swanky Overwaitea Food Group subsidiary Urban Fare have agreed to provide retail outlets for the rest of the bounty, some 300 pounds per week in the winter months, says Woollard. Local recycler Recycling Alternative takes care of whatever needs composting, completing the local love-in.
"These are the people that we know and what's in our business interest is in their business interest," Woollard says, plainly, when I push him to explain this bacchanal of business hookups. "You don't need to localize everything in your economy, but for something like this? This of all things should be local."
'It's making sense for us': Vancity
When I call Vancity to ask about the business case behind supporting this and other local ventures, I'm put through to Maureen Cureton, who explains she's not a banker at all. Her business card says Green Business Manager and she deals specifically with strengthening local economies. She also offers a simple performance measure:
"If we help our members thrive and prosper, they're not going to default on their mortgages. They'll have money to save that they can deposit to Vancity that we can then turn around and do more lending."
Cureton says Vancity has a strong mission to foster partnerships that build capacity in the community. To that end, Vancity has been lending to people it believes are working on high-impact projects, she says. The credit union also helps develop promising business plans and convenes learning sessions on things like economies of scale, business savings through co-location, or the sharing of staff or purchasing orders.
"We're much more than just financing. We'll play a role as an advisor, we'll help bring partners together," Cureton says. "We're leading with our values and it's making sense for us."
"Would you pursue this strategy even in the face of short-term losses?" I challenge.
"We're pursuing this strategy and the result we're finding is we're having an increase in new members coming to Vancity," Cureton says, explaining how Vancity is the largest credit union in Canada, now closing in on half a million members and $16 billion in assets. "We've had record profits the last two years in a row."
She says Vancity is also working on developing indirect financial metrics to illustrate the impact of its strategic lending, which include things like estimating the amount greenhouse gas emissions reduced by projects it funded, or tallying the number of affordable housing units built with member money invested in the community.
These proxy measures could prove extremely valuable, because while, at its core, the thesis here is dead simple -- if you spend money in your community, your community will have more money -- Canadian studies to illustrate (or refute) this phenomenon simply haven't been done. For example, when I asked TD bank bout community spending, a spokesman told me their economist didn't have any data on that, but that it "sounds like a great idea for a future report." I'll say.
Security through community
It's a different story south of the border, where a nonprofit research and advocacy organization called the Institute for Local Self-Reliance (ILSR) has been aggregating studies on the subject for years. Take, for example, the case of Salt Lake City, Utah, where an August 2012 study by Civic Economics found local retailers returned 52 per cent of their earnings to their communities, compared to the 14 per cent recirculated by national chain retailers. For restaurants, the gap was even bigger: local eateries recirculated 79 per cent of their earnings, compared to 30 per cent coming back from the chain restaurants the researchers examined.
Another U.S. study, this one from Portland, Maine, done by the Maine Center for Economic Policy in December 2011, also concluded the local impact of independent businesses was greater than that of national chains. "If residents of the region were to shift 10 per cent of their spending from chains to locally owned businesses, it would generate $127 million in additional local economic activity," the researchers wrote.
And just as ILSR has been aggregating data on the merits of localism, another group, this one in Bellingham, has been connecting the movement's champions since 2001. The Business Alliance for Local Living Economies, BALLE for short, brings together manufacturers, economic development offices, entrepreneurs and lenders pursuing localism as a core value. Surfing around their U.S.-focused website, I was surprised to learn three of their recently appointed 2013 Local Economy Fellows were Canadians, two of them business leaders from right here in Vancouver. BALLE executive director Michelle Long takes that as a sign the movement is gaining momentum.
"Eleven years ago we didn't even talk about climate change and Buy Local was a weird parochial idea," she tells me on the phone from Bellingham, Washington.
"Back then, whenever we'd work in different communities, there'd be some economist from some research university who'd write op-eds in the paper saying this is against proper economic theory and comparative advantage and specialization and free trade," she says.
Fast-forward to today and the U.S. is littered with studies -- such as the ones above -- suggesting communities with a high density and diversity of locally owned businesses are also home to more wealth and more jobs. Hell, even Wal-Mart is buying local.
"Globalization did a really good job of funneling wealth into a few hands, but it did not do a good job of most wealth and most jobs for most people," says Long. "I challenge any serious business leader to not question the foundation of our economy right now."
Long says this year's focus at BALLE is on fostering connections such as the ones we observed on the Vancouver rooftop in the opening vignette: bringing together food producers and lenders willing to finance them in the face of obvious challenges. The hope, says Long, is that local food and lending will become conduits toward a whole new way of doing business.
"We can either all hoard big piles of money and try to fight each other, or we can trust in relationships. If we reawaken that we're here to help each other, we're going to be okay," she says. "Security will come from community."