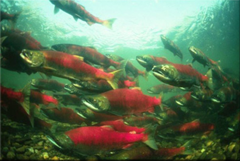 Sharolise Baker is waiting for, and fearing, the day when no sockeye salmon return to the Fraser River to spawn.
The Stellat-en fisheries manager says she doesn't doubt this day will come within her lifetime, in fact, this summer is predicted to be one of the worst years in decades.
Although the Department of Fisheries and Oceans can't accurately predict how many fish will return to their spawning grounds, a best-case scenario might support only a limited commercial fishing operation at the mouth of the river.
But a worst-case scenario will fall short of supplying the dietary needs of people who depend on salmon for food. Warmer water and later runs means that fewer salmon actually reach their spawning destinations on the lakes and tributaries of the mid to upper Fraser.
This doesn't bode well for people there who depend on salmon for food, or for the health of future salmon populations.
Although talks are underway for a catch-sharing program amongst 93 First Nations, some say there simply isn't enough to go around.
Sorting the sockeye runs
Sockeye salmon are grouped according to timing and location. There are four runs, which occur between June and August, and the runs are divided into stocks, based on where the salmon hatched (for example, the summer run consists of the Lake Stuart, Nechako, Stellaco and Quesnel stocks).
The DFO has suggested the poor return this year -- which it determines based on the number of sockeye that hatched in 2004 and will presumably return as adults in 2008 -- is because of increasing water temperatures on the Fraser River. Other groups have pointed the finger at illegal poaching.
Whatever the causes, even the DFO says early predictions are highly variable. This year, the number of returning sockeye is predicted to be between 1.8 and 2.9 million.
Paul Ryall, salmon team lead for the department, explains that there is a 50 per cent probability for the 2.9 million figure, meaning it is just as likely to be under that as over it. As for the 1.8 million number, Ryall says there is a 75 per cent chance there will be more sockeye, and a 25 per cent chance there will be less.
It is this chance that worries Ernie Crey, the fisheries manager for the Stó:lo tribal council. He says approximately one million salmon are required to replenish the stock, in other words, they can't be harvested, and another one million are required to meet First Nation's dietary needs.
"The science of prediction, it's not an exact science...it's not like counting widgets coming off a production line," says Crey.
"What I'm saying is...what if only a third of them show up? What if the forecasts are off by as much as 70 per cent?"
"We're staring a crisis in the face here."
One fish for every 25 persons
As far as Baker is concerned, the Stellat'en people are already in crisis. They depend on two runs, and last year, she says, only 21 salmon were caught in a community of roughly 500 people.
In August, the DFO approached First Nations fisheries to come up with a catch-sharing plan. Right now, 93 nations representing 74,000 people are involved in talks -- but Baker and others are skeptical.
"I've been working since '87 as a fisheries technician. I've seen the decline with my own eyes....I know they want us to share, but to me, there isn't enough to go around."
Baker says there are better management techniques for determining how many salmon should be harvested and how many should be released. The Stellat-en worked with the DFO and the Rivershed Society of B.C. to create a weir harvesting program.
Each year, if the water levels permit, the Stellat'en erect a weir, or fish fence, across a 20-foot stretch of the Stellaco river.
The metal bars are spaced so salmon can't get through, but instead make their way along the fence to a holding pen where fish technicians either catch or release. These technicians also record the total number of fish and share this information with the DFO, says Baker.
Benefits of weir harvesting
For thousands of years, First Nations have used weirs to catch salmon, but it's unclear how many exist in the province.
Mike McDermid, the Vancouver Aquarium's Ocean Wise program coordinator, says there are several advantages to this kind of harvesting; one can screen for sex, health and type of fish without ever having to take it out of the water.
"There is very, very little impact," he says, adding that this type of harvesting gives managers a better idea of the highest sustainable yield. McDermid says this method is being used commercially in Nunavut to harvest Arctic Char.
Tracy Sampson, the fisheries manager for the Nicola tribal council, whose members represent bands in the Nicola Valley and Fraser and Thompson canyons, says after the practice was banned around the mid-1900s, the knowledge of how to build and install weirs was largely lost.
"It is a better way of keeping track," she says. "You know exactly how many fish are making it up to the spawning ground, or at least, past that fence."
'Share what's left'
Sampson has also attended catch-sharing meetings, and says she finds them frustrating.
"It's like [DFO] tells us, OK, we've managed it to this point and now you guys needs to share what's left," she says.
Finn Donnelly, executive director of the Rivershed Society of B.C., says there is a lot of controversy over how the salmon fishery is managed right now.
"For thousands of years it was done largely in stream, in the Fraser River or whatever particular river in which the fish were born," he says.
Part of the problem with current management system, he says, is that the commercial fleet at the mouth of the river is more of a mixed fishery; boats can intercept all salmon headed for various destinations.
The DFO does conduct assessments during the season to monitor the various stocks and limit fishing if it appears a certain stock is weak, but only a DNA sample can determine whether a fish is from Cultus Lake or the Pitt River. Even with mitigation measures, weaker stocks will likely be caught first at some point as it heads upstream.
Talk of total closure
Donnelly says things have gotten so bad now on some runs, there is talk of a complete closure for all commercial, sport and aboriginal fisheries.
It's something that Baker thinks needs to happen, not just for one year but for two salmon cycles -- or a total of eight years.
The loss of this food source could have major impacts on some First Nations communities, according to Eduardo Jovel, director of the UBC Institute for Aboriginal Health.
"Food prices in general will increase especially in northern communities, and having a low return on the salmon will have even a deeper impact on the access to good foods," says Jovel.
"It's going to be a difficult summer, probably especially in remote communities."
Tracy Sampson estimates salmon makes up one-third of the average person's diet in her community, near Lytton. She says a family of four could probably put away the equivalent of 200 salmon, either dried, frozen or canned.
"A lot of people are not getting what they need," says Sampson. "It's going to be a pretty dismal year."
Related Tyee stories: