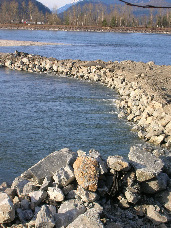 Early last month near Chilliwack, a construction company built a road across the main stem of the Fraser River to access a small alluvial island known as Big Bar. Jutting 90 degrees from the bank, the causeway had a damming effect downstream, killing at least two million incubating pink salmon along one of the most productive fish habitats in the world.
The company operating at Big Bar was mining for gravel, a non-renewable commodity that over the next decade, as British Columbia advances towards ambitious commitments to complete Olympic infrastructure, the Gateway Project and the Canada (RAV) Line, will become dramatically more valuable and contentious.
In the Fraser Valley, a world removed from Vancouver, local papers followed livid fishermen and environmentalists on a near daily basis. To many on the riverbank, the Big Bar incident was the latest outrage committed by an industry seemingly indifferent to the survival of salmon, sturgeon and anything else reliant on the floodplain environment for life. But most of the vitriol was reserved for the Federal Department of Fisheries and Oceans (DFO), the federal body entrusted with protecting fish and fish habitat.
"Heads should roll at DFO over this," said ex-DFO habitat biologist Otto Langer to the Chilliwack Progress on March 15. "In a sense, they're putting the coyote in charge of the chicken coup…[the gravel industry's] only real obligation is to make money, it's not to protect the environment."
The March episode at Big Bar illustrates the clash of widely diverging views regarding the benefit of large-scale gravel extraction from the Fraser River. To some, it's a dishonest cash grab for industry, a scourge on the earth and water; to industry and government, it is a creator of jobs and tool to protect property and people from the next great flood. The only thing that is certain in this entire heated exchange is that southwest British Columbia needs more gravel and needs it soon.
Built on aggregate
Although urbanites rarely consider it, our built environment is dependent on the availability of vast quantities of gravel and sand. Known as aggregate in the construction industry, it comprises 80 percent of concrete and over 90 percent of asphalt. Cities, towns and civilization as we know it could not exist without it.
Consider the RAV line, which will soon be excavating its way up the Cambie corridor; before it is completed, it will require at least half a million tonnes of concrete, which translates into 400,000 tonnes of aggregate.
Most of our aggregate is local; mined from pits or blasted and crushed from hard rock quarries on dry land. Because the product is cheap, bulky and very heavy, profitable mining of the resource depends on tapping local sources. The Fraser River is a minor source in the grand scheme, accounting for no more than 20 percent of the total mined from all sources in the Georgia Basin.
But with increasing urbanization and the Agricultural Land Reserve tying up valuable gravel reserves, it creates the imperative for industry to tap new sources, including the round, smooth river rock that is carried and deposited by the Fraser River between Mission and Hope.
"We've got enormous gravel demand on the horizon for the Gateway Project and other public building priorities moving forward," said Mike Proudfoot, spokesman for the Ministry of Transport, who expects the Pitt River Bridge/South Perimeter Road to enter Environmental Assessment as soon as this summer. "We will be looking at accessing materials from the Fraser, where it can be [mined] to benefit flood control."
Public safety or profit?
According to Maple Ridge/Mission Liberal MLA Randy Hawes, gravel mining is just as much about public safety as it is about making money. Since a moratorium on river removal was lifted by the federal government in the late nineties, this real estate agent turned politician has emerged as nothing short of a crusader for gravel mining in the Fraser Valley.
"Flood risk increases when we don't take gravel out, because there are tonnes of gravel being deposited between Mission and Hope each year by the river," says Hawes. "The bottom of the river is [gaining elevation] as a result, and that means that dykes that were built to withstand to certain river height are not adequate."
It was pressure over the need for flood control that motivated the DFO to sign a 2004 agreement with Land and Water BC to drastically increase the rate of gravel extraction from the Fraser River. Under the agreement, the DFO, which must formally authorize gravel removal because it damages fish habitat, approved the removal of 500,000 cubic metres of gravel from the Fraser this year alone.
An internal DFO memorandum acquired through the federal Access to Information Act illustrates the political pressure exerted by Fraser Valley politicians on the DFO to approve large scale gravel removal. On November 4, 2003, DFO Regional Director John C. Davis wrote to Deputy Minister Larry Murray, quoting former Chilliwack Mayor John Les as follows:
"DFO puts fish before people, continues to be an obstacle to gravel removal and…catastrophic results cannot be far behind. DFO [says] 'fish first…and to hell with the people.'
Davis continues to Murray: "Local municipalities (Chilliwack, Kent and Abbotsford) are adamant that gravel removal is a critical step in the management of flood levels. There is, however, a general lack of analyses/information that demonstrates that gravel removal has or will reduce flood hazard by lowering the dyke profile."
DFO signed the Lower Fraser River Gravel Removal Plan ten months later. Critics of the plan say the amount of gravel being removed now surpasses the total gravel flushed into the reach each year and that gravel mining as currently practiced does little to protect against flooding.
"To have flood control impact, you have to remove gravel from the middle of the channel and deepen it to allow the water to get down deeper," says John Werring, a biologist who attended the Big Bar site as a contractor for the David Suzuki Foundation. "But they're scalping these huge bars where the gravel is perched metres above the water level, and there's absolutely no impact that is going to occur as a consequence of where they're working."
Randy Hawes disagrees, saying that the process of scalping the bar tops of floodplain gravel bars has a "positive effect" on controlling flooding.
In December of 2004, the Sierra Legal Defense Fund filed a petition on behalf of five prominent fisheries experts and environmentalists asking that Federal Auditor-General Johanne Gélinas investigate the process leading the DFO to agree to enormous gravel extractions from the Fraser River, despite the warnings and concerns of scientists, environmental groups and commercial fishermen. Since being submitted to the AG, no response has been received to date.
'Aggregate Land Reserve'
Brad Kohl, Vice President of the Construction Materials Division at Lafarge Canada says that there are innumerable problems associated with commercial extraction of gravel from the Fraser River. The province and federal governments must agree on the areas to be mined, the DFO is obligated to oversee operations and there is a narrow window for removals - extraction can only happen in the low water months between January and mid-March.
"With accessing [Fraser gravel], there are also issues with landowners along the river, native bands and very few sites are right along the shoreline, so you have to build roads right out across the river to a lot of them."
Kohl says that there will be enough supply to meet the demand over the next decade in Greater Vancouver, although Fraser Valley gravel sources on land will become depleted, necessitating the transport of gravel by ocean barge from Texada Island.
Getting more valley gravel in production over the long term is being championed by Hawes, who is currently working with local governments and producers to create the equivalent of the Agricultural Land Reserve for gravel and aggregate materials.
"We're trying to identify a source of aggregate looking forward 100 years for the Fraser Valley," says Hawes, who is the chair of the new Fraser Valley Aggregate Pilot Project. "We hope to identify aggregate supply areas and protect them by putting them into official community plans."
Hawes confirms that sites on the Fraser River could be included in this mapping. This news is happening just as Maple Ridge is lifting its moratorium on gravel mining, which will see the municipality remove 300,000 tonnes a year from land sources to meet local demand within the municipality.
Fraser tributaries targeted
New sources of river gravel from the Fraser River drainage are also being explored to meet Greater Vancouver's future demand. In January of this year, Mosquito Consolidated Gold Mines Ltd. announced its intention to mine gravel and placer gold from 13 claims covering nearly 1000 hectares in the Chehalis River watershed near Mission.
"The demand for high quality gravel and sand products is at an all-time high and is expected to continue beyond the 2010 Olympics," the company said in a January 2006 press release. "Local supplies have been or are being depleted and new supplies are desperately required."
Unanswered questions about the environmental impacts of this project - in a watershed endowed with healthy runs of four different salmon species, steelhead and cutthroat trout - landed the Chehalis on the Outdoor Recreation Council of B.C.'s 2006 list of endangered rivers.
"The experience in southern British Columbia…is that gravel mines in these extraordinarily high-rainfall watersheds cause massive siltation and destruction of fisheries resources," says Dr. Marvin Rosenau, former provincial government fisheries scientist and author of numerous papers on gravel extraction and fish. "Given the steep topography of the proposed Chehalis mine site, the massive area to be exposed, it is only a matter of time before such a project will irrevocably and negatively impact this watershed."
Brian McClay, President of Mosquito Consolidated Gold Mines Ltd., did not return calls from the Tyee to address Dr. Rosenau's position that Chehalis mining would severely impact the diversity of fish currently found in the watershed.
Christopher Pollon is a Vancouver-based journalist whose writing has appeared in the Globe and Mail, Montreal Gazette, Beautiful British Columbia, and many other papers and magazines.