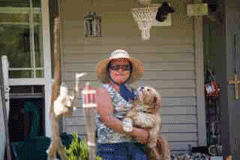 We've all encountered 'one hand doesn't know what the other is doing' situations. Here's a doozy.
The province has been spending $33 million of its and Ottawa's money raising dikes and reinforcing banks to protect people and property up and down the Fraser River. Near Chilliwack, 200 people think the investment is doing the very opposite, putting them at even greater risk.
Just below Kent, the Fraser River pushes itself off the mountain one last time. Making an abrupt turn, it crosses its historic channel to flow in a sweeping ox-bow around Chilliwack. Were the Fraser River to flood, this is where its full bore would shoot out of the confines of its canyon onto the Fraser Valley floor. So you might be reassured to consult the map of the region's flood defences and note the bright red line that begins at the foot of the mountains and marches stoutly northwest. That line locates the main dike protecting the eastern valley.
Follow that thin red line westward however. A little past Chilliwack's Island Park, on a low alluvial island tenuously joined at its upstream end to the permanent river-bank, the line stops. The river carries on. Its shore here is a braid of sand bars, low-rise gravel banks overhung with trees, and marshy sloughs. Half a kilometre beyond the end of the dike, strung out along the bank of a backwater known as Shefford Slough, is where you can find the 32 houses that are the First Nation community of Skway.
'Can't get insurance'
When The Tyee's Francis Plourde visited them on Friday, its residents were watching the slough rise -- two feet over the previous 48 hours -- with cautious optimism. "As it is right now, it doesn't look like we're going to get a 200-year flood," band manager Jeff Mercer told The Tyee. "But that can change overnight. The worst-case scenario now is if it starts to rain." (The following day, flood forecasters said that rain expected in the upper Fraser River could begin displacing people there by mid-week, although not yet raising the threat to the Lower Mainland.)
Just in case, the band has installed temporary shelving under the high ceilings in its office as emergency storage space for its members. "The band council is the only building insured against floods," said Jeff. "Residents can't get insurance. It's considered an 'act of God'."
The band's office bristled with pamphlets offering flood precautions, advice on how not to be electrocuted during a flood, and details of the official Fraser River Flood Response Plan. Everything you could want to know, really, about surviving the submersion of your home and community under metres of ice-cold grey water for hours or days on end with minimal loss of life and heirlooms.
Which was just as well, because if the weather turned and the Fraser did reach or exceed its peak flows of the past, you can bet that Skway would need every bit of that advice.
'How did this happen?'
"We are on the other side of the city dike. In a flood the city is protected but we're not," Skway's manager said. The reasons are tangled in a history of spring alarms that jarred loose government commitments that somehow lapsed unmet over years of low-threat complacency, one cause of many in a decades-long lawsuit between the band and the city, provincial and federal governments.
Skway isn't the only First Nation along the lower river with its face to the rising water and its back to dikes built to protect someone else's street. Katzie, with its main community of 75 households at Pitt Meadows and smaller numbers on the Langley shore and at Barnston Island, is in the same position. "How did this happen?" its 29-year-old manager of emergency planning, Jay Bailey, wondered. "I don't know. The dike goes on the Pitt Meadow side of our land here. The residents are all on the south [river] side of the dike."
An older relative, Mel Bailey, remembered the last time the water came up really high at Pitt Meadows: the 1948 flood that still holds the record for damage done by the Fraser. "There was three to four feet of water in our house, we had to canoe around, but we never got excited. We were brought up the hill and stayed for two weeks. The worst was the mosquitoes." Mel has no plan to evacuate: he lives upstairs and uses his downstairs only for storage.
Angry at government
Not everyone in harm's way takes his philosophical stance. At Skway, Gina Rebang's relatively new house was built on a $25,000 gravel pad, in theory to raise it above flood height. "They're not even sure anymore that my house is protected," she fumed. "How come the government let us build our houses here if they knew it was going to happen?"
The provincial government's spring freshet of flood funding invested heavily in nearby Chilliwack's dikes. Skway got $77,000 from Ottawa -- enough to fortify the slough bank with some riprap, but a long way from the $20 million it would cost to bring the section of road that constitutes its flood-wall up to the standard of the red-line dikes.
What irks Jeff Mercer much more is that the province may be paying to raise the danger that faces Skway. "The city received $3.5 million from the province to upgrade their dykes and raise them by three to five feet. Some of their dikes are adjacent to us. So in effect, it pushes the water even more into our area. Our problem could be bigger because of their dikes."
Dike authority 'a patchwork'
It's not that the federal government, with the power of the purse over First Nations communities, has been completely inactive. The provincial government's recent spate of last-minute flood protection spending roughly matches what Indian and Northern Affairs Canada has spent over the last eight years, according to its acting special adviser on emergency management. "We were ahead of the curve," Ken McDonald told me, "chipping away" at a priority list drawn up in 1999.
"Don't get me wrong," he hastens to add. "I'm not satisfied with the results." He's no happier with the process that produced them.
Rivers are singular, a seamless stream from source to sea. Whatever you do to a river when it is a new creek, the effects of your action flow down to its mouth. When it comes to floods, and against intuition, how you constrain a river downriver may decide whether it goes over its bank for kilometers upstream. Against this complex but intimately interconnected continuity of water, British Columbians have placed our trust in... well, everyone and no-one.
"It's a patchwork," Ken McDonald observes. "Municipalities have some authority. First Nations have some authority. Diking districts have some authority." Echoing every other river expert I've spoken to in the last few weeks (the provincial Ministry of Water Stewardship did not respond to requests for interviews), he said: "The one thing that comes up loud and clear is that there needs to be a single diking authority that looks after all the dikes on the river."
Strategy needed for next time
Experience and human nature strongly suggest that if the Fraser has passed its peak without passing its banks by mid-August, the river's deadly potential will drop out of the mainstream media spin cycle and off the political radar as completely as last winter's ski conditions. But spring is a hopeful time. So let us hope that Minister Barry Penner means it when he intimates that once the immediate fuss has died down, we really should do something more serious to prepare for future runoff threats.
"Do" is operative. Any strategy for living in a safer way with the river's ups and downs must have the confidence and consent of every community along its length. But sooner or later, a strategy that never leaves committee doesn't get done what needs to get done -- or prevent, in some cases, what needs not to be done. How to give traction to good ideas without adding fresh layers of government will preoccupy any post-close-call review of B.C. flood preparedness, no matter the degree of its sincerity or thoroughness.
The organization that comes closest to fulfilling at least the first part of the job now is the Fraser Basin Council. It's a model of consensus-building. But by design it has no hammer, no executive capacity, no funding or mandate to compel anyone to respect its judgment.
The Council can hold meetings -- more than thirty official and non-government entities are represented on its committee to exchange information about flood preparation in the lower Fraser Valley, says the Council's region manager, Marion Robinson. "But information by itself doesn't make decisions. It comes down to money and who is responsible for what. The land belongs to municipalities. Why do they keep putting people on the flood plain?"
Who will be in charge?
The loudest objections to placing responsibility for a whole-river flood plan on the Fraser Basin Council would doubtless come from its most loyal advocates. With good reason. Its valued role as an honest broker of river knowledge would disappear into political white water the moment it became capable of radically affecting its constituents' fortunes.
But if not the Council, then what?
The flood threat will rise again. Its linkages to other impacts of climate-change and to our own choices are increasingly apparent. As significant to Skway's long-run chances as a new dike may be events hundreds of kilometers away, where the clear-cutting of pine-beetle-killed timber could almost double the water flowing downstream in future springs.
The river is one: one physical fact, one watershed, one bio-system, one community. We're getting to understand that. But when we don't act on our knowledge, red lines come up short. Or they simply shine the danger on, with interest, to the weakest stretch of shore. And some of us get left again on the wrong side of the dike.
Related Tyee stories: