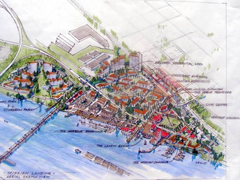 Jo-Anne Chadwick can already picture the view from the log-house-style building she and her husband Rob want to build on the Fraser River waterfront in Mission. "You would be able to see the whole river, Mount Baker, the Fraser Valley," she says, her mind drifting to the building's second and third floors where she wants to rent out condos. "From up there it would be pretty spectacular."
The Chadwicks' building is just one part of a proposed multi-billion-dollar riverfront development in Mission, a city of just over 30,000 halfway up the Fraser Valley, between Maple Ridge and Chilliwack. The plan is meant to change the entire complexion of the city, but it comes with one spectacular challenge: the exact area where the development is supposed to go is one of the areas least prepared to handle a major Fraser River flood, according to a recent Fraser Basin Council study.
The study used new technology to recalculate the Fraser's "design profile," a worst-case flood scenario based on water levels from 1894 -- the worst Fraser River flood on record. Since it was first publicized last summer in a Tyee investigative series, the study has sparked major debate over flood prevention and dike status in the Fraser Valley. Just last week, the Vancouver Province ran a six-part series on the impacts dike failure could have on B.C.
The study concluded that "widespread dike overtopping and dike failures would occur throughout the region in the event of a re-occurrence of the 1894 flood of record." And of all the at-risk areas, Mission Bridge -- with dikes sitting 50 centimetres to one metre below the new design -- stood out as one of the least protected shorelines on the river, according to one study scientist.
Mission flood prone: engineer
Robert Millar, a hydrological engineering specialist at UBC, worked as an external reviewer on the study. He says the Mission dike area is one of the most flood prone on the Fraser. According to his calculations, the dikes at Mission Bridge can handle the river up to 16,500 cubic meters per second. The design profile predicts flooding of 18,900 cubic meters per second. Easy math says that if the big flood hit Mission Bridge right now -- an event some predict could occur given this year's heavy rain and snow -- 2,400 cubic meters of water would pour over the dikes every second. "Based on this current study," Millar says, "it's a situation that has to be addressed with some vigour."
So who would want to anchor an entire community on these precarious shores? District of Mission Mayor James Atebe and his council are taking a serious look at it. "This area is a jewel that is sitting there waiting to be polished," Atebe says. Although the development is still at a very early stage, preliminary sketches are already up on the district's website. The plans include a civic centre, green spaces, shopping centres, a boardwalk, commercial and industrial parks, high-density residential blocks, and possibly even a new campus for the University College of the Fraser Valley. It's a 10- to 15-year project that Atebe estimates will cost between one and two billion dollars. In fact, he calls that his "conservative estimate." And it all leads down to a bustling Fraser River shoreline.
City plans to do its homework
Atebe does not deny that flooding presents a challenge to the plan. The district will spend approximately $1.5 million in the next 12 to 24 months for geotechnical and engineering studies. Atebe calls it homework.
"Essentially if we do our homework well enough...I believe that we will remove the uncertainty," he says. "We've got only one opportunity to do it right. If we don't do a lot of homework...we could easily make a mess of this site and then we will have to clean it up later."
The Chadwicks, too, know that flooding is a big risk. They plan to rebuild on waterfront lots they already occupy, so they are ahead of the main development schedule. The plans for their new building include "flood-proofing" measures, such as an elevated ground floor built above dike level and underground parking that would act as a water drain in case of a flood. It is a building style often used in parts of Florida where flooding occurs regularly, according to Jo-Anne Chadwick.
"If the river did decide to come up over and through, it would just wash out the other side," Chadwick says. "If it comes over, the worst thing it's going to do is blow out the parking area. Everything above it should be protected."
Whatever does end up on the Mission waterfront, Chadwick says it will be better than what is there now. "It is a place where there's no real roads, there's only about half a dozen homes down here, people test drive their cars up and down. Just until last year when we started cleaning up the area there was a pawn shop and drug deals went across the street and it was the forgotten area."
That could all change if the Chadwicks get their wish and the district moves ahead with development plans. No longer the forgotten area, the waterfront could become a place to remember for visitors and residents alike. But for that to happen the district will need nothing less than an A+ on their flood protection homework. The assignment: make sure a one- or two billion dollar investment creates a great place on the water, not underwater.
Related Tyee stories: